Oskar BERGMAN
1879–1963, Sweden
Also known as: OB
Name
Oskar, Fridolf BERGMAN
Birth
1879, 18/10, Sweden
Lived & Active In
Saltsjöbaden, Sweden
Oskar Bergman studied at the Technical School\'s evening class for Anders Forsberg. He undertook study tours to Germany, Italy, France and Denmark. He carried out landscape that is very carefully done and photographic and fine details in watercolor but also in oil and tempera. Represented: National Museum in Stockholm, Gothenburg Museum of Art, HMK collections, Norrköping, Lund and Karlstad Museums, and the Malmö Museum and Thielska Galleriet.
Oskar Bergman studerade på Tekniska skolans kvällskurs med Anders Forsberg som lärare i teckning. Han företog studieresor till Tyskland, Italien, Frankrike o Danmark. Han målade i olja, akvarell och tempera, landskap som är mycket noggrant och fotografiskt gjorda och med fina detaljer. Han erhöll 1957 Egron Lundgren-medaljen av Kung Gustaf VI Adolf.

Representerad:
Nationalmuseum i Stockholm, Göteborgs Konstmuseum, H.M.K. samlingar, Norrköping, Lund och Karlstads Muséer, samt Malmö Museum och Thielska Galleriet.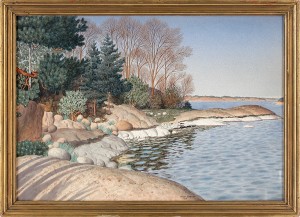 Motiv Av Vårlandskap I Skärgården
(1930)
Price SEK 15,505 (€1,752)
Estimated SEK 10,000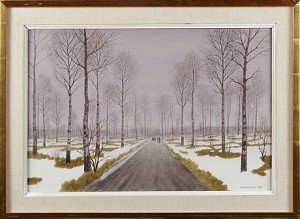 Price SEK 3,800 (€431)
Estimated SEK 1,500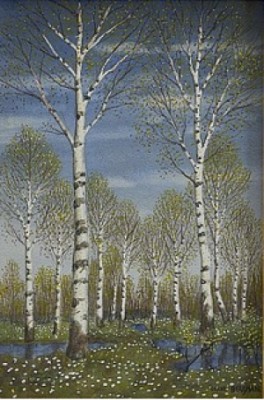 Vår
Price SEK 22,000 (€2,431)
Estimated SEK 12,000–15,000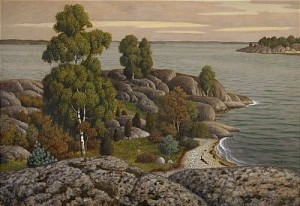 Udde På Ljusterö
(1910-1934)
Price SEK 18,000 (€1,989)
Estimated SEK 20,000–25,000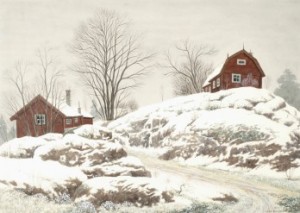 Price SEK 16,000 (€1,799)
Estimated SEK 8,000–10,000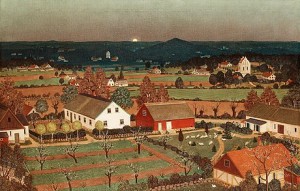 Price SEK 250,000 (€27,000)
Estimated SEK 300,000–350,000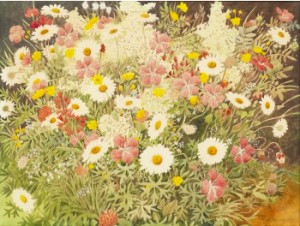 Price SEK 22,000 (€2,420)
Estimated SEK 10,000–12,000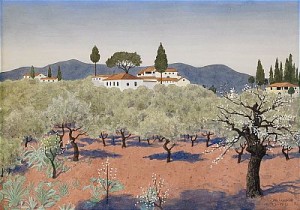 Olivlund Toscana
(1913-1946)
Price SEK 20,000 (€2,233)
Estimated SEK 12,000–15,000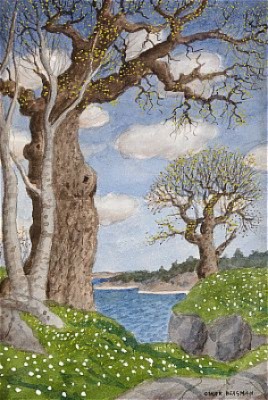 Vår
Price SEK 11,000 (€1,228)
Estimated SEK 8,000–10,000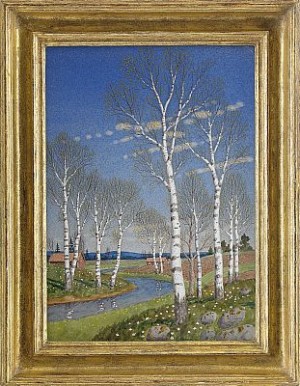 Vårlandskap Med Björkar
Price SEK 30,000 (€3,350)
Estimated SEK 15,000–18,000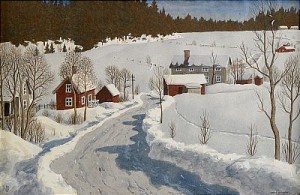 Vinterdag, Lindesberg
(1945)
Price SEK 14,000 (€1,563)
Estimated SEK 10,000–12,000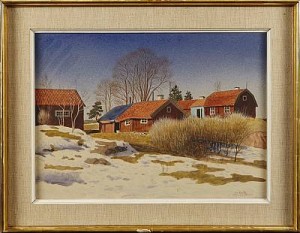 Marsdag Vid Neglinge Gård
(1944)
Price SEK 6,000 (€670)
Estimated SEK 4,000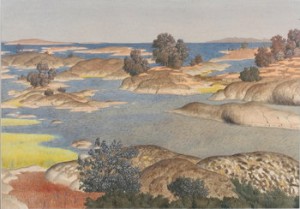 Price SEK 9,000 (€1,027)
Estimated SEK 5,000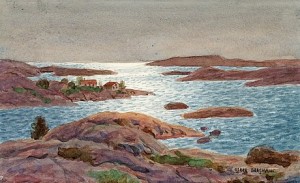 Untitled
Price SEK 4,800 (€512)
Estimated SEK 6,000–8,000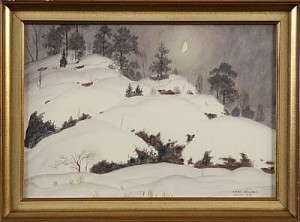 Månsken över Vinterlandskap
(1939)
Price SEK 7,000 (€743)
Estimated SEK 6,000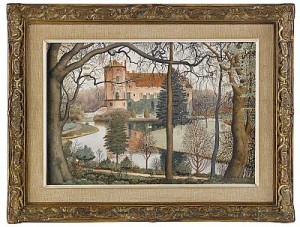 Torups Slott, Skåne
(1932)
Price SEK 15,000 (€1,561)
Estimated SEK 25,000–30,000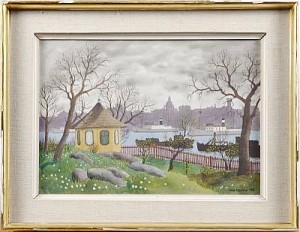 Price SEK 7,000 (€724)
Estimated SEK 4,000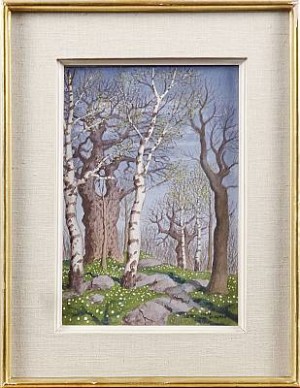 Vårbacke
Price SEK 6,000 (€620)
Estimated SEK 4,000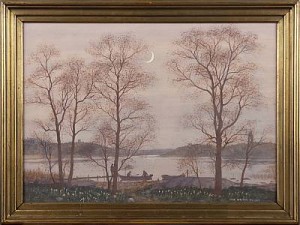 Price SEK 13,000 (€1,344)
Estimated SEK 8,000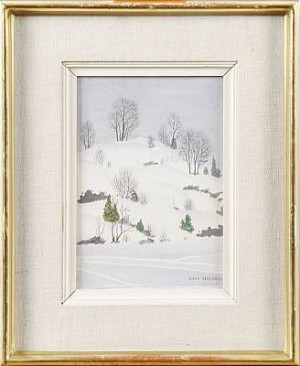 Vintermotiv
Price SEK 5,000 (€489)
Estimated SEK 6,000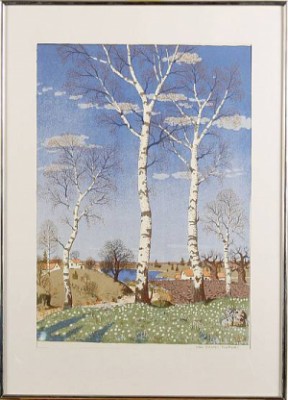 Vårlandskap
Price SEK 1,400 (€134)
Estimated SEK 1,000
ängen Vid Vattnet
Price SEK 1,000 (€98)
Estimated SEK 1,500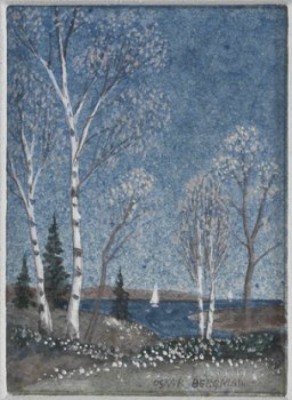 Björkhagen
Price SEK 5,400 (€530)
Estimated SEK 3,000–4,000
Price SEK 7,400 (€726)
Estimated SEK 5,000–6,000
Landskapsvy Med Björk
Price SEK 3,000 (€294)
Estimated SEK 2,000–3,000
Price SEK 4,800 (€471)
Estimated SEK 6,000–8,000
Motiv Från Sandhamn
(1937)
Price SEK 8,500 (€833)
Estimated SEK 6,000
Vårlandskap - Motiv Från Helsingborg
(1939)
Price SEK 4,800 (€470)
Estimated SEK 6,000
Price SEK 4,800 (€453)
Estimated SEK 6,000–8,000
Fjärilar Bland Blommor
Price SEK 18,000 (€1,697)
Estimated SEK 20,000–25,000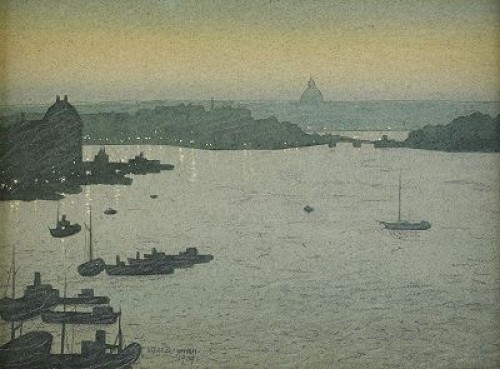 Stockholm Från Saltsjöbanans Station
(1909)
Price SEK 15,000 (€1,414)
Estimated SEK 6,000–8,000
Price SEK 25,000 (€2,357)
Estimated SEK 25,000–30,000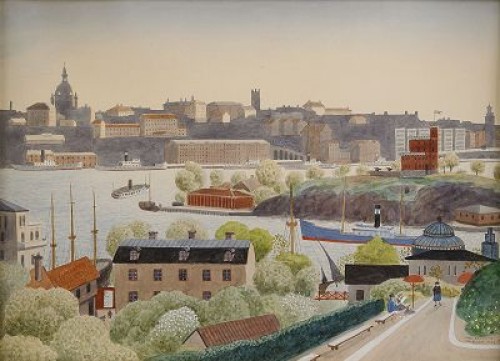 Utsikt Från Djurgården Mot Kastellholmen Och Södermalm - Stockholm
(1940)
Price SEK 26,000 (€2,451)
Estimated SEK 25,000–30,000
Skånskt Sommarlandskap
(1953)
Price SEK 10,000 (€943)
Estimated SEK 10,000–12,000
Vårlandskap - Motiv Från Helsingborg
(1939)
Price SEK 0 (€0)
Estimated SEK 8,000–10,000
Price SEK 0 (€0)
Estimated SEK 15,000–20,000
Price SEK 0 (€0)
Estimated SEK 15,000–20,000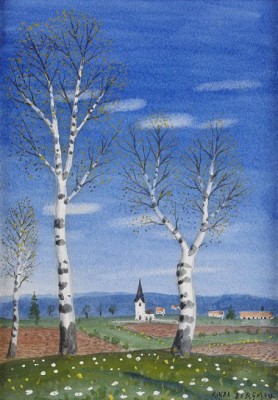 Vårlandskap Med Björkar
Price SEK 12,000 (€1,131)
Estimated SEK 8,000–10,000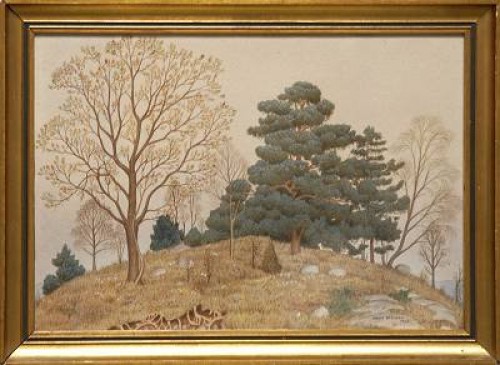 Price SEK 4,700 (€451)
Estimated SEK 5,000
Vårkväll I Blåsippsbacke
Price SEK 1,000 (€96)
Estimated SEK 1,000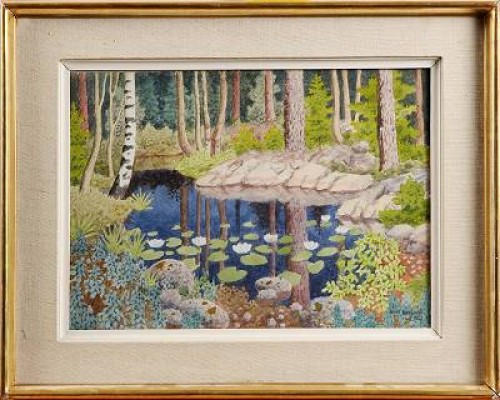 Price SEK 9,500 (€913)
Estimated SEK 8,000