Oskar HULLGREN
1869–1948, Sweden
Also known as: OH
Name:
Carl, Oskar, HULLGREN
Oskar Hullgren studied at the Art Academy, and in London. He mostly painted marine motifs. He has painted the sea in a storm, but also caught the evening moods. Represented: National Museum in Stockholm, Gothenburg Museum of Art, Malmö Museum, Norrköping Museum, National Gallery in Buenos Aires.
Source: Composed of various information on the Internet.
Oskar Hullgren studerade vid Konstakademien, samt i London. Han har mestadels målat marina motiv. Han har målat havet i storm, men även fångat aftonstämningar.
Representerad:
Nationalmuseum i Stockholm, Göteborgs Konstmuseum, Malmö Museum, Norrköpings museum, Nationalgalleriet i Buenos Aires.
Källa: Sammansatt av olika uppgifter från internet.
-------------------
Oscar Hullgren var en svensk bildkonstnär född i Målilla. Han studerade vid Konstakademien i Stockholm samt i London. Hullgren är känd för sina kustbilder från Portugal och Italien samt havsklippor kring Bornholm och Christiansö. Hans målningar skildrar stormande hav och stämningsfulla skymningar.
Källa: www.bukowskis.com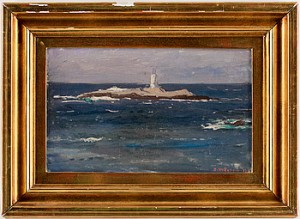 Kustmotiv Med Sjömärke
(-34)
Price SEK 4,200 (€505)
Estimated SEK 4,000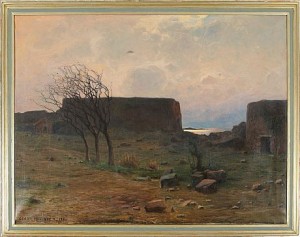 Kustlandskap Med Fästningsbyggnad
(1901)
Price SEK 3,000 (€348)
Estimated SEK 3,000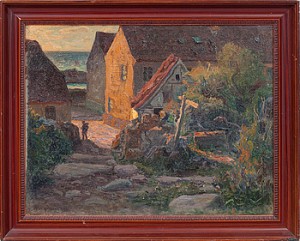 Gatumotiv- Kristiansö
Price SEK 3,200 (€378)
Estimated SEK 4,000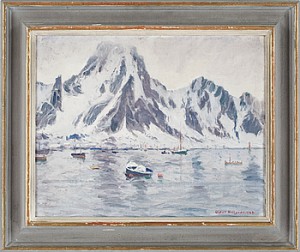 Dimman Lättar. Svolvaer (i Lofoten)
(1929)
Price SEK 2,700 (€328)
Estimated SEK 4,000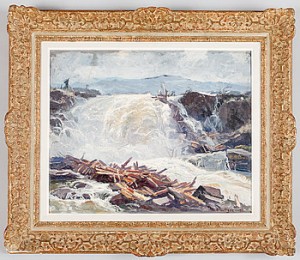 Price SEK 3,000 (€341)
Not sold
Estimated SEK 4,000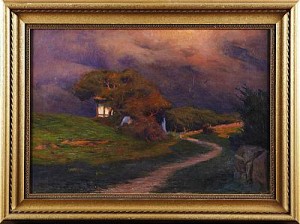 Price SEK 2,000 (€223)
Estimated SEK 2,000
Price SEK 3,300 (€327)
Estimated SEK 3,000
Tallen, öland
Price SEK 3,200 (€319)
Estimated SEK 2,000
Kustlandskap
Price SEK 2,700 (€257)
Estimated SEK 2,000
Skärgårdsmotiv Från Pataholm
Price SEK 2,600 (€243)
Estimated SEK 1,500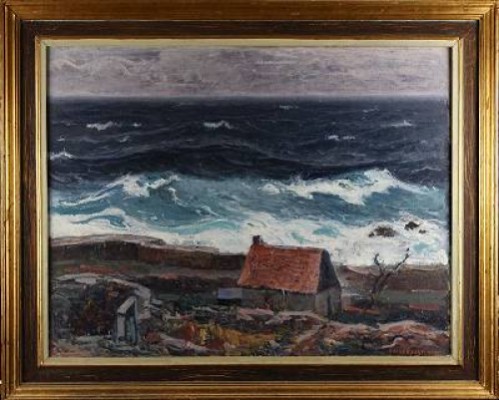 Price SEK 5,500 (€539)
Estimated SEK 8,000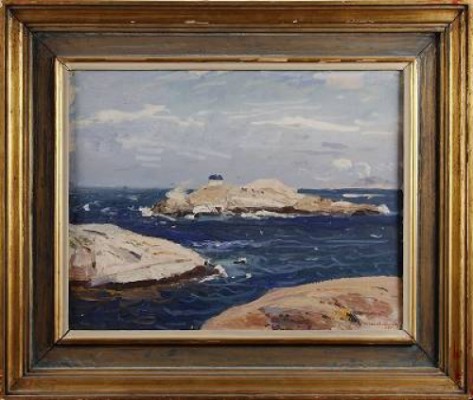 Price SEK 2,100 (€205)
Estimated SEK 3,000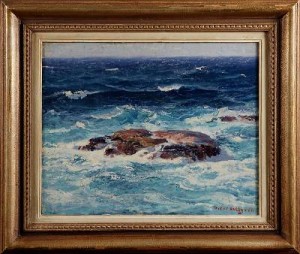 Vårkust Vi
Price SEK 2,500 (€236)
Estimated SEK 2,000