Oskar KOKOSCHKA

1886–1980, Austria/Switzerland
Also known as: OK

Verdict of guilty
0201-K222877-07
Oil on board, signed with monogram "OK". The painting was seized by police in a major auction house in Stockholm in August 2007. According to the auction house a receipt stated Mr. M.Sz. be the submitter and owner of the painting. A folder with provenance documents turned out, on examination, contain manipulated documents. Among others from the National Museum, which states that the painting has undergone a study stating that it is a genuine Oscar Kokoschka painted 1917. In a document, dated June 2002, signed by "IP" Museum of Fine Arts in Budapest recommends he a restoration since the authenticity become certified. And another document from the National Museum in Stockholm declares that the painting is a self portrait of Oscar Kokoschka lying in the hospital bed in 1917. In addition, documents which Mr. M.Sz. gives Mr. H. I. sales mission to find potential buyers for the painting. The painting had earlier in 2006 been presented at both Uppsala Auktionskammare and Stockholms Auktionsverk who refused to sell the painting because of doubts about its authenticity. Bukowski's in Stockholm engages prof. Dr.. Alfred Weidinger for expertifiering of Oscar Kokoschka. He stated that he had seen the painting before, and it is definitely not an Oscar Kokoschka. The painting is also examined by dr. Iris Muller Westerman, Moderna Museet in Stockholm, which shows that the painting is a forgery. The District Court's assessment: The painting is not an original work of Oscar Kokoschka nor signed by him. The crime is serious fraud with intent to lull prospective buyers that this is a genuine work of Oscar Kokoschka. Criminal sanctions, one year in prison.
Oljemålning på kartong, signerad med monogram "OK". Målningen togs i beslag av polis hos ett större auktionshuset i Stockholm den i augusti 2007. Enligt auktionshusets inlämningskvitto uppges Herr M.Sz. vara inlämnare och ägare till målningen. En mapp med provenienshandlingar tillhörande målningen visade sig, vid undersökning, innehålla manipulerade dokument. Bl.a. från Nationalmuseum där det anges att målningen genomgått en undersökning som visar att målningen är en äkta Oscar Kokoschka målad 1917. I ett dokument, daterat juni 2002, undertecknat av "I.P." vid Museum of fine Arts i Budapest rekommenderar denne en restaurering sedan äktheten blivit bestyrkt. Samt ytterligare ett dokument från Nationalmuseum i Stockholm, där ett avslutande, handskrivet, stycke gör gällande att målningen är ett självporträtt av Oscar Kokoschka liggandes i sjuksängen år 1917. Därtill handlingar där Miklos Szuhodoszky skriftligen ger Henry Ihander i försäljningsuppdrag att hitta eventuella köpare till målningen. Målningen hade tidigare under 2006 visats upp för både Uppsala Auktionskammare och Stockholms Auktionsverk som tackat nej till att sälja målningen på grund av tvivel om dess äkthet. Bukowskis i Stockholm anlitar prof. dr. Alfred Weidinger för expertifiering av Oscar Kokoschka. Denne uppger att han sett målningen tidigare och att det definitivt inte är en Oscar Kokoschka. Målningen undersöks också av dr. Iris Müller-Westerman, Moderna Museet i Stockholm, som visar att målningen är en förfalskning. Tingsrättens bedömning: Målningen ej är ett originalverk av Oscar Kokoschka ej heller signerad av denne. Brottet är grovt bedrägeri i uppsåt att invagga eventuella köpare om att detta är ett äkta verk av Oscar Kokoschka. Straffpåföljd, ett års fängelse.








Oskar Kokoschka biography:

Kokoschka was born in Pöchlarn but grew up in Vienna. Thanks to the intercession of Carl Otto Czeschka (1878-1960), Kokoschka was allowed to study at the arts school where he stayed from 1905 until 1909. He moved to Berlin in 1910 where he illustrated the expressionist magazine Der Sturm and had a huge exhibition in Paul Cassirer's gallery. Back in Vienna, he met Alma Mahler, yet when their tumultuous affair ended, Kokoschka voluntarily joined the military service. He got injured and spent the rest of the war as a war painter. He was named a professor in Dresden in 1919 and stayed there until 1924. With the beginning of the Nazi regime, Kokoschka had to flee to Prague after he was named, "The most degenerated amongst the degenerated", and, "Hitler's artistic enemy No. 1". TheOskar Kokoschka Bund was founded in Prague with the aim of contradicting the 'artistic' machinations of the National Socialists and to support Kokoschka. In 1938, Kokoschka fled to England and became a British citizen in 1946 (he only re-accepted the Austrian citizenship in 1975). He founded the Schule des Sehens, an international fine arts summer academy in Salzburg and moved to Switzerland in 1953. Kokoschka participated in the documenta I, II and III and received many honors and awards. Regular exhibitions are held in his birthplace in Pöchlarn. Paintings by Kokoschka are today in the most important museums for modern art in Austria and Germany, but also in the National Gallery of Scotland and the National Gallery in Prague as well as in the Museum of Modern Art in New York.
Source: http://auctionata.com/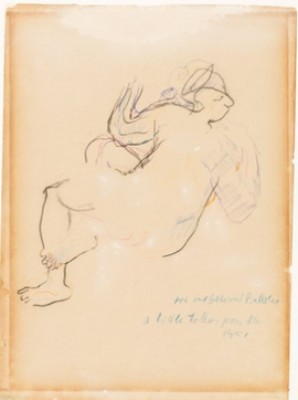 Price EUR 2,400
Estimated EUR 2,400–5,000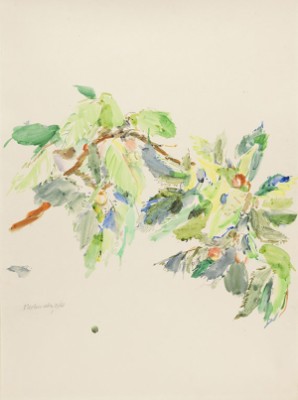 Price EUR 22,500 Incl. buyer's premium
Estimated EUR 20,000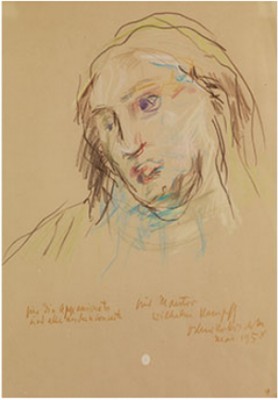 Frauenbildnis
Price EUR 2,200
Estimated EUR 2,000–4,000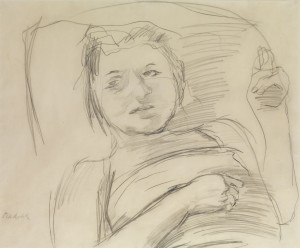 Mädchen Auf Einem Kissen Ruhend
Price EUR 0 Not sold
Estimated EUR 28,000–32,000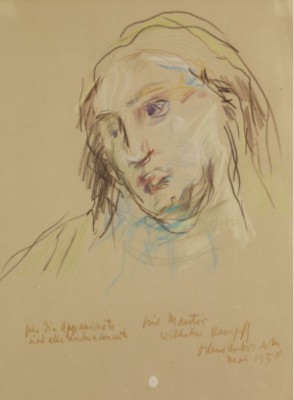 Bildnis Für Wilhelm Kempff
(1958)
Price EUR 0 Not sold
Estimated EUR 10,000–15,000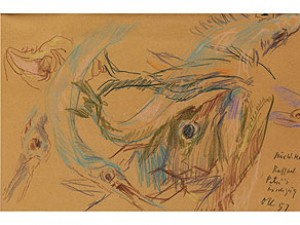 Price EUR 4,600
Estimated –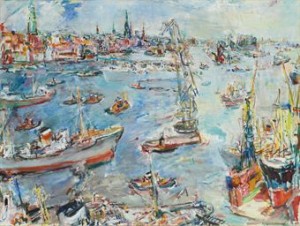 Hamburg, Hafen Ii
(Painted in 1961)
Price GBP 553,250 (€634,467)
Estimated GBP 450,000–650,000