Otto G. CARLSUND
1897–1948, Russia/Sweden
Also known as: OC, OGC
Name
Otto Gustaf CARLSUND
Birth
1897, 11/12, Russia
Otto G. Carlsund studied with Professor Müller Dredsen, then he studied at the Art Academy in Oslo for Christian Krohg. He was inspired in the beginning of cubism and Purism and 1924 Carlsund as a student of Fernand Léger on his art school Academie Moderne. Here he developed a design language heavily influenced by Léger teacher who also served as a kind of mentor to Carlsund artistry. In the late 1920s, however, liberates himself from any Carlsund Leger style and a strict geometric imagery in tight cohesive color schemes, which today is the artist\'s signature development. A major exhibition of 200 works from Carlsund production was shown at Liljevalchs Konsthall, Stockholm, winter 2007/2008.
Source: Art Signature Dictionary
Otto G. Carlsund, Otto Gustaf Carlsund, född 11 december 1897 i S:t Petersburg, död 25 juli 1948, var en svensk målare och konstkritiker. Brorsons sonson till Otto Edvard Carlsund.
Carlsund provade först sin lycka som legationstjänsteman och därefter som bilförsäljare innan han bestämde sig för att bli konstnär. Han inledde sina konststudier för professor Müller i Dredsen 1921, därefter studerade han vid Konstakademien i Oslo för Christian Krohg 1922-1923. Han inspirerades till en början av kubismen och purismen och 1924 började Carlsund som elev till Fernand Léger på hans konstskola Academie Moderne. Här kom han i kontakt med neoplasticismen och utvecklade ett formspråk som till en början var starkt påverkat av läraren Léger som också fungerade som en slags mentor för Carlsunds konstnärskap. I slutet av 1920-talet frigör sig dock Carlsund något från Legérs stil och en strikta geometriska bildvärld hållen i strama färgskalor som idag är konstnärens signum utvecklas.
Från tiden i Paris blev Carlsund nära vän med bland annat Piet Mondrian.
En stor utställning med ca 200 verk ur Carlsunds produktion visades på Liljevalchs konsthall, Stockholm, vintern 2007/2008.
Källa Wikipedia
---------------
Otto G Carlsund var en svensk målare, teoretiker och kritiker. Kom i Paris 1924 i nära kontakt med Fernand Léger, Ozenfant och Piet Mondrian och blev den svenske främste representanten för den syntetiska kubismen, purismen och neoplasticismen. 1932 – 45 var Carlsund främst verksam som kritiker, men återupptog under sina sista år ett nonfigurativt måleri. Oftast är hans målningar avsedda som förstudier till väggdekorationer. 1929 bildade han i Paris tillsammans med van Doesburg och Hélion gruppen Art Concret, vars manifest han publicerade.
Källa: Bukowskis
Source: Art Signature Dictionary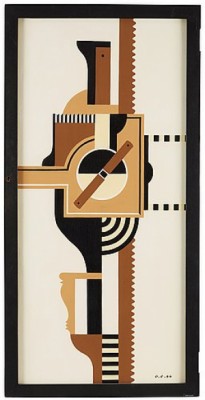 "brun Maskinist" (l'operateur Brun).
(-26)
Price SEK 9,284,010 (€947,433) Incl. buyer's premium
Estimated SEK 4,000,000–5,000,000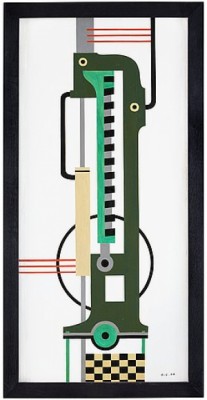 "andra Maskinen" (gröna Maskinen)
(-26)
Price SEK 7,685,376 (€822,335) Incl. buyer's premium
Estimated SEK 7,000,000–8,000,000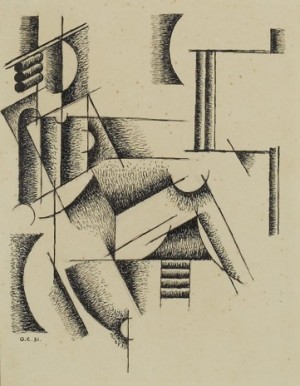 Framför Toalettspegeln
(-31)
Price SEK 24,000 (€2,758)
Estimated SEK 8,000–10,000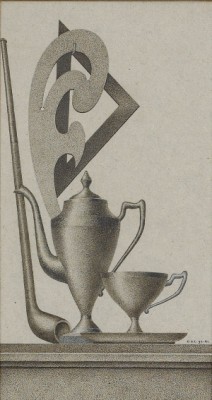 Price SEK 130,000 (€15,145)
Estimated SEK 150,000–175,000

Amour Divin (den Gudomliga Kärleken) Eller "anti-paranoja - Försök Till Syntes Av Signorelli Och Léger"
(1931-33)
Price SEK 723,932 (€84,266) Incl. buyer's premium
Estimated SEK 300,000–350,000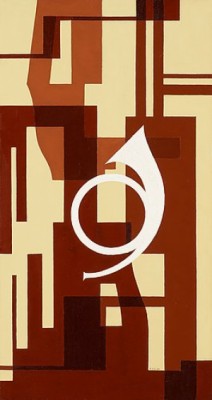 Fuga I Brunt - Projekt Till Väggmålning För Musikrum
(-34)
Price SEK 620,000 (€66,154)
Estimated SEK 700,000–800,000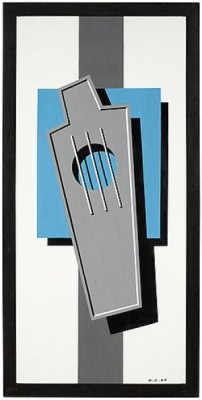 Komposition Med Musikinstrument
(-26)
Price SEK 2,800,000 (€302,400)
Estimated SEK 2,000,000–2,500,000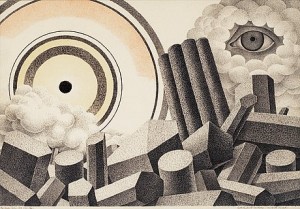 Apokalyptiskt Landskap; Helvetets Paradis
(Executed 1931)
Price SEK 56,000 (€6,048)
Estimated SEK 80,000–100,000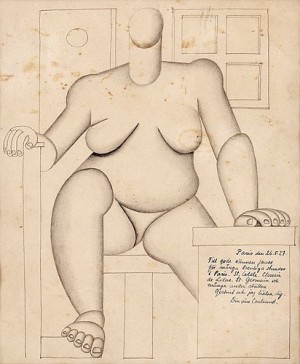 Sittande Kubistisk Kvinna
(-27)
Price SEK 22,000 (€2,389)
Estimated SEK 20,000–25,000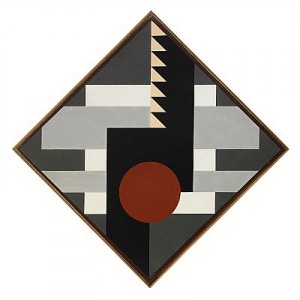 Diagonal Komposition För Tambur Ii
(-28)
Price SEK 600,000 (€65,166)
Estimated SEK 600,000–700,000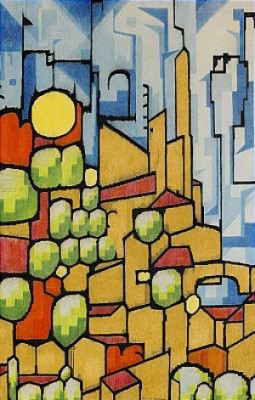 Price SEK 36,000 (€3,910)
Estimated SEK 50,000–60,000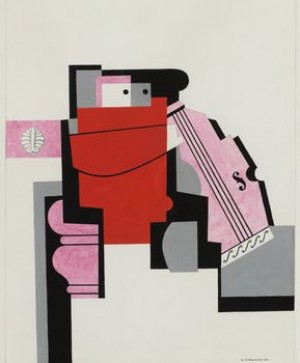 Musicien Rouge, Fet Cellist Ur Serien "triptyque De Violoncellistes
(-26)
Price SEK 400,000 (€41,600)
Estimated SEK 200,000–250,000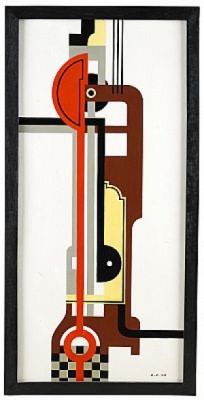 Första Maskinen (röda Maskinen)
(-26)
Price SEK 5,400,000 (€561,600)
Estimated SEK 2,500,000–3,000,000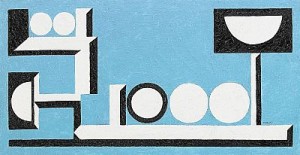 Muralmålning På Manganblå Grund
(1947)
Price SEK 280,000 (€29,120)
Estimated SEK 300,000–350,000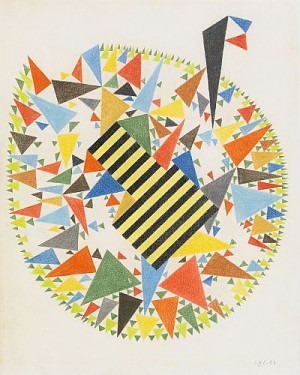 Komposition Figurer
(1947)
Price SEK 11,000 (€1,062)
Estimated SEK 8,000–10,000