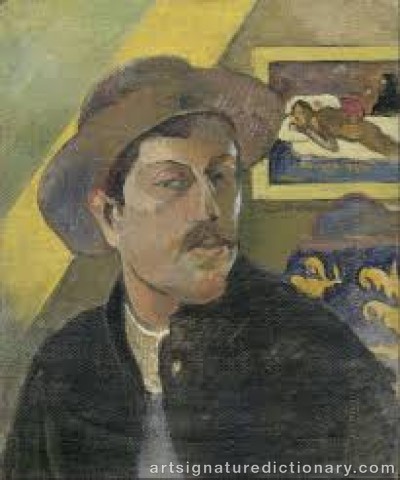 Paul GAUGUIN

1848–1903, France/Marshall Islands
Also known as: PGO

Verdict of guilty
DB 199, B 1035-72 D. (int.nr.PHM3745:21)
Oil on canvas, "Les femmes dans le foret", signed "P Gauguin", approx. 63x48 cm. The painting has previously been exhibited at Liljevalch's in Stockholm. The painting is part of a major fraud seizures of counterfeit art in Sweden known as "The Society of Art Friends": Three men, aged 30, 37, and 40 years old, were caught in Stockholm, Sweden after a reconnaissance tip from police in Ängelholm, Sweden. Shortly afterwards, another two men were caught. In total, 48 house searches were made through out the nation from which 83 forged paintings were confiscated. Forged art had already been sold for millions of Swedish crowns. Victims of the gang were well known businessmen with considerable incomes. League had good help from educated art experts who have written certificate of authenticity to many of the fake paintings, often at very small remuneration. On a door to a flat in Stockholm the men had displayed a sign with the text "The Society of Art Friends".
Olja på duk, "Les femmes dans le foret", signerad "P Gauguin", ca. 63x48 cm. Målningen har tidigare varit utställd på Liljevalchs Konsthall i Stockholm. Målningen ingår i ett stort bedrägeribeslag av förfalskad konst i Sverige kallat "Sällskapet Konstvännerna": Tre män, 30, 37 och 40 år gamla greps i Stockholm efter ett spaningstips från polisen i Ängelholm, kort därefter greps ytterligare två män. Totalt gjordes 48 husrannsakningar runt om i landet varvid 83 falska målningar togs i beslag. Falsk konst hade redan sålts för miljontals kronor och ligans offer var kända affärsmän med betydande inkomster. Ligan hade god hjälp av bildade konstexperter som för små pengar skrivit ut äkthetsintyg till många av de falska målningarna. Männen hade på en lägenhetsdörr i Stockholm satt upp en skylt med texten "Sällskapet Konstvännerna".

Verdict of guilty
PHM Nr. 20
Oil on canvas, lying naked woman, 46x92 cm, signed "Paul Gauguin". The painting is signed later in the upper right corner. The painting is probably an original work of some young modernist painted in 1910-1920's. It is painted so that it could resemble Gauguin art. Paul Gauguin reduced, however, never a face that has been made on this painting. The artist has been influenced by Matisse or Cubism, the background is plane which is typical of Cubism. The painting is otherwise of good quality. On the reverse side is been signed, "Blair HS 26". The district court's assessment: The painting are not done by Paul Gauguin, nor signed by him. It is a forgery and shall be forfeited.
Oljemålning på duk, liggande naken kvinna, 46x92 cm, signerad "Paul Gauguin". Målningen har eftersignerats i övre högra hörnet. I övrigt visar ultraviolett undersökning inga förändringar. Målningen är troligen ett originalverk av någon ung modernist gjord på 1910-1920-talet. Den är målad så att den skulle kunna likna Gauguins konst. Paul Gauguin reducerade emellertid aldrig ett ansikte som skett på denna målning. Konstnären har varit influerad av Matisse eller kubismen, bakgrunden är plan vilket är typiskt för kubismen. Målningen är i övrigt av god kvalitet. På baksidan står påskrivet "Blair HS 26". Tingsrättens bedömning: Tavlan är ej utförd av Paul Gauguin ej heller signerad av denne. Det är en förfalskning och skall förverkas.








Name
Eugène Henri, Paul, GAUGUIN
Died
1903, Marshall Islands
Paul Gauguin Biography

Eugène Henri Paul Gauguin (7 June 1848 – 8 May 1903) was a leading Post-Impressionist painter. His bold experimentation with coloring led directly to the Synthetist style of modern art while his expression of the inherent meaning of the subjects in his paintings, under the influence of the cloisonnist style, paved the way to Primitivism and the return to the pastoral. He was also an influential exponent of wood engraving and woodcuts as art forms.

Paul Gauguin was born in Paris, France to journalist Clovis Gauguin and half-Peruvian Aline Maria Chazal, the daughter of proto-socialist leader Flora Tristan. In 1851 the family left Paris for Peru, motivated by the political climate of the period. Clovis died on the voyage, leaving three-year old Paul, his mother and his sister to fend for themselves. They lived for four years in Lima, Peru with Paul's uncle and his family. The imagery of Peru would later influence Paul in his art.

At the age of seven, Paul and his family returned to France. They moved to Orléans, France to live with his grandfather. He soon learned French and excelled in his studies. At seventeen, Gauguin signed on as a pilot's assistant in the merchant marine to fulfill his required military service. Three years later, he joined the navy where he stayed for two years. In 1871, Gauguin returned to Paris where he secured a job as a stockbroker. In 1873, he married a Danish woman, Mette Sophie Gad. Over the next ten years, they would have five children.

Gauguin had been interested in art since his childhood. In his free time, he began painting. He also visited galleries frequently and purchased work by emerging artists. Gauguin formed a friendship with artist Camille Pissarro, who introduced him to various other artists. As he progressed in his art, Gauguin rented a studio, and showed paintings in Impressionist exhibitions held in 1881 and 1882. Over two summer vacations, he painted with Pissarro and occasionally Paul Cézanne.

By 1884 Gauguin had moved with his family to Copenhagen, where he pursued a business career as a stockbroker. Driven to paint full-time, he returned to Paris in 1885, leaving his family in Denmark. Without adequate subsistence, his wife (Mette Sophie Gadd) and their five children returned to her family. Gauguin outlived two of his children.

Like his friend Vincent Van Gogh, with whom in 1888 he spent nine weeks painting in Arles, Paul Gauguin experienced bouts of depression and at one time attempted suicide. Disappointed with Impressionism, he felt that traditional European painting had become too imitative and lacked symbolic depth. By contrast, the art of Africa and Asia seemed to him full of mystic symbolism and vigour. There was a vogue in Europe at the time for the art of other cultures, especially that of Japan (Japonisme). He was invited to participate in the 1889 exhibition organized by Les XX.

Under the influence of folk art and Japanese prints, Gauguin evolved towards Cloisonnism, a style given its name by the critic Édouard Dujardin in response to Emile Bernard's cloisonne enamelling technique. Gauguin was very appreciative of Bernard's art and of his daring with the employment of a style which suited Gauguin in his quest to express the essence of the objects in his art. In The Yellow Christ (1889), often cited as a quintessential Cloisonnist work, the image was reduced to areas of pure colour separated by heavy black outlines. In such works Gauguin paid little attention to classical perspective and boldly eliminated subtle gradations of colour, thereby dispensing with the two most characteristic principles of post-Renaissance painting. His painting later evolved towards Synthetism in which neither form nor colour predominate but each has an equal role.

In 1891, Gauguin, frustrated by lack of recognition at home and financially destitute, sailed to the tropics to escape European civilization and "everything that is artificial and conventional." (Before this he had made several attempts to find a tropical paradise where he could 'live on fish and fruit' and paint in his increasingly primitive style, including short stays in Martinique and as a labourer on the Panama Canal construction, however he was dismissed from his job after only two weeks). Living in Mataiea Village in Tahiti, he painted "Fatata te Miti" ("By the Sea"), "Ia Orana Maria" (Ave Maria) and other depictions of Tahitian life. He moved to Punaauia in 1897, where he created the masterpiece painting "Where Do We Come From" and then lived the rest of his life in the Marquesas Islands, returning to France only once, when he painted at Pont-Aven. His works of that period are full of quasi-religious symbolism and an exoticized view of the inhabitants of Polynesia. In Polynesia he sided with the native peoples, clashing often with the colonial authorities and with the Catholic Church. During this period he also wrote the book Avant et après (before and after), a fragmented collection of observations about life in Polynesia, memories from his life and comments on literature and paintings. In 1903, due to a problem with the church and the government, he was sentenced to three months in prison, and charged a fine. At that time he was being supported by the art dealer Ambroise Vollard. He died of syphilis before he could start the prison sentence. His body had been weakened by alcohol and a dissipated life. He was 54 years old.

Gauguin died in 1903 and is buried in Calvary Cemetery (Cimetière Calvaire), Atuona, Hiva 'Oa, Marquesas Islands, French Polynesia.

------------------------

French post-Impressionist artist Paul Gauguin was an important figure in the Symbolist art movement of the early 1900s. His use of bold colors, exaggerated body proportions and stark contrasts in his paintings set him apart from his contemporaries, helping to pave the way for the Primitivism art movement. Gauguin often sought exotic environments, and spent time living and painting in Tahiti.

Famed French artist Paul Gauguin, born in Paris on June 7, 1848, created his own unique painting style, much like he crafted his own distinctive path through life. Known for bold colors, simplified forms and strong lines, he didn't have any art formal training. Gauguin instead followed his own vision, abandoning both his family and artistic conventions.

Gauguin was born in Paris, but his family moved to Peru when he was a young child. His journalist father died on the journey to South America. Eventually returning to France, Gauguin took to the seas as a merchant marine. He was also in the French Navy for a time, and then worked as a stockbroker. In 1873, he married a Danish woman named Mette Gad. The couple eventually had five children together.

Gauguin began painting in his spare time, but quickly became serious about his hobby. One of his works was accepted into the "Salon of 1876," an important art show in Paris. Gauguin met artist Camille Pissarro around this time, and his work attracted the interest of the Impressionists. The Impressionists were a group of revolutionary artists who challenged traditional methods and subjects, and had been largely rejected by the French art establishment. Gauguin was invited to show at the group's fourth exhibition in 1879, and his work appeared among the works of Pissarro, Edgar Degas, Claude Monet and other artistic greats.

By 1883, Gauguin had stopped working as a stockbroker so that he could fully devote himself to his art. He also soon parted ways from his wife and children, and eventually went to Brittany, France. In 1888, Gauguin created one of his most famous paintings, "Vision of the Sermon." The boldly colored work showed the Biblical tale of Jacob wrestling with the angel. The following year, Gauguin painted "The Yellow Christ," a striking portrayal of the crucifixion of Jesus.

Gauguin was one of the art world's more colorful characters. He referred to himself as a savage, and claimed to have Inca blood. Fond of alcohol and carousing, Gauguin eventually contracted syphilis. He was friends with fellow artist Vincent van Gogh. In 1888, Gauguin and van Gogh spent several weeks together at van Gogh's home in Arles, but their time together ended after van Gogh pulled a razor on Gauguin during an argument. That same year, Gaugin produced the now-famous oil painting "Vision After the Sermon."

In 1891, Gauguin sought to escape the constructions of European society, and he thought that Tahiti might offer him some type of personal and creative freedom. Upon moving to Tahiti, Gauguin was disappointed to find that French colonial authorities had westernized much of the island, so he chose to settle among the native peoples, and away from the Europeans living in the capital.

Around this time, Gauguin borrowed from the native culture, as well as his own, to create new, innovative works. In "La Orana Maria," he transformed the Christian figures of the Virgin Mary and Jesus into a Tahitian mother and child. Gauguin made many other works during this time, including a carved sculpture called "Oviri"—a word that originated from the Tahitian word for "savage," although, according to Gauguin, the sculpted female figure was actually a portrayal of a goddess. Known to have a predilection for young girls, Gauguin became involved with a 13-year-old Tahitian girl, who served as a model for several of his paintings.

In 1893, Gauguin returned to France to show some off his Tahitian pieces. The response to his artwork was mixed, and he failed to sell much. Critics and art buyers didn't know what to make his primitivist style. Before long, Gauguin returned to French Polynesia. He continued to paint during this time, creating one of his later masterpieces—the canvas painting "Where Do We Come From? What Are We? Where Are We Going?" is Gauguin's depiction of the human life cycle.

In 1901, Gauguin moved to the more remote Marquesas Islands. By this time, his health had been declining; he had experienced several heart attacks, and continued to suffer from his advancing case of syphilis. On May 3, 1903, Gauguin died at his isolated island home, alone. He was nearly out of money at the time—it wasn't until after his death that Gauguin's art began receiving great acclaim, eventually influencing the likes of Pablo Picasso and Henri Matisse.

------------------------

Eugène Henri Paul Gauguin was a French postimpressionist painter whose lush color, flat two-dimensional forms, and subject matter helped form the basis of modern art.

Gauguin was born in Paris on June 7, 1848, into a liberal middle-class family. After an adventurous early life, including a four-year stay in Peru with his family and a stint in the French merchant marine, he became a successful Parisian stockbroker, settling into a comfortable bourgeois existence with his wife and five children. In 1874, after meeting the artist Camille Pissarro and viewing the first impressionist exhibition, he became a collector and amateur painter. He exhibited with the impressionists in 1876, 1880, 1881, 1882, and 1886. In 1883 he gave up his secure existence to devote himself to painting; his wife and children, without adequate subsistence, were forced to return to her family. From 1886 to 1891 Gauguin lived mainly in rural Brittany (except for a trip to Panama and Martinique from 1887 to 1888), where he was the center of a small group of experimental painters known as the school of Pont-Aven. Under the influence of the painter Émile Bernard, Gauguin turned away from impressionism and adapted a less naturalistic style, which he called synthetism. He found his inspiration in the art of indigenous peoples, in medieval stained glass, and in Japanese prints; he was introduced to Japanese prints by the Dutch artist Vincent van Gogh when they spent two months together in Arles, in the south of France, in 1888. Gauguin's new style was characterized by the use of large flat areas of nonnaturalistic color, as in Yellow Christ (1889, Albright-Knox Gallery, Buffalo, New York).

In 1891, ruined and in debt, Gauguin sailed for the South Seas to escape European civilization and "everything that is artificial and conventional." Except for one visit to France from 1893 to 1895, he remained in the Tropics for the rest of his life, first in Tahiti and later in the Marquesas Islands. The essential characteristics of his style changed little in the South Seas; he retained the qualities of expressive color, denial of perspective, and thick, flat forms. Under the influence of the tropical setting and Polynesian culture, however, Gauguin's paintings became more powerful, while the subject matter became more distinctive, the scale larger, and the compositions more simplified. His subjects ranged from scenes of ordinary life, such as Tahitian Women, or On the Beach (1891, Musée de Orsay, Paris), to brooding scenes of superstitious dread, such as Spirit of the Deadwatching (1892, Albright-Knox Art Gallery). His masterpiece was the monumental allegory Where Do We Come From? What Are We? Where Are We Going? (1897, Museum of Fine Arts, Boston), which he painted shortly before his failed suicide attempt. A modest stipend from a Parisian art dealer sustained him until his death at Atuana in Marquesas on May 9, 1903.

Gauguin's bold experiments in coloring led directly to the 20th-century Fauvist style in modern art. His strong modeling influenced the Norwegian artist Edvard Munch and the later expressionist school.
Source: http://www.paul-gauguin.net/biography.html http://www.biography.com/people/paul-gauguin-9307741#artist-in-exile http://rogallery.com
Paul Gauguin, fransk målare, grafiker och skulptör föddes 1848 och dog 1903. Han började som börsmäklare och söndagsmålare, bröt så tvärt med denna tillvaro och slöt sig till impressionisterna. Han flyttade sedan från Paris till Bretagne där han stil på ett avgörande sätt fjärmade sig från impressionisternas. Under en kort tid målad han tillsammans med van Gogh i Arles. Tillsammans med några kolleger grundlade Gauguin det dekorativa ytmåleriet – syntetismen – där färgen har symbolisk karaktär (modern konst).
Gauguin Växte upp i Lima, Peru, och hans intresse upptogs mycket av inkafolkens konst. Efter korta uppehåll på Panama och Martinique slog han sig ner på Tahiti, där han bodde under åren 1891-1893 och 1895-1901. De två sista åren av sitt liv tillbringade han på Marquesasöarna, där han också ligger begraven.
Source: Art Signature Dictionary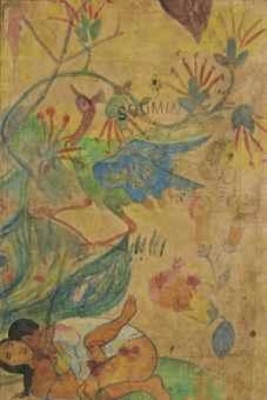 L'ibis Bleu
Price EUR 601,500 Incl. buyer's premium
Estimated EUR 500,000–800,000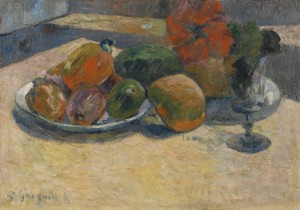 Nature Morte Aux Mangos Et à La Fleur D'hibiscus
(1887)
Price GBP 2,389,000 (€3,149,417) Incl. buyer's premium
Estimated GBP 2,000,000–3,000,000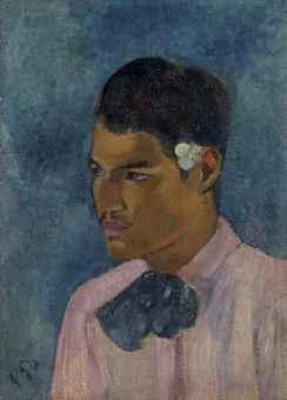 Jeune Homme à La Fleur
(1891)
Price USD 13,605,000 (€12,634,658) Incl. buyer's premium
Estimated USD 12,000,000–18,000,000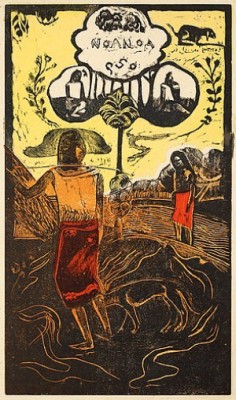 Price SEK 0 (€0) Not sold
Estimated SEK 300,000–350,000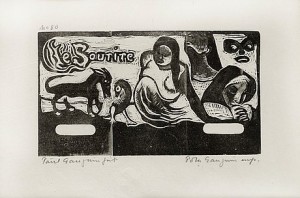 Titre Pour Le Sourire
(1921, (Pola Gauguin))
Price SEK 5,000 (€543)
Estimated SEK 8,000–10,000