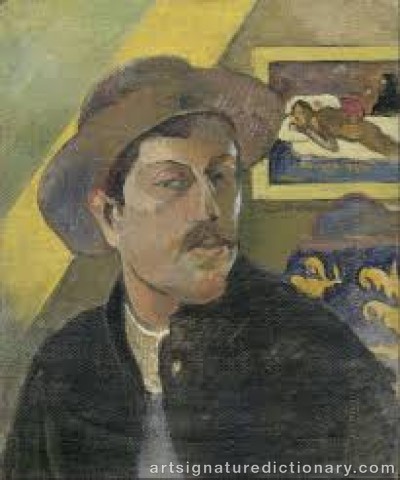 Paul GAUGUIN

1848–1903, France/Marshall Islands
Also known as: PGO

Verdict of guilty
DB 199, B 1035-72 D. (int.nr.PHM3745:21)
Oil on canvas, "Les femmes dans le foret", signed "P Gauguin", approx. 63x48 cm. The painting has previously been exhibited at Liljevalch's in Stockholm. The painting is part of a major fraud seizures of counterfeit art in Sweden known as "The Society of Art Friends": Three men, aged 30, 37, and 40 years old, were caught in Stockholm, Sweden after a reconnaissance tip from police in Ängelholm, Sweden. Shortly afterwards, another two men were caught. In total, 48 house searches were made through out the nation from which 83 forged paintings were confiscated. Forged art had already been sold for millions of Swedish crowns. Victims of the gang were well known businessmen with considerable incomes. League had good help from educated art experts who have written certificate of authenticity to many of the fake paintings, often at very small remuneration. On a door to a flat in Stockholm the men had displayed a sign with the text "The Society of Art Friends".
Olja på duk, "Les femmes dans le foret", signerad "P Gauguin", ca. 63x48 cm. Målningen har tidigare varit utställd på Liljevalchs Konsthall i Stockholm. Målningen ingår i ett stort bedrägeribeslag av förfalskad konst i Sverige kallat "Sällskapet Konstvännerna": Tre män, 30, 37 och 40 år gamla greps i Stockholm efter ett spaningstips från polisen i Ängelholm, kort därefter greps ytterligare två män. Totalt gjordes 48 husrannsakningar runt om i landet varvid 83 falska målningar togs i beslag. Falsk konst hade redan sålts för miljontals kronor och ligans offer var kända affärsmän med betydande inkomster. Ligan hade god hjälp av bildade konstexperter som för små pengar skrivit ut äkthetsintyg till många av de falska målningarna. Männen hade på en lägenhetsdörr i Stockholm satt upp en skylt med texten "Sällskapet Konstvännerna".

Verdict of guilty
PHM Nr. 20
Oil on canvas, lying naked woman, 46x92 cm, signed "Paul Gauguin". The painting is signed later in the upper right corner. The painting is probably an original work of some young modernist painted in 1910-1920's. It is painted so that it could resemble Gauguin art. Paul Gauguin reduced, however, never a face that has been made on this painting. The artist has been influenced by Matisse or Cubism, the background is plane which is typical of Cubism. The painting is otherwise of good quality. On the reverse side is been signed, "Blair HS 26". The district court's assessment: The painting are not done by Paul Gauguin, nor signed by him. It is a forgery and shall be forfeited.
Oljemålning på duk, liggande naken kvinna, 46x92 cm, signerad "Paul Gauguin". Målningen har eftersignerats i övre högra hörnet. I övrigt visar ultraviolett undersökning inga förändringar. Målningen är troligen ett originalverk av någon ung modernist gjord på 1910-1920-talet. Den är målad så att den skulle kunna likna Gauguins konst. Paul Gauguin reducerade emellertid aldrig ett ansikte som skett på denna målning. Konstnären har varit influerad av Matisse eller kubismen, bakgrunden är plan vilket är typiskt för kubismen. Målningen är i övrigt av god kvalitet. På baksidan står påskrivet "Blair HS 26". Tingsrättens bedömning: Tavlan är ej utförd av Paul Gauguin ej heller signerad av denne. Det är en förfalskning och skall förverkas.