Per ENGLUND

1905–1988, Sweden
Per Englund attended Wilhelmsson and Otte Sköld art schools, and Othon Friesz in Paris. He made exhibitions in Stockholm, Västerås, Gävle in Sweden. He was very productive, but only left the sterling work behind him. He carried out numerous monumental works today is classic in its simplicity.
Represented: Moderna Museet, Stockholm, Museum in Gävle, Västerås and Hudiksvall.
Per Englund studerade vid Wilhelmsons och Otte Skölds målarskolor, för Othon Friesz i Paris. Han gjorde också utställningar i större städer, Stockholm, Västerås, Gävle. Men i Granbo, strax söder om Bollnäs i Hälsingland, växte hans inre övertygelse och här i det egna landskapet fanns både hans motiv och hans publik. Denne mycket produktive konstnär lämnade enbart gediget arbete bakom sig. Utställningarna följde varandra och förankringen hos hälsingarna likaså. Under sena 40-talet påbörjade han en serie offentliga utsmyckningar. Under trettio år utförde han ett flertal monumentala arbeten som idag är klassiska i sin enkelhet.
Per Englund var Hälsinglands gröna målare. Per älskade de gröna kulörerna, vår och sommar var hans tid i Granbo 8 km söder om Bollnäs. Här bodde och arbetade han under sextio år. En kvalitativ konstnär med ett eget uppdrag, att skildra Hälsingland.
Per Englund avbildade kynne, natur och kultur hos befolkning och landskap och det är befriande att se hans konstnärliga utveckling. En utveckling mot friare, luftigare former med stigande ålder. Ett allt mer moget och täckande konstnärskap.

Offentliga utsmyckningar:
Arbrå Forsbrokyrkan, 1954 Väggmåln
Bollnäs Land skall med lag byggas, G Tingshuset, 1947 Väggmåln
Bollnäs S:t Lars kapell, 1961 Textil,
Bollnäs Rehngården, 1944 Väggmåln
Edsbyn Celsiusskolan, trapph, 1952 Väggmåln
Kilafors Hanebo g. kommunalhus 1958 Äggoljetemp
Kilafors Hanebo Församlingshem, 1966 Väggmåln
Kilafors Hällagårdens servicehem Skisser till väggmåln
Mo Gamla sockenstugan Tavla på spånskiva
Segersta Segersta skola, trapph, 1951 Väggmåln
Segersta Privatbostad, Djupa, 1950 Vägg- och takmåln
Skog Skogs sockenstuga, 1968 Väggmåln, .
Söderhamn Staffanskolan, 1966

Representerad:
Moderna Muséet i Stockholm, Museum i Gävle, Västerås och Hudiksvall.
Source: http://www.bollnas.se/index.php/konstnaerer/per-englund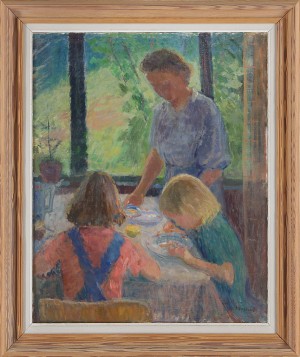 Frukosten
Price SEK 2,200 (€249)
Estimated SEK 2,000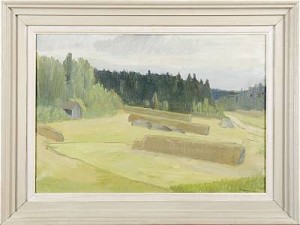 Price SEK 0 (€0) Not sold
Estimated SEK 1,500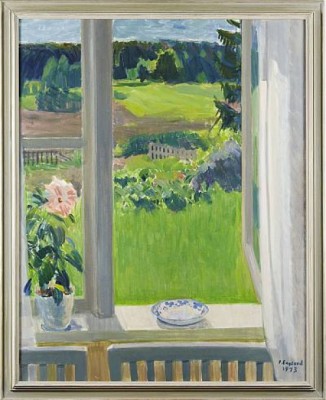 Utsikt Från Fönster
(1973)
Price SEK 3,000 (€298)
Estimated SEK 1,500