Ragnar SANDBERG
1902–1972, Sweden
Also known as: RS

Verdict of guilty
Investigation in progress
Watercolor, signed RS, 30x23 cm, guitar playing woman. The painting cataloged and sold in October 2011 by a small Auction houses Malmö department over the internet as a work of "Ragnar Sandberg (1902-1972)". The police noted the painting and contacted Ragnar Sandberg's daughter, who dismissed the painting as an original work of her father Ragnar Sandberg. The auction house contacted the buyer and withdrew the painting. The painting is under investigation. Warning! It is possible that crime can not be verified and then the painting will remain in the market. It can therefore once again come up for sale, and incorrectly stated, as an original work of Ragnar Sandberg.
Akvarell, Signerad RS, 30x23 cm, gitarrspelande kvinna. Målningen katalogiserades och såldes i oktober 2011 av ett mindre Auktionshus Malmöavdelning över internet som ett verk av "Ragnar Sandberg (1902-1972)". Polisen uppmärksammade målningen och kontaktade Ragnar Sandbergs dotter som avfärdade målningen som ett originalverk av hennes far Ragnar Sandberg. Auktionshuset kontaktade köparen och drog tillbaka målningen. Målningen är under utredning. Varning! Det är möjligt att brott ej kan styrkas och då förblir målningen kvar på marknaden. Den kan alltså återigen komma ut till försäljning, och felaktigt anges, som ett originalverk av Ragnar Sandberg.
























Name
Ragnar, Gösta Leopold SANDBERG
Ragnar Sandberg studied for Tor Bjurström at Valand. For Marcel Gromaire in Paris. He was inspired by Pierre Bonnard art. His paintings are a kind of snapshots. The shimmer of color and are full of motion. He wanted his art would be immediate and avsiktslös, that it would catch even things that you can not see, such as wind and sea breeze, naive and full of humor. During the 1940s he was appointed professor of art at the Art Academy in Stockholm.
Represented: Modern Museum in Stockholm, with, the seagulls, the National Museum in Stockholm, Malmo Museum, Gothenburg Art Museum, Borås, Gävle and Museum in London.
Source: Art Signature Dictionary
Ragnar Sandberg studerade på Valand för Tor Bjurström 1920. För Marcel Gromaire i Paris. Han inspirerades av Pierre Bonnards bildkonst. Hans måleri är ett slags ögonblicksbilder. De skimrar av färg och är fulla av rörelse. Han ville att hans konst skulle vara omedelbar och avsiktslös, att den skulle fånga även sådant som inte går att se, som t ex vinden och havsbruset, naiv och fylld av humor.
Under 1940-talet utsågs han till professor i teckning på Konsthögskolan i Stockholm.

Utställningar:
Biennalen i Venedig. En retropektiv utställning på Konstakademien i Stockholm 1972. Liljevalchs Konsthall 2002. Göteborgs Konstmuseum 2003,
Offentlig utsmyckning:
Väggmålning Lorensbergs festvåning, Göteborg, Zoofysiologiska institutionen i Uppsala, dekoreration av Redaresalens väggar, en privatsal på Operakällan i Stockholm. Dekoration av en festvåningslokal på Park Avenue Hotel i Göteborg 1958.

Representerad:
Moderna Muséet i Stockholm, med, Fiskmåsarna, Nationalmuseum i Stockholm, Malmö Museum, Göteborgs Konstmuseum, Borås, Gävle museum och i London.
Source: Art Signature Dictionary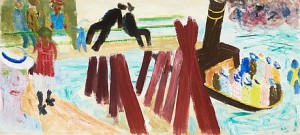 Lilla Bommen / Dykdalber
(-36)
Price SEK 661,782 (€72,068) Incl. buyer's premium
Estimated SEK 600,000–800,000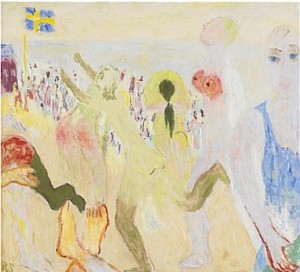 På Stranden
Price SEK 650,000 (€70,785)
Estimated SEK 800,000–1,000,000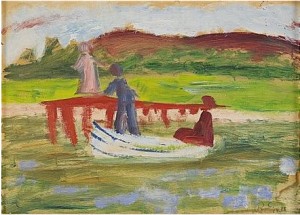 Price SEK 25,000 (€2,723)
Estimated SEK 25,000–30,000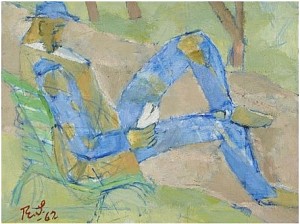 Price SEK 55,000 (€6,078)
Estimated SEK 25,000–30,000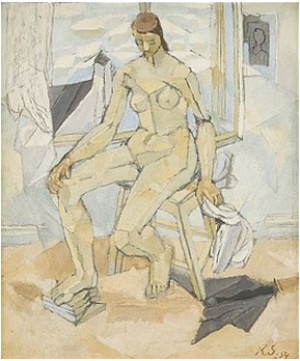 Modell Mot öppet Fönster
(-54)
Price SEK 30,000 (€3,315)
Estimated SEK 30,000–40,000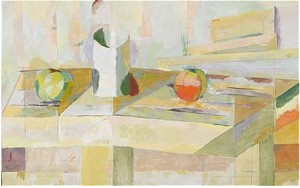 Nature Morte Med Vit Kopp Ii
(1946-1947)
Price SEK 200,000 (€22,100)
Estimated SEK 225,000–250,000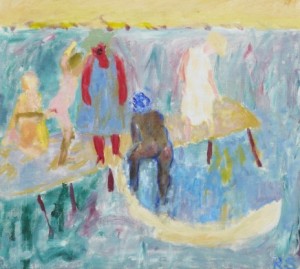 Embarkering - På Bryggan
Price SEK 310,000 (€35,619)
Estimated SEK 300,000–400,000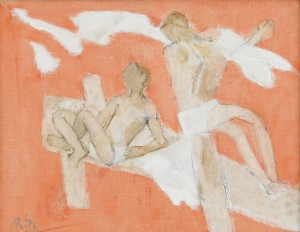 Price SEK 68,000 (€7,922)
Estimated SEK 60,000–80,000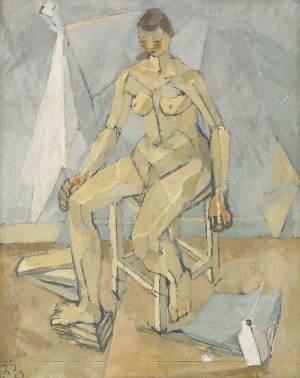 Modell - Birgit Broms
(-53)
Price SEK 46,000 (€5,359)
Estimated SEK 50,000–60,000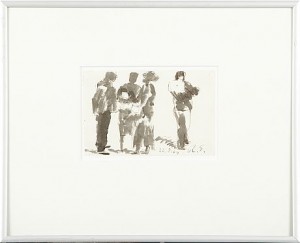 Samtalande Människor
(-64)
Price SEK 4,000 (€450)
Estimated SEK 2,500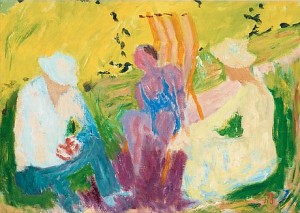 Price SEK 235,875 (€27,456) Incl. buyer's premium
Estimated SEK 200,000–250,000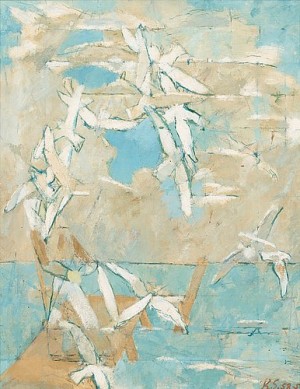 Price SEK 344,250 (€40,071) Incl. buyer's premium
Estimated SEK 150,000–200,000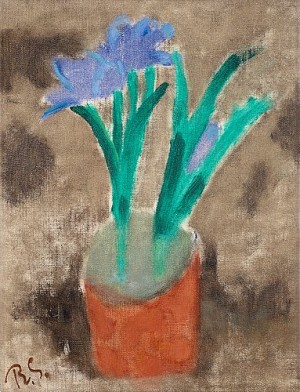 Blomma
Price SEK 22,950 (€2,671) Incl. buyer's premium
Estimated SEK 25,000–30,000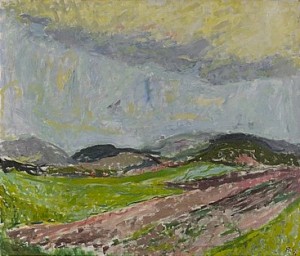 Fält Och Berg - Slussen
(-30)
Price SEK 0 (€0) Not sold
Estimated SEK 60,000–80,000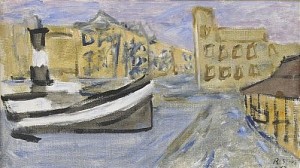 Price SEK 26,000 (€2,922)
Estimated SEK 18,000–20,000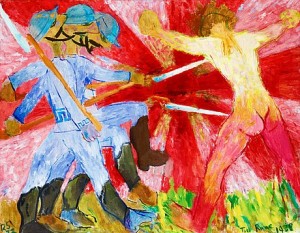 Price SEK 1,800,000 (€192,060)
Estimated SEK 1,800,000–2,000,000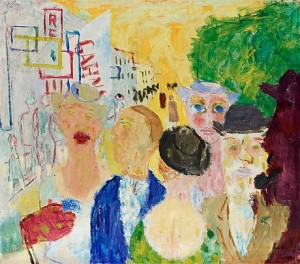 Sommarflanörer I Göteborg
(Executed 1930's)
Price SEK 440,000 (€46,948)
Estimated SEK 350,000–400,000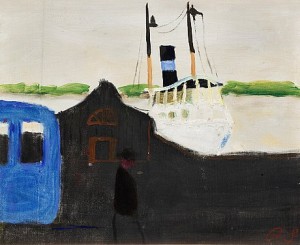 ångbåtsbrygga Lilla Bommen, Göteborg
Price SEK 105,000 (€11,204)
Estimated SEK 100,000–125,000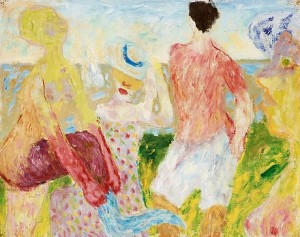 Price SEK 790,000 (€85,320)
Estimated SEK 500,000–700,000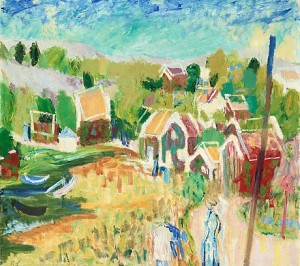 By, Slussen
(Executed 1934)
Price SEK 165,000 (€17,820)
Estimated SEK 200,000–300,000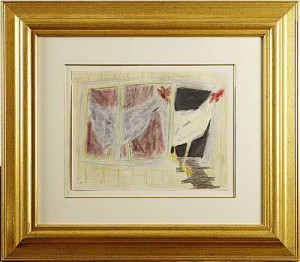 Price SEK 6,700 (€722)
Estimated SEK 8,000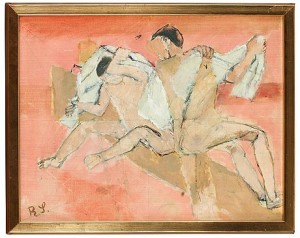 På Bryggan
Price SEK 48,000 (€5,213)
Estimated SEK 30,000–35,000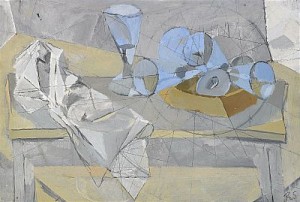 Stilleben Med Vinglas
Price SEK 170,000 (€18,464)
Estimated SEK 150,000–175,000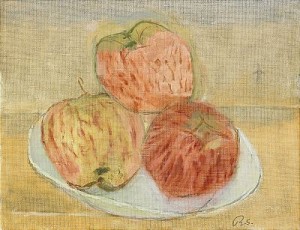 äpplen På Fat
Price SEK 45,000 (€4,887)
Estimated SEK 60,000–80,000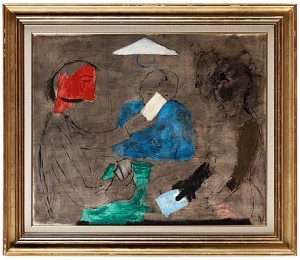 Kortspelare (l:a Bommen)
(1937)
Price SEK 280,000 (€30,411)
Estimated SEK 350,000–400,000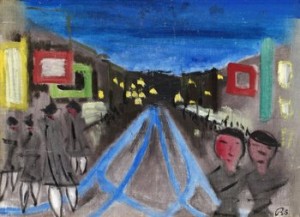 Nattpromenad, Lilla Bommen
Price SEK 94,000 (€9,776)
Estimated SEK 100,000–125,000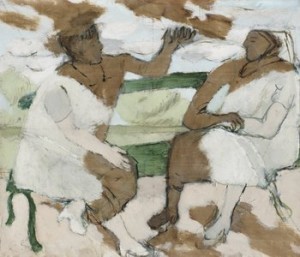 Samtal På Parkbänk
Price SEK 88,000 (€9,152)
Estimated SEK 40,000–50,000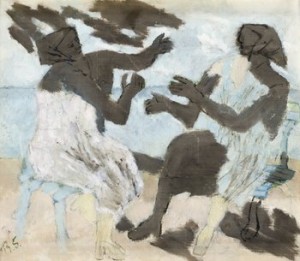 Konversation
Price SEK 92,000 (€9,568)
Estimated SEK 60,000–80,000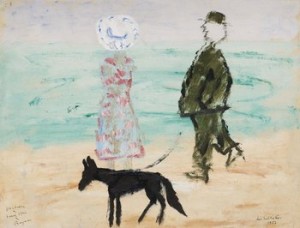 Price SEK 125,000 (€13,000)
Estimated SEK 100,000–125,000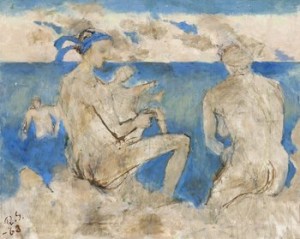 Price SEK 54,000 (€5,616)
Estimated SEK 60,000–80,000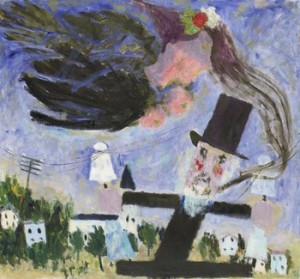 Price SEK 1,000,000 (€104,000)
Estimated SEK 1,000,000–1,200,000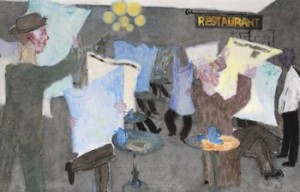 Tidningsläsaren
Price SEK 330,000 (€34,320)
Estimated SEK 400,000–500,000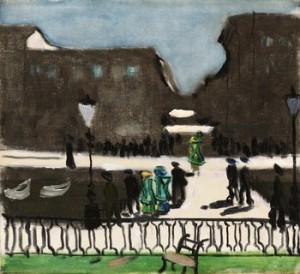 Utsikt Mot Korsgatan
(painted 1938)
Price SEK 110,000 (€11,440)
Estimated SEK 70,000–80,000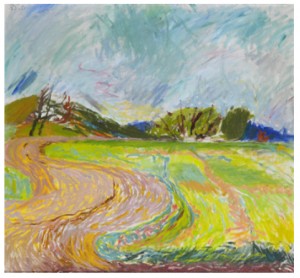 Motiv Från Hanhals
(1931)
Price SEK 70,000 (€6,692)
Estimated SEK 70,000–80,000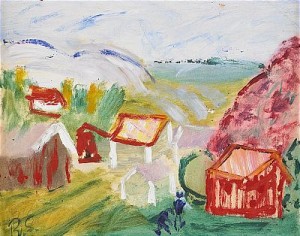 Slussen - Orust
Price SEK 54,000 (€5,303)
Estimated SEK 35,000–40,000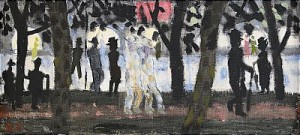 Flanörer
Price SEK 260,000 (€25,532)
Estimated SEK 150,000–200,000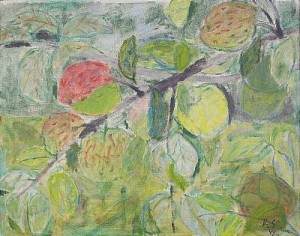 Gren Med äpplen I Hanhals
(1943)
Price SEK 160,000 (€15,712)
Estimated SEK 200,000–250,000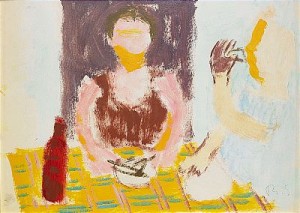 Måltiden
Price SEK 40,000 (€3,928)
Estimated SEK 40,000–50,000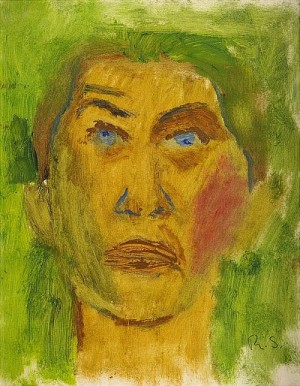 Självporträtt
Price SEK 32,000 (€3,142)
Estimated SEK 30,000–35,000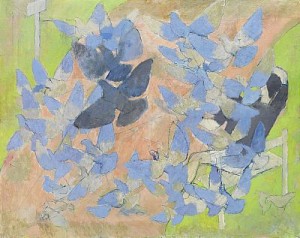 Duvorna Matas
Price SEK 240,000 (€23,568)
Estimated SEK 300,000–400,000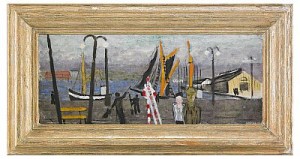 Lilla Bommen
Price SEK 540,000 (€53,028)
Estimated SEK 350,000–400,000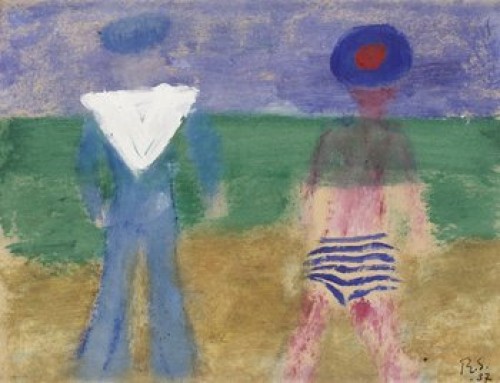 Price SEK 64,000 (€6,244)
Estimated SEK 50,000–60,000
Price SEK 3,000 (€294)
Estimated SEK 4,000–5,000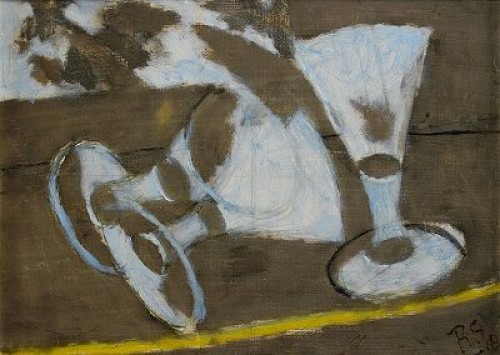 Price SEK 46,000 (€4,299)
Estimated SEK 30,000–40,000
Landskap Hanshals
Price SEK 36,000 (€3,364)
Estimated SEK 40,000–50,000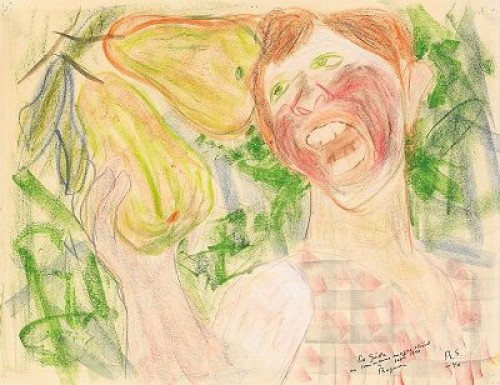 Price SEK 24,000 (€2,243)
Estimated SEK 30,000–40,000
Price SEK 75,000 (€75,757)
Estimated SEK 100,000–125,000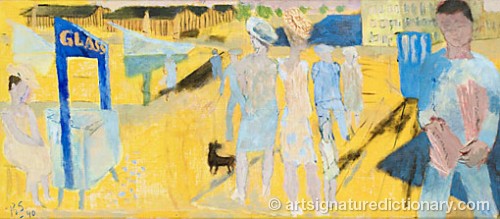 Eftermiddag Lilla Bommens Hamn
(-40)
Price SEK 225,000 (€22,727)
Estimated SEK 300,000–350,000