Samuel John Lamorna BIRCH
1869–1955, England
Name
Samuel John Lamorna BIRCH
Samuel John \"Lamorna\" Birch was the eldest of a family of 10 children and, when their father died at an early age, left school early to help support them. He worked as an office boy in Manchester, but there his health suffered and he convalesced for a time at the home of a water bailiff, who taught him the arts of fly-fishing. This skill was to give him joy throughout the rest of his life. The young Birch also began to paint land and river-scapes at this time.

As his health improved, he moved to Halton, near Lancaster, to work in a linoleum factory, where he eventually became a pattern designer. He sketched and painted in the early morning and in the summer evenings after work, gradually building quite a local following.

In 1889, at the age of 20, Birch visited the fishing village of Newlyn in Cornwall, having heard of the growing community of artists there, founded by Stanhope Forbes (1857-1947). Forbes advised the young man to follow his own adventures of ten years earlier and travel to Paris. In 1892, inspired by the landscape and the young artists he met in Cornwall, Birch took lodgings at Boleigh Farm, at the head of the Lamorna Valley, near St Buryan and started painting in earnest. Later, having saved enough money, he travelled abroad, settling in Paris, where he enrolled at Colarossi's atelier to study for a year, from 1895-6. Here he was influenced by the work of Monet and Pissaro, but his year in France was to be the only formal tuition he ever received

Following his return, Birch held a most successful exhibition of his French paintings in Lancaster, including all his Seine studies. This fillip to his career encouraged him to settle in Cornwall permanently and so he returned to Boleigh at the end of '96. Here he stayed until 1902, the year that he met Emily Houghton Vivian, known as "Mouse", who asked him to give her painting lessons. Birch agreed, the lessons rapidly blossomed into romance and they married within the year, when he was 33. The couple rented the Harbourmaster's house by Lamorna Cove, Flagstaff Cottage. He built a studio here, beside a trout stream. Birch must have been blissfully happy, with his new bride, his painting and his fishing. Grant Waters, in his biography "Dictionary of British Artists" observes that Birch "was constantly torn between his love for art and fishing", but it would appear that he achieved a pretty happy balance between the two. Their daughter, Elizabeth was born in 1904 and she too, was to become an painter. Birch developed as a prolific artist, both as a landscape impressionist in oils and as a watercolourist of river scenes, working out of doors in all lights, seasons and weather. At around this time, Stanhope Forbes, who was impressed by the younger man's talent and dedication, suggested he should adopt an additional, professional, name in order to distinguish his work from that of another painter, working in Newlyn, Lionel Birch (fl. 1898-1916). Again, he accepted the advice of his mentor and began signing his work S J Lamorna Birch. He was a popular and kindly man and soon attracted other artists, in a second wave to Cornwall, including Laura and Harold Knight. In 1906, he held the first of several successful one-man exhibitions in London at the Fine Art Society and he was elected to membership of the Royal Society of Painters in Water-colours in 1914. Election to Associate membership of the RA came in 1926 and he became a full Academician in 1934, when he was already 65. Birch meanwhile, had encouraged his daughter's artistic development and she exhibited landscapes and flower pieces at the RA from 1939 until 1951, under her married name, Elizabeth "Lamorna" Kerr.

He and his family travelled a lot, often to places where there happened to be a good fishing river…… He visited New Zealand and Australia in 1937 and an exhibition from these travels was held at the Greatorex Galleries, in Mayfair on his return.

Birch exhibited widely; 236 works at the Royal Academy from 1893 until 1955. Remarkably, he never missed a single year's annual exhibition at the RA from 1905, through two world wars until his death. He also showed work at the RWS, the RWA, the (Royal) Glasgow Institute from 1909 to 1955, (97 works), and the Royal Scottish Academy from 1916 (6works).

His work is held in dozens of public collections in England, Scotland, Wales and Ireland, from Aberdeen to Truro, including Tate Britain and the Royal Academy.
Source: http://caltongallery.co.uk/Artist.aspx?id=Artist.BIRCH01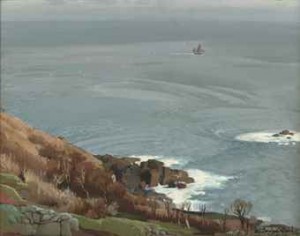 Along The Coast, Cornwall
Price GBP 5,000 (€5,931) Incl. buyer's premium
Estimated GBP 3,000–5,000