Sven PALMQVIST
1906–1984, Sweden
Name
Sven, Ernst Robert PALMQVIST
Sven Palmqvist studied at the Orrefors school, at the Technical School in Stockholm, at the Royal Academy of Art sculpture department and in Paris. He worked for Orrefors glass factory in 1927 and was one of our top glass artists. He designed the crockery Rhapsody 1958th and worked with monumental works of the great crystal blocks from the late 1950s.
Exhibitions: Museum Ljungberg, Röhss art crafts museum.
Public art: Skandinaviska Banken, Kalmar, Linköping crematorium.
Represented: National Museum in Stockholm, as well as in foreign museum with glass.
Sven Palmqvist studerade vid Orrefors skola för glaslavering, vid Tekniska skolan i Stockholm, vid Konstademiens skulpturavdelning och i Paris. Han blev knuten till Orrefors glasbruk 1927 och var en av våra främsta glaskonstnärer. Han arbetade som självständig konstnär från 1936 med både bruksglas och exklusivt konst­glas. Skapade vid experiment med graalglas se­rierna Kraka 1944 med ett inbyggt fint nät­mönster och Ravenna 1951, inspirerad av ita­lienska mosaiker och medeltida glasfönster. Han arbetade med rena och utdragna former. Sant de Boeuf-glas i djuprött under­fång 1946. Serien Selena 1948 gjordes i en tjock, månskensfärgad kristall och Kantara, veckade skålar i färgat underfång. Han utarbetade en metod att centrifugera glas och skapade serien Fuga 1954, en prisbillig var­dags­vara som kommit att bli symbol för 1950-talet. Fuga i färg blev Colora-serien. Han ritade ser­visen Rhapsody 1958. och arbetade med monu­men­tala arbeten i stora kristallblock från slutet av 1950-talet.

Utställningar:
Ljung­bergs­mu­séet, Röhsska konstslöjdmuséet.

Offentlig utsmyckning:
Skandinaviska Banken i Kalmar , Linköpings krematorium.

Representerad:
Nationalmuseum i Stockholm, samt i utländska museum med glas.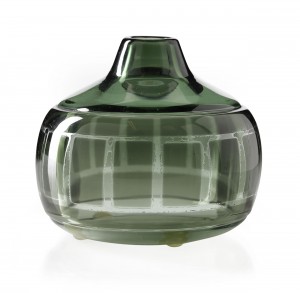 "rand", Vas, Orrefors 1964, Ravenna, Dekor Av Rutor I Grönt Mot Grön Fond, Signerad Orrefors Ravenna Nr 2478 Sven Palmqvist,
(1964)
Price SEK 3,200 (€373)
Estimated SEK 4,000–5,000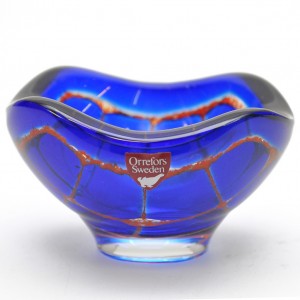 Orrefors, "ravenna"
Price SEK 2,400 (€259)
Estimated –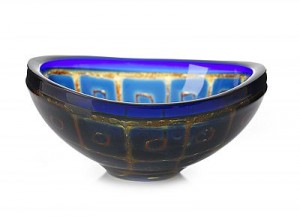 Skål, Orrefors 1960, Ravenna, Dekor Av Kvadrater I Blått Mot Gul Fond Med Röda Stänk
(1960)
Price SEK 4,600 (€500)
Estimated SEK 4,000–5,000