Theodore WORES
1859–1939, USA
Theodore Wores was born 1859 in San Francisco and his artistic education from Joseph Harrington began at the age of twelve. Wores later became one of the first to be accepted at the San Francisco School of Design when it opened in 1874. He later continued his training in Europe at the Royal College of Munich with fellow artists such as Whistler, Rosental and Chase.The travelling was a vital part of Wores's life and artistic work, with expeditions to Hawaii, Spain, Samoa, Canada, Taos and New Mexico. But the place with the greatest influence on his artistic development, and which inspired his today most known motifs, was Japan. Wores spent two longer periods of time in Japan. His experiences and impressions were documented in his paintings and in the articles he wrote for Century Magazine and Scribner's. His first stay began in 1885, and Wores was then one of the first American artists to work in the country. During this time, the Meiji era, Japan experienced a profound societal change towards modernisation and occidentalisation. Wores was deeply fascinated by the ancient Japanese culture, still unaffected by the western commercialism, and he reacted against this new development. This attitude is reflected in this lot "Excursion in Tokyo", painted during Wores's first visit to Japan. The painting gives an example of Wores's sense of detail and love for colourful scenes. The traditional costumes of the two women express the artist's romantic view of the still untouched Japan, at a time when the emperor had proclaimed that the western modes of fashion should be followed as a way of modernising the country.The love of Japan was an important part of Wores's early works. Later in life, he would focus on more impressionistic landscape painting. The great fire in San Francisco in 1906 had a devastating effect on Wores's life, as his home, studio and a large part of his works were destroyed. Hence, the lot of this sale, dated 1890, is a unique example of his early production, and a wonderful interpretation of a time long gone by.
Source: Uppsala Auktionskammare, Sweden
Theodore Wores föddes 1859 i San Francisco. Vid tolv års ålder påbörjades hans konstutbildning med undervisning av Joseph Harrington. Wores var sedan en av de första att accepteras vid San Francisco School of Design vid dess öppnande 1874. Han kom sedan att fortsätta sin skolning i Europa vid Münchens Kungliga Akademi med kollegor som Whistler, Rosental och Chase.
Resandet blev en vital del av Wores liv och konstnärskap med expeditioner till Hawaii, Spanien, Samoa, Kanada, Taos och New Mexico. Den plats som dock hade störst inflytande på Wores konstnärliga utveckling och som var den största inspirationskällan för de motiv som han idag är känd för var Japan.
Wores vistades under två långa perioder i Japan. Han bodde utanför Tokyo där han dokumenterade sina upplevelser och intryck i sitt måleri samt i de artiklar han skrev för the Century Magazine och Scribner's. Första vistelsen inleddes redan 1885 och Wores var då en av de första amerikanska konstnärerna som verkade i landet. Under denna tid, Meji-eran, genomgick Japan djupgående samhällsförändringar i form av modernisering och ett närmande till den västerländska kulturen. Wores var djupt fascinerad av den traditionella japanska kulturen som ännu var opåverkad av den västerländska kommersialismen, och han vände sig emot denna nya utveckling. Hans fascination uttrycks i auktionens "Utflykt i Tokyo", målad under Wores första besök i Japan. Målningen visar exempel på Wores känsla för detaljer och hans förkärlek för färgrika scener. Kvinnornas traditionella klädedräkt utgör ett slående exempel på Wores romantiserande bild av ett ännu orört Japan, vid en tid då kejsaren proklamerat att den västerländska klädstilen skulle efterföljas som ett led i moderniseringen av landet.
Kärleken till Japan var en viktig del av Wores tidiga verksamhet. Senare i livet fokuserade han på impressionistiskt landskapsmåleri. Den stora branden i San Francisco 1906 drabbade Wores hårt då hans hem, ateljé och en stor del av hans tidiga verk gick förlorade. Auktionens målning, daterad 1890, utgör på så sätt ett unikt exempel på hans tidiga produktion och en underbar skildring av en svunnen tid.
Source: Uppsala Auktionskammare, Sweden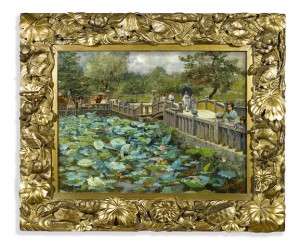 Lotus Pond, Shiba, Tokyo
(1886)
Price USD 257,000 (€230,074) Incl. buyer's premium
Estimated –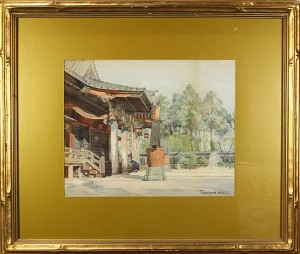 Japanese Temple
Price USD 2,250 (€2,050)
Estimated USD 3,000–5,000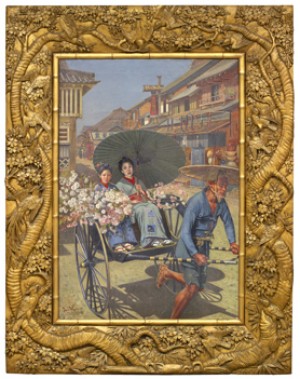 Price SEK 2,400,000 (€229,440)
Estimated SEK 300,000–400,000