Tove JANSSON

1914–2001, Finland

Verdict of guilty
0201-K356170-10. (2010-0201-BG31625)
Oil on canvas, scene portrait of woman, 47x37 cm. A private person submitted the painting to the auction house Metropol in Stockholm, Sweden for sale. The painting was cataloged as a genuine Tove Jansson on their internet auction. It was sold on online auction for SEK 56.685. When the buyer examines the painting, he discovers that the signature is written with some sort of water-soluble ink. He complain about the deal to the Metropol, which immediately changes the data in the Internet directory. They are then unwilling to repay the sum to the buyer on the grounds that there is no indication in the directory that the painting would be genuine! The buyer had, wisely, printed catalog page before he complained about the painting. He showed the print, and then got the money back! The person who submitted the painting had been bought it at a garage sale for SEK 50. He had submitted this and some other paintings to Metropol auction house.
Oljemålning på duk, motiv porträtt av kvinna, 47x37 cm. En privatperson lämnade målningen till auktionshuset Metropol i Stockholm för försäljning. Auktionshuset katalogiserade målningen som en äkta Tove Jansson inför deras internetauktion. Den såldes för 56.685 kronor. När köparen granskar målningen upptäcker han att signaturen är skriven med någon sorts vattenlöslig färg/bläck. Han reklamerar affären till Metropol som genast ändrar uppgifterna i internetkatalogen. Därefter är man ovillig att återbetala summan till köparen med hänvisning till att det inte finns någon uppgift i katalogen om att målningen skulle vara äkta! Köparen hade, klokt nog, skrivit ut katalogsidan innan han reklamerade målningen. Han visade upp utskriften och först då återbetalades summan! Personen som lämnade in målningen till Metropol hade köpt den på Skärholmens loppmarknad för 50 kronor. Han hade lämnat in denna och några andra målningar till Metropol.




















Name
Tove, Marika JANSSON
Tove Jansson var dotter till Viktor Jansson och Signe Hammarsten-Jansson, syster till Lars Jansson och Per Olov Jansson. Hon var finlandssvensk författare och konstnär och fick professorsnamn 1995. Hon dog 27 juni 2001 i Helsingfors, Finland.
Tove Jansson är framför allt känd för sina böcker och den tecknade serien om mumintrollen. Utöver sina egna böcker har hon bland annat målat tavlor och även illustrerat Nalleresan av Solveig von Scholtz , J. R. R. Tolkiens Bilbo - En hobbits äventyr och Lewis Carrolls Snarkjakten och Alice i Underlandet. En känd sångtext finns också bland hennes alster - \\\"Höstvisa\\\" med musik av Erna Tauro.
Tove Jansson föddes i Helsingfors 1914. Hennes mor, Signe Hammarsten-Jansson, var svensk konstnär och hennes far, Viktor Jansson, var en finländsk skulptör. Under hennes uppväxt tillbringade familjen vintern i en ateljé och sommaren på Blidö i Stockholms skärgård. Blidö är också modellen för Mumindalen i Tove Janssons böcker om mumintrollen.
Toves yrkesval som ung var självklart, hon skulle också bli konstnär. Redan som 15-åring reste hon till Sverige för att studera teckning vid Konstfack i Stockholm. Efter studierna reste hon runt i Europa, bland annat till Tyskland, Italien & Paris. Under studietiden fick hon hjälpa till att försörja familjen genom att illustrera i tidningar och böcker. Efter avslutade studier återvände dock Tove till Finland och slog sig ned i Helsingfors där hon blev tecknare för den politiska skämttidningen Garm. Denna populära tidning skapades i Finland 1923 av Henry Rein och den vände sig främst till den svenskspråkiga befolkningen i Finland och skrevs på svenska. Tidningen ironiserade politik och kunde förlöjliga till exempel kommunism och nazism. Tidningen hade ändå en viss högerpolitisk inriktning och under andra världskriget bekraktades den som pronazistisk av vissa. Tove Jansson tecknade bland annat tidningens framsida. Det var också här som hon också för första gången ritade en figur (en snork) som liknade Mumintrollet som hon använde den som signatur till sina bilder. När Henry Rein dog 21 augusti 1953 upphörde tidningen trots dess populäritet.
Tillsammans med sin bror Lars Jansson, började Tove teckna serier och ge ut böckerna om mumintrollen. 1945 gav hon ut den första muminboken, Småtrollen och den stora översvämningen. Men det egentliga genombrottet för Tove Jansson som barnboksförfattare kom med boken Trollkarlens hatt (1948). Den översattes till engelska, vilket banade väg för muminböckernas översättning till andra språk som i dag är över 30 stycken! Tove och Lars skaffade sig också en ö, Klovharun, vid Pellinge i skärgården, där hon kom att tillbringa somrarna precis som hon tillbringade barndomens somrar på Blidö. 1995 donerade Tove Janssson stugan på ön till Pellinge hembygdsförening för att säkerställa skötseln av den unika miljön. Stugan kan idag hyras veckovis av intresserade.
När Tove Janssons mamma, Signe Hammarsten-Jansson, dog 1970 bestämde sig hon och Tuulikki Pietilä, som var hennes livskamrat även om förhållandet mellan dem aldrig offentligt klargjorts, för att ge sig ut på en lång resa. Under den resan började Tove Jansson övergå till att skriva för vuxna, istället för att som tidigare bara rikta sig till barn.
Janssons mest kända böcker, de om Mumintrollen, målar upp en sagobetonad fantasivärld där figurerna inte är människor men kanske just därför så mycket mänskligare i sina ofta väldigt utpräglade personligheter. Ofta strävar de efter att finna en mening, kanske inte med livet men med tillvaron som den ser ut just för stunden. Andra återkommande teman är det konstnärliga skapandets vedermödor och de ständigt hotande katastroferna. Liknande teman går igen även i Toves vuxenlitteratur, skriven på 1970- och 80-talen.
Huvudpersonen i muminberättelserna är oftast det nyfikna Mumintrollet själv. Bland figurerna finns bland andra den träiga Hemulen med samlarmani, den ångestfyllda Filifjonkan, den självupptagne Muminpappan, den kompromisslösa Lilla My, den rastlöse Snusmumriken och den räddhågsne Sniff.
Ofta hämtade Jansson inspiration till historierna och gestalerna från händelser och människor i sin egen närhet: Muminmamman har många drag gemensamma med hennes egen mor och Too-ticki är ett porträtt av livskamraten Tuulikki Pietilä. Huvudpersonerna i Sommarboken, en liten flicka och hennes farmor, är modellerade på Janssons brorsdotter och mor. Handlingen är ofta förlagd till Helsingfors eller den finska skärgården.
Tove Jansson-priset ges sedan 2002 var tredje år till minne av Tove Jansson åt en person som förtjänstfullt verkat för barn och ungdomskultur i Finland. Men hon har också själv vunnit ett stort antal priser.
Dessutom utnämndes hon till hedersdoktor vid Åbo akademi 1978, och till professor 1995.
Source: http://www.tovejansson.se/livet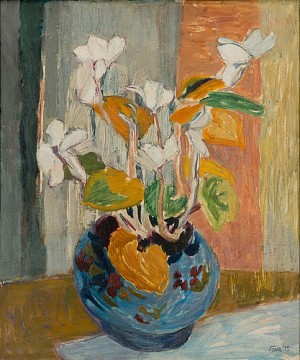 Price EUR 4,200
Estimated EUR 4,500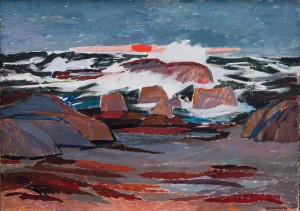 Price EUR 9,800
Estimated EUR 4,000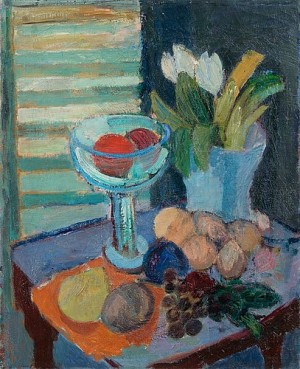 Still Life With Fruit And Tulips
(-46)
Price EUR 10,225 Incl. buyer's premium
Estimated EUR 8,000–10,000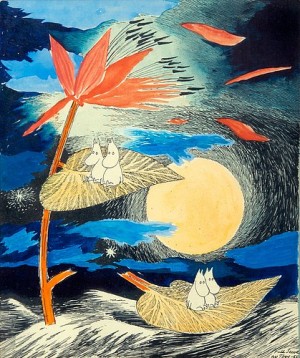 Price EUR 7,669 Incl. buyer's premium
Estimated EUR 4,000–5,000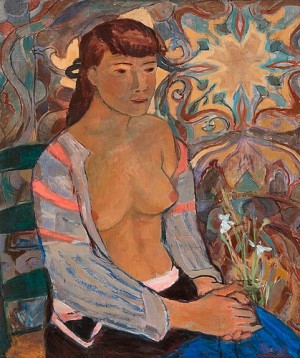 Price EUR 16,617 Incl. buyer's premium
Estimated EUR 6,000–8,000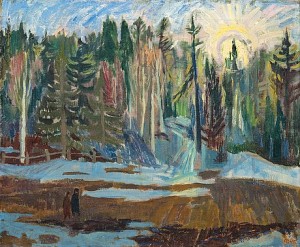 Price EUR 3,323 Incl. buyer's premium
Estimated EUR 1,500–2,000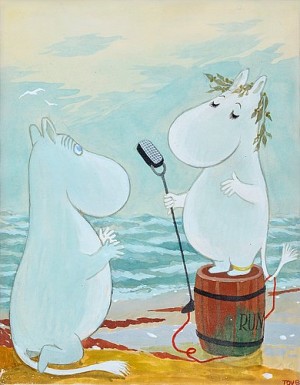 Moomin Characters
Price EUR 22,966 Incl. buyer's premium
Estimated EUR 5,000–7,000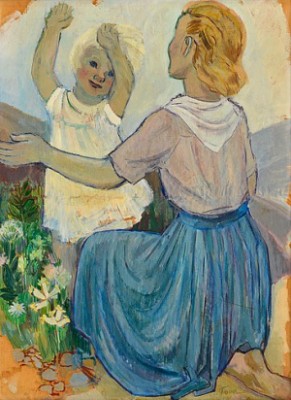 Mother And Child
Price EUR 3,955 Incl. buyer's premium
Estimated EUR 3,000–4,000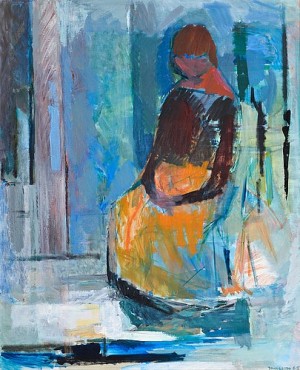 Price EUR 5,486 Incl. buyer's premium
Estimated EUR 2,500–3,000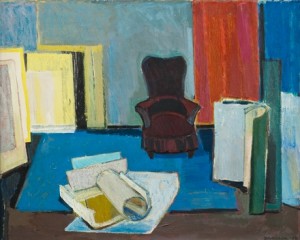 Price EUR 10,500
Estimated EUR 2,500–3,000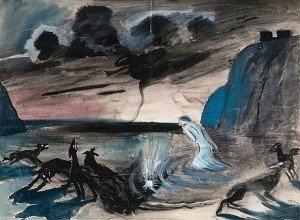 Mid Winter Wolves
Price EUR 1,200
Estimated EUR 1,200–1,500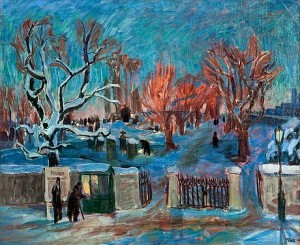 Price EUR 5,200
Estimated EUR 3,000–3,500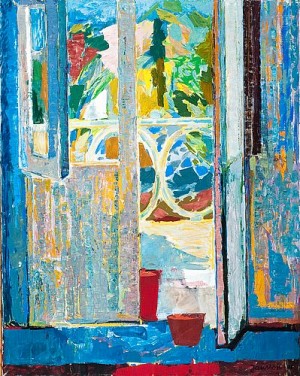 View To The Balcony
(-61)
Price EUR 9,400
Estimated EUR 3,000–4,000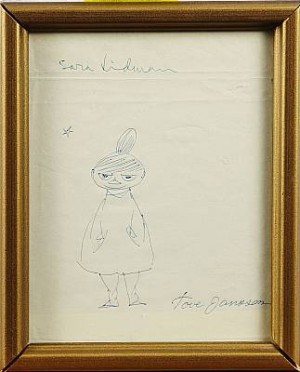 Signerad Originalteckning I Blått Bläck, Föreställande "lilla My"
Price SEK 5,000 (€567)
Estimated SEK 3,000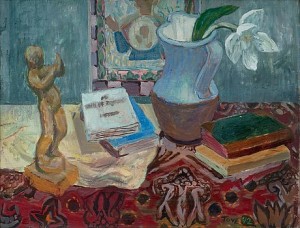 Nature Morte On A Colourful Tablecloth
(-42)
Price EUR 4,600
Estimated EUR 2,500–3,000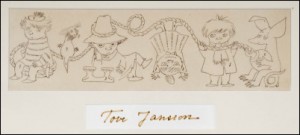 Hahmoja Muumilaaksosta
Price EUR 3,600
Estimated EUR 2,000–2,500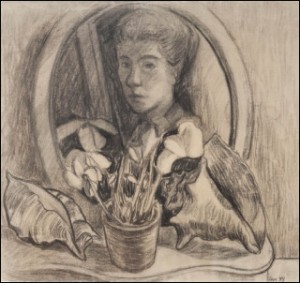 Självporträtt I Spegeln
Price EUR 3,100
Estimated EUR 2,000–2,500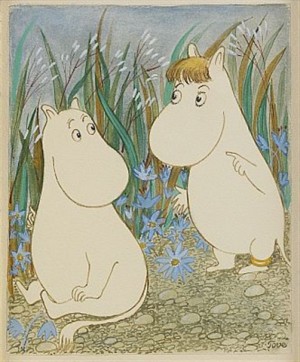 Mumintrollet Och Snorkfröken Bland Blåklockor
Price SEK 170,000 (€16,261)
Estimated SEK 60,000–70,000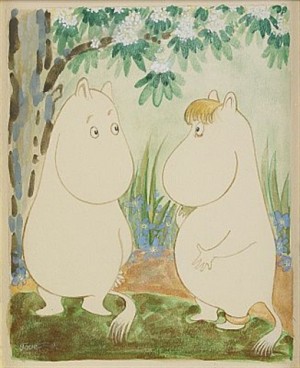 Mumintrollet Och Snorkfröken Vid Ett Blommande Träd
Price SEK 150,000 (€14,348)
Estimated SEK 60,000–70,000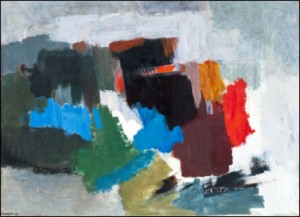 Price EUR 4,500
Estimated EUR 3,500–4,500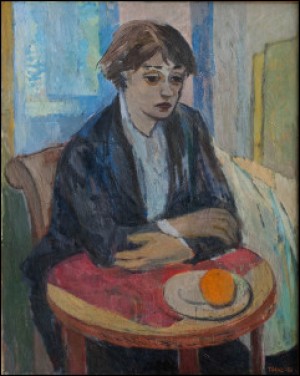 Neiti F:än Muotokuva
(1951)
Price EUR 4,000
Estimated EUR 2,000–3,000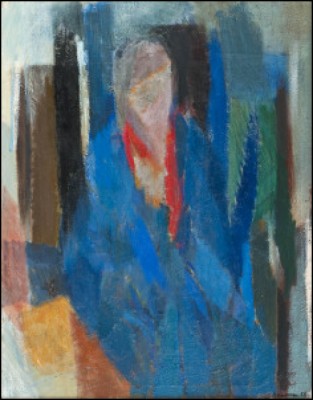 Price EUR 2,800
Estimated EUR 3,000–4,000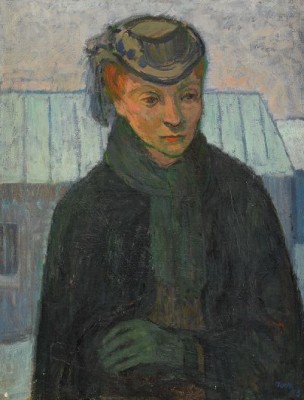 Price SEK 28,000 (€2,617)
Estimated SEK 20,000–25,000