Ture SJÖLANDER
1937, Sweden
Ture Sjölander studied at the Arts and Crafts Association. He is realistic with a kind of photographic pop art. Photos transferred into monochrome silkscreen with blue, red, green. He debuted with a solo exhibition at the Sundsvall Museum in 1961 with the catalog foreword by Öyvind Fahlström. He is known as an experimental avant-garde artist. His production consists of photographs, films, books, articles, textiles, television programs, video installations, happenings, graphics, sculptures and paintings. He has in recent decades mainly lived in Australia, but also worked in other countries asisatiska, as Papua New Guinea and the People\'s Republic of China. He has received the Artist of the Board of major scholarship.

Represented: the National Museum in Stockholm, Moderna Museet, Stockholm, Sundsvall Museum, Museum of Modern Art in New York.
Ture Sjölander studerade vid Slöjdföreningen. Han arbetar realistiskt med ett slags fotografiskt popkonst. Foton överförda i monokrom silkscreen i blått, rött, grönt. Han debuterade med en separatutställning på Sundsvalls Museum 1961 med katalogförord av Öyvind Fahlström. Han är känd som en experimentell avantgardekonstnär. Hans produktion består av fotografier, filmer, böcker, artiklar, textilier, TV-program, videoinstallationer, happenings, grafik, skulpturer och målningar.
Han har under de senaste decennierna huvudsakligen bott i Australien, men även varit verksam i andra asisatiska länder, som Papua Nya Guinea och Folkrepubliken Kina. Han har erhållit Konstnärsnämndens stora stipendium.

Representerad:
Nationalmuseum i Stockholm, Moderna Muséet i Stockholm, Sundsvalls museum, Museum of Modern Art i New York.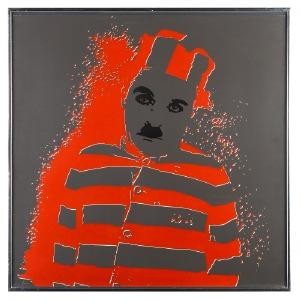 Charlie Chaplin". Figur I Rött Mot Grå Botten
Price SEK 0 (€0) Not sold
Estimated SEK 2,000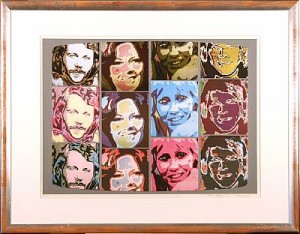 Price SEK 2,500 (€254)
Estimated SEK 2,000