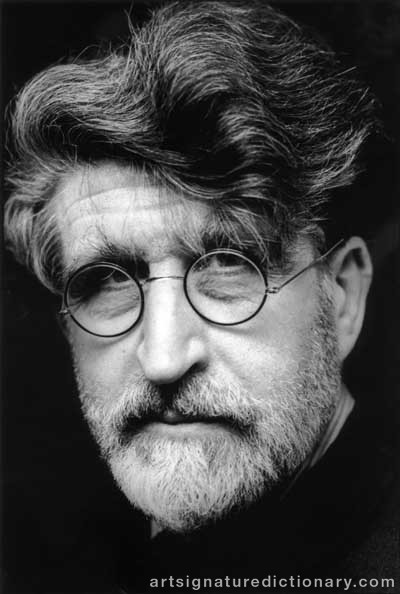 Valerio ADAMI

1935, Italy
Also known as: VA
Valerio Adami wird am 17. März 1935 in Bologna geboren. Als 16-Jähiger beginnt er sein Studium an der Akademie Brera in Mailand bei Achille Funi. Während seines Studiums begegnet Adami in Venedig Kokoschka und Matta. Nach Beendigung seines Studiums führt ihn 1955 eine erste Reise nach Paris.
Im Jahr 1957 zeigt Adami seine erste Einzelausstellung in Mailand und beginnt ein Leben, das ihn zwischen Italien und Paris pendeln lässt, unterbrochen von Reisen nach London, New York, Südamerika und Indien. Erst 1962 wird er durch seine Heirat mit Camilla sesshaft und lebt in Arona am Lago Maggiore. Aber schon fünf Jahre später nimmt Valerio Adami sein Leben als Weltreisender wieder auf, lebt längere Zeit in New York und London, wo er zahlreiche Bilder mit urbanen Themen schafft.
Es folgen Aufenthalte in Mexiko, Caracas und Marrakesch und in Flandern. 1972 realisiert Valerio Adami zusammen mit seinem Bruder Giancarlo den Spielfilm "Vacances dans le dèsert". 1974 zieht Adami nach Bayern, wo er mit Helmut Heisenbüttel das Buch "Das Reich" veröffentlicht. Ab 1977 folgen Reisen nach Indien, den USA und Israel.
1981 erhält Valerio Adami den Auftrag, für die Nouvelle École Nationale des Beaux-Arts in Cercy-Pontoise eine große Mauer aus Keramik zu schaffen. 1984 hört Adami auf, seine Bilder zu datieren. 1986 zeigt das Centre Georges Pompidou, Paris eine Retrospektive vom Werk des Malers Valerio Adami.
Source: http://www.art-directory.de/malerei/valerio-adami-1935/index.shtml
The artist Valerio Adami was born in Bologna on March 17, 1935. At the age of 16, he began to study under Achille Funi at the Brera academy in Milan. During his studies Adami met Kokoschka and Matta in Venice. After his studies he traveled to Paris in 1955.
In 1957 Adami held his first solo exhibition in Milan and began to move back and forth between Italy and Paris, interspersed with trips to London, New York, South America and India. In 1962 he finally settled in Arona at Lago Maggiore, having married his wife Camilla. But only five years later Adami returned to his globetrotter life, spending time in New York and London, where he produced numerous pictures on urban topics. Subsequently, he travelled to Mexico, Caracas, Marrakech and Flanders.
In 1972 Valerio Adami, together with his brother Giancarlo, produced the movie "Vacances dans le dèsert". In 1974 Adami moved to Bavaria, where he published the book "Das Reich" together with Helmut Heisenbüttel. From 1977, trips to India, the US and Israel followed.
In 1981 Valerio Adami was commissioned to create a large ceramic wall for the Nouvelle École Nationale des Beaux-Arts in Cercy Pontoise. In 1984 Adami ceased dating his pictures. In 1986 the Centre Georges Pompidou in Paris showed a retrospective of Valerio Adami's oeuvre.


Source: http://www.art-directory.info/fine-art/valerio-adami-1935/index.shtml
Valerio Adami nasce a Bologna il 17 marzo 1935. All'età di 16 anni inizia a frequentare l'Accademia di Brera di Milano sotto la guida di Achille Funi. Durante i suoi studi, Adami incontra Kokoschka e Matta a Venezia. Al termine dei suoi studi nel 1955, Adami compie il suo primo viaggio a Parigi. Nel 1957 allestisce la prima mostra personale a Milano ed inizia una vita che lo vedrà fare la spola fra l'Italia e la Francia, con delle interruzioni per viaggi a Londra, New York, in Sudamerica e in India. Si stabilisce ad Arona sul Lago Maggiore solo nel 1962, dopo il matrimonio con Camilla. Tuttavia, cinque anni dopo riprende la sua vita errante di viaggiatore del mondo, vive a lungo a New York e a Londra, dove realizza diversi dipinti che ritraggono scene urbane. Seguono soggiorni in Messico, a Caracas, a Marrakech e nelle Fiandre. Nel 1972 Valerio Adami produce assieme a suo fratello Giancarlo il film "Vacances dans le désert" ("Vacanze nel deserto"). Nel 1974 Adami si trasferisce in Baviera, dove pubblica il libro "Das Reich" ("Il Reich") in collaborazione con Helmut Heisenbüttel. Dal 1977 seguono viaggi in India, negli USA e in Israele. Nel 1981 ad Adami viene commissionata la costruzione di un grande muro di ceramica per conto della Nuova Scuola Nazionale di Belle Arti di Cercy-Pontoise. Nel 1984 Adami smette di datare i suoi dipinti. Nel 1986 il Centro Georges Pompidou di Parigi espone una retrospettiva delle sue opere.
Source: http://www.registro-dell-arte.com/pittura/valerio-adami-1935/
Valerio Adami fick sin konstnärliga grundutbildning i Italien och har han sedan flyttat mellan Italien, Frankrike, England och USA. Utöver de många flyttarna reste Adami runt hela världen och var bl a flera gånger i Indien. I Frankrike mötte han på 50-talet Roberto Matta och Wifredo Lam som kom att påverka honom stilmässig och innehållsmässigt. Detta första mer expressionistiska uttryck kom så småningom att utvecklas till ett måleri som låg nära syntetismen med sina färgfält avdelade av svarta konturer. Han motiv var dock, till skillnad från andra syntetisters, drastiskt beskurna nästan fragmentariska, därvid mer påminnande om popkonst.
Under 1970-talet började Adami behandla politiska ämnen i sin konst. I målningarna smälte politiken samman med europeisk historia, filosofi och mytologi.
Konstverk av Valerio Adami är sällsynta på den svenska auktionsmarknaden.
Den monumentala målningen "Paesaggo sul Lago Lemano" blev mycket omtalad vid sin tillkomst 1990 och är ett centralt verk i Adamis produktion.
Lago Lemano, på franska mer känd som Lac de Genève, ligger på gränsen mellan Schweiz och Frankrike och är Västeuropas största sjö. Ut genom fönstret ser man sjön och ett stiliserat alplandskap i gult med en surrealistiskt grön himmel. I rummet ett symbiotiskt möte mellan Mahatma Gandhi och en anonym kvinna.
Source: www.bukowskis.com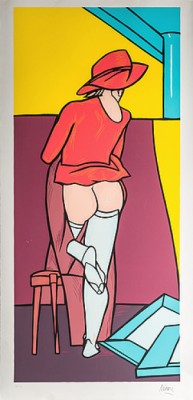 La Visita
Price SEK 4,400 (€475)
Estimated SEK 6,000–6,000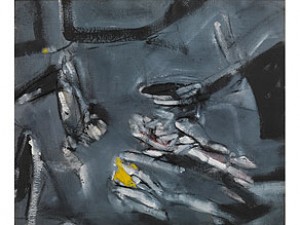 Price EUR 0 Not sold
Estimated EUR 7,000–9,000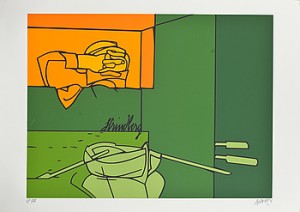 (2) Bl.a "strandberg"
Price SEK 3,000 (€361)
Estimated SEK 2,500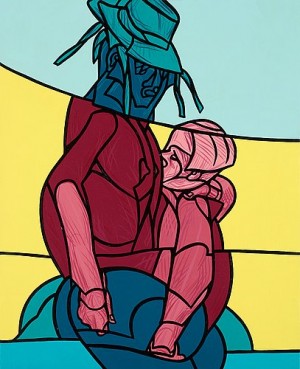 Voyage Pittoresque
Price SEK 85,000 (€9,180)
Estimated SEK 100,000–125,000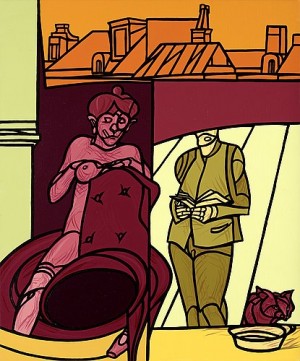 Gatta Ci Cova
Price SEK 0 (€0) Not sold
Estimated SEK 150,000–200,000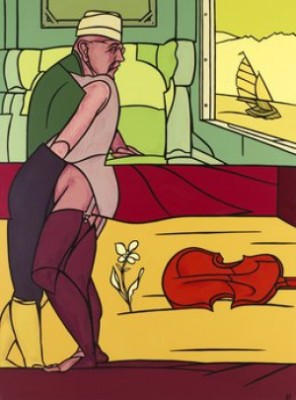 Passaggio Sul Lago Lemano
(1990)
Price SEK 80,000 (€8,344)
Estimated SEK 1,000,000–1,200,000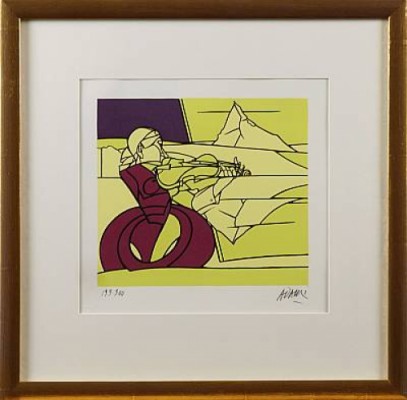 Kvinna Med Fiol
Price SEK 0 (€0) Not sold
Estimated SEK 1,000