Vanessa BEECROFT
1969, Italy
Lived & Active In
Los Angeles, USA
Vanessa Beecroft is an Italian contemporary artist well-known for Performance, Photography, Drawing, Painting, Sculpture

Artistic practice
Beecroft\\\\\\\'s work is a fusion of conceptual issues and aesthetic concerns, focusing on large-scale performance art, usually involving live female models (often nude). At her performances, video recordings and photographs are made, to be exhibited as documentation of the performances, but also as separate works of art. The work and her conceptual approach is neither performance nor documentary, but something in between, and closer to Renaissance painting. She sets up a structure for the participants in her live events to create their own ephemeral composition [1]. The performances are existential encounters between models and audience, their shame and their expectations. Each performance is made for a specific location and often references the political, historical, or social associations of the place where it is held. Beecroft's work is deceptively simple in its execution, provoking questions around identity politics and voyeurism in the complex relationship between viewer, model and context.[2]
Vanessa Beecroft\\\\\\\'s performances have been described as art, fashion, brilliant, terrible, evocative, provocative, disturbing, sexist, and empowering. The primary material in her work is the live female figure, which remains ephemeral, and separate. These women, mainly unclothed, similar, unified through details like hair color, or identical shoes, stand motionless, unapproachable and regimented in the space while viewers watch them. Neither performance nor documentary, Beecroft\\\\\\\'s live events are recorded through photography and film, but her conceptual approach is actually closer to painting: she makes contemporary versions of the complex figurative compositions that have challenged painters from the Renaissance onwards. Beecroft\\\\\\\'s more recent work has a slightly more theatrical approach—the uniforms are period clothing, not nudity, and some of her performances include food, while others have featured men in military attire.
Source: http://en.wikipedia.org/wiki/Vanessa_Beecroft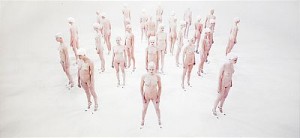 Vb46 - Gagosian Gallery, Beverly Hills 2001
(2001)
Price SEK 10,000 (€1,063) Not sold
Estimated SEK 12,000–15,000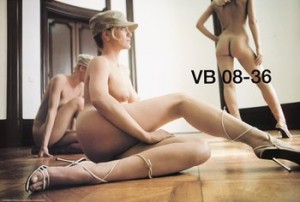 Performances
Price SEK 26,000 (€2,487)
Estimated SEK 20,000–30,000