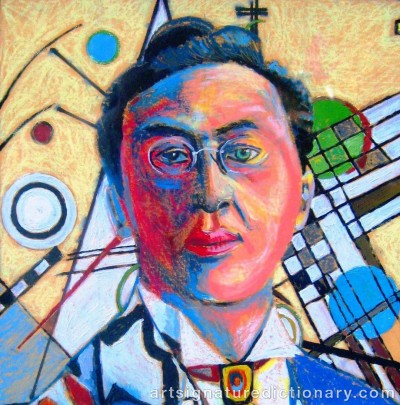 Wassily KANDINSKY

1866–1944, Russia/France
Also known as: K, VK

Verdict of guilty
T/200702/008_2400/R/219/04
Watercolour and gouache, composition, signed with Kandinsky's monogram, 43x83 cm. Ostensibly representing an authentic painting by the Russian/France artist Wassily Kandinsky. Fraud Cases of 2003 in Finland by a number of people involved who traded with counterfeit art. At the police investigation was contacted a number of experts. It was revealed that the painting is not a work of Kandinsky. It is too simple and can not be compared to Kandinsky's quality or his way of working. The painting was for sale for Euro 750,000. After an expert assessment and judgment declared that the painting is not genuine. It is a forgery.
Rikoksesta epäillyt kolme mieshenkilöä tekivät taulukauppoja siten, että yksi miehistä oli innostanut yrityksen omistanutta tuttavaansa sijoittamaan taiteeseen v. 2003. Kolmas mies tuli mukaan vuoden lopulla. Maksuna kaupoissa käytettiin pääasiassa yrityksenomistajan omistamia asunto-osakkeita, mutta myös tavaraa sekä käteistä rahaa. Kauppojen hinnat merkittiin kauppakirjoihin ylisuuriksi tai asunto-osake osoittautui vähäarvoiseksi. Tauluja kaupattiin taidekauppiaalle, joka totesi ne väärennöksiksi. Taidekauppias näytti tauluja myös taidekonsultille, joka myös huomasi teokset väärennetyiksi. Vuoden 2004 alussa yrityksen omistajan on epäilty yrittäneen erehdyttää asianomistaja Bukowski Oy Ab:n silloista toimitusjohtajaa tarjoamalla huutokaupattavaksi väärennettyjä tauluja yhden epäillyistä toimiessa välittäjänä ja myyjänä. Mahdolliselle ostajalle olisi aiheutunut tappiota hänen maksaessaan vähäarvoisesta taulusta aidon teoksen hinnan, ja asian paljastuttua Bukowski Oy olisi menettänyt välityspalkkionsa. Osa tauluista esiteltiin Bukowskin edustajalle ja näytettin myös listaa, jossa oli muitakin tauluja. Listassa oli arvio kustakin taulussa huutokaupassa mahdollisesti saatavasta hinnasta (yht. n. 1 milj. euroa). Mukana oli nimekkäiden venäläisten (esim. Malevits), suomalaisten (esim. Gallen-Kallela) ja eurooppalaisten taiteilijoiden (esim. Matisse) tekemiksi merkittyjä teoksia. Bukowskin edustaja on huomannut heti taulut väärennetyiksi, joten epäilty teko on jäänyt yritykseksi. Yrityksen omistajan on täytynyt tietää, että kaikki hänen ostamistaan teoksista eivät ole aitoja, vaikka niitäkin saattoi joukossa olla. Hän kertoi tiedustelleensa taulujen aitoutta asiantuntijoilta, mutta saaneen epämääräisiä vastauksia. Ei ollut riittävää näyttöä, että hänen tarkoituksenaan olisi ollut saada väärennettyjä teoksia myyntiin, vaan se, että asiantuntija seuloo aidot vääristä. Oikeus määräsi osan teoksista palautettaviksi omistajalleen, osa tuomittiin menetettäväksi valtiolle. Teokset ovat todenneet väärennöksiksi mm. Valtion taidemuseon intendentti, Bukowskin taidehuutokaupan toimitusjohtaja sekä Hagelstamin taidehuutokaupan edustaja. Venäläiset taulut tutkittiin Moskovassa ja Mary Cassattille nimetty teos The Mary Cassatt Catalogue Raisonné Committeessa New Yorkissa. Teos on liian yksinkertainen Kandinskyn tekemäksi. Kandinsky teki elinaikanaan 10 maalausta, joiden nimi oli "Komposition", mutta tämä teos ei ole mikään niistä. Jos työ olisi aito, siitä olisi myös merkintä Hans Konrad ROETHEL -teosluettelossa. Ostettu hintaan Euro 116.000, sittemmin pyydetty hintoja Euro 340.000 ja Euro 750.000.
Akvarell och gouache, komposition, signerad med Kandinsky's monogram,43x83 cm. Skenbart föreställande en äkta målning utförd av den Rysk/Franske konstnären Wassily Kandinsky. Bedrägerifall från 2003 i Finland med ett antal personer inblandade som bedrev handel med förfalskad konst. Vid polisens undersökning kontaktades ett antal experter. Det framkom att målningen inte är ett verk av Kandinsky. Den är för enkel och kan inte jämföras med Kandinsky's kvalitet eller hans sätt att arbeta. Målningen var till salu för Euro 750.000. Efter expertutredning och dom förklarades att målningen inte är äkta. Det är en förfalskning.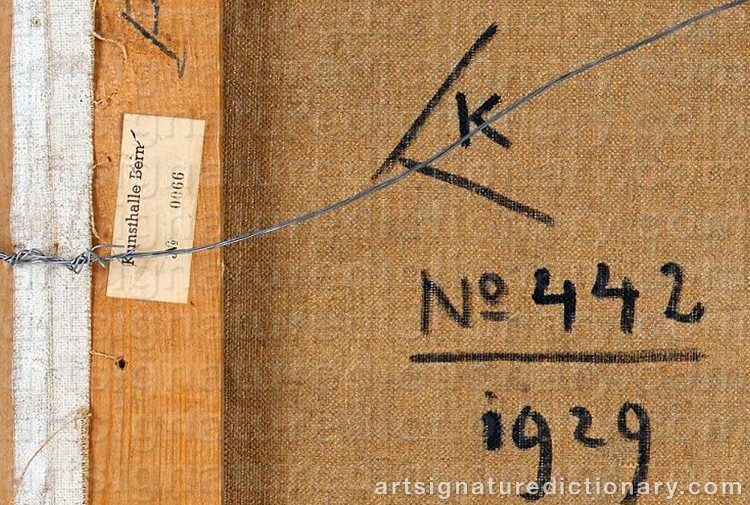 Der russische Maler, Grafiker und Kunsttheoretiker Wassily Kandinsky wird am 4.12.1866 in Moskau geboren. Er studiert ab 1886 an der Moskauer Universität Jura und Volkswirtschaft und schließt 1893 erfolgreich mit der Promotion ab, wechselt dann jedoch sein Berufsziel und wird Maler. 1896 übersiedelt Kandinsky nach München. Hier besucht er zwei Jahre die private Kunstschule von Anton Azbé, anschließend studiert er an der Münchner Akademie bei Franz von Stuck.
1901 ist Wassily Kandinsky Mitbegründer der Künstlervereinigung "Phalanx", an deren angeschlossener Schule er unterrichtet. Zu seinen Schülerinnen gehört Gabriele Münter, mit der ihn bald eine Liebesbeziehung verbindet. 1904 begeben sie sich auf Reisen durch Europa und nach Tunis, 1906-07 sind sie in Paris. Zurückgekehrt nach München beginnt für Kandinsky eine arbeitsintensive Phase, er macht mit Gabriele Münter Malausflüge in die Umgebung des Staffelsees, wo Münter 1909 ein Haus in Murnau erwirbt. Hier verbringen sie die Sommermonate, empfangen zahlreichen Besuch von den Künstlerfreunden aus München, darunter Alexej von Jawlensky, Marianne von Werefkin, Franz Marc sowie August Macke.
1909 wird in München die "Neue Künstlervereinigung" gegründet. Wassily Kandinsky schwebt in dieser Zeit bereits eine neue Kunstform vor, deren Inhalte er gänzlich vom Gegenstand lösen will, Farben und Formen sollen frei verwendet werden, dem inneren Drang des Künstlers folgend. Um 1911 entsteht so das erste abstrakte, gegenstandslose Gemälde – selbst einigen Mitgliedern der "Neuen Künstlervereinigung" ist die "Komposition V" jedoch zu fortschrittlich und sie lassen es nicht zu ihrer Ausstellung zu. Wassily Kandinsky und Franz Marc gründen daraufhin aus Protest die Künstlergemeinschaft "Der Blaue Reiter". Parallel organisieren sie in der Galerie Thannhauser in München die erste Ausstellung des "Blauen Reiter", 1912 findet die zweite Ausstellung in der Münchner Kunsthandlung Hans Goltz statt. In rascher Folge erscheinen nun wichtige Schriften, mit denen Wassily Kandinsky seine Ideen schriftlich formuliert. Mit Franz Marc arbeitet er am Almanach des "Blauen Reiter". 1912 erscheint Wassily Kandinskys Schrift "Über das Geistige in der Kunst" im Piper Verlag München.
1914 zieht er mit Gabriele Münter nach Zürich, hier zerbricht die Beziehung und Kandinsky kehrt nach Moskau zurück. Er wird Professor für Kunst. 1921 ist Wassily Kandinsky in Berlin, 1922 wird er ans Bauhaus in Weimar berufen. 1926 bilden Wassily Kandinsky, Paul Klee, Lyonel Feininger und Alexej von Jawlensky die Ausstellungsgemeinschaft "Blaue Vier". Ebenfalls 1926 erscheint Kandinskys zweite kunsttheoretische Schrift "Punkt und Linie zu Fläche".
1932 wird das mittlerweile nach Dessau umgezogene Bauhaus geschlossen. Ende 1933 emigriert Kandinsky nach Neuilly-sur-Seine bei Paris. Hier beginnt für den Künstler eine neue Werkphase, er bleibt jedoch von der internationalen Kunstszene weitgehend isoliert.
Wassily Kandinsky stirbt am 13.12.1944 in Neuilly-sur-Seine.
The Russian painter, graphic artist and art theorist Wassily Kandinsky was born in Moscow on 4 December 1866. As of 1886 he studies law and economy at the Moscow University and successfully completes his doctor's degree in 1893, but he soon changes his career plans and becomes a painter. In 1896 Kandinsky moves to Munich where he attends the private art school of Anton Azbé for two years, afterwards he studies at the Munich academy under Franz von Stuck.
In 1901 Wassily Kandinsky is co-founder of the artists' association "Phalanx", he also teaches at the group's art school. Gabriele Münter, with whom he was soon in a love relationship, is among his students. In 1904 they go on journeys through Europe and to Tunis, in 1906/07 they spend some time in Paris. The return to Munich marks the beginning of a very labor-intensive period for Kandinsky, he goes on painting excursions with Gabriele Münter to the surroundings of the Staffel Lake, where Münter acquires a house in Murnau in 1909. This is where they spend the summer months together, inviting numerous artist friends from Munich, among them Alexej von Jawlensky, Marianne von Werefkin, Franz Marc and August Macke.
The "Neue Künstlervereinigung" (New Artists' Association) is founded in Munich in 1909. At this time Wassily Kandinsky already has ideas of a new form of art, in which he wants to disassociate content from the object, colors and forms are to be used freely, always following the artists' inner urge. The first abstract painting is made around 1911 - but "Komposition V" is too progressive even for some members of the "Neue Künstlervereinigung" and they do not admit it to be shown in their exhibition. As a sign of protest, Wassily Kandinsky and Franz Marc found the artists' group "Der Blaue Reiter" (The Blue Rider), organizing the group's first exhibition in the Munich gallery Thannhauser at the same time, the second exhibition takes place in the Munich art shop Hans Goltz in 1912. In a short period of time important writings are published, by means of which Wassily Kandinsky formulates his ideas on art. Together with Franz Marc he works on the almanac of the "Blaue Reiter" (Blue Rider). In 1912 Wassily Kandinsky's writing "Über das Geistige in der Kunst" (On the Spiritual in Art) is published by Piper in Munich.
He moves to Zurich with Gabriele Münter in 1914, but they break up their relationship and he returns to Moscow where he is appointed professor for art. In 1921 he is in Berlin, and is called to the Bauhaus in Weimar a year later. In 1926 Wassily Kandinsky, Paul Klee, Lyonel Feininger and Alexej von Jawlensky start the exhibition collective "Blaue Vier" (Blue Four). Kandinsky's second art theoretic writing "Punkt und Linie zu Fläche" (Point and Line to Plane) is also published in 1926.
The Bauhaus, which had moved to Dessau in the meantime, is closed in 1932. In late 1933 Kandinsky emigrates to Neuilly-sur-Seine near Paris, where a new period of creation begins, however, he remains largely isolated from the international art scene.
Wassily Kandinsky dies on 13 December 1944 in Neuilly-sur-Seine.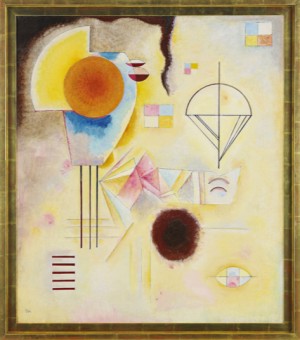 Kreis U. Fleck / Cercle Et Tache / Circle And Spot
(-29)
Price SEK 32,500,000 (€3,300,375)
Estimated SEK 25,000,000–30,000,000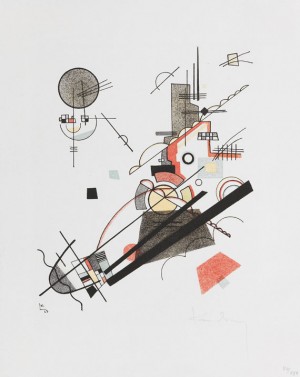 Fröhlicher Aufstieg
(1923)
Price EUR 26,250 Incl. buyer's premium
Estimated EUR 20,000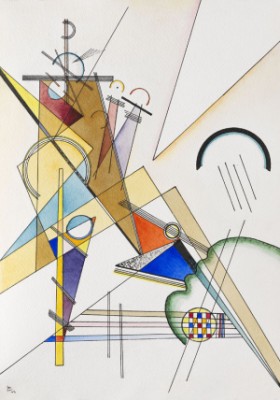 Price EUR 1,320,000 Incl. buyer's premium
Estimated EUR 200,000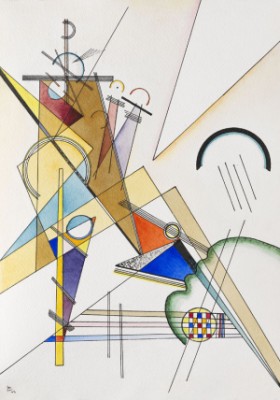 Price EUR 1,320,000 Incl. buyer's premium
Estimated EUR 200,000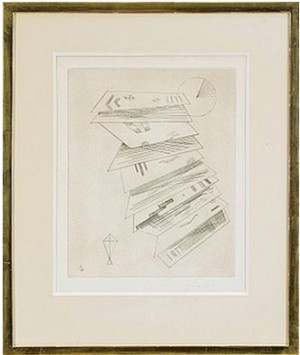 Zweite Radierung Für Die Editions 'cahiers D'art'
(1932)
Price SEK 8,000 (€884)
Estimated SEK 20,000–25,000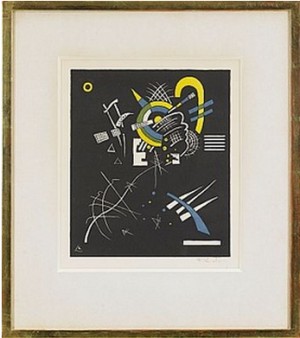 Price SEK 75,000 (€8,288)
Estimated SEK 60,000–80,000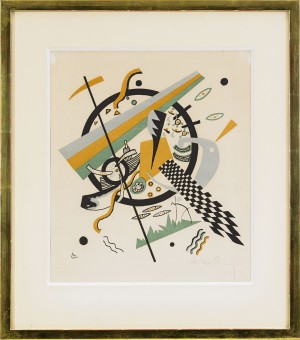 Price SEK 60,000 (€6,834)
Estimated SEK 80,000–100,000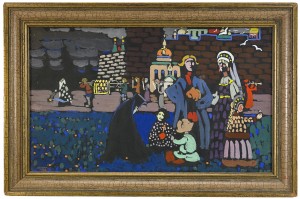 Begräbnis
(Executed ca. 1907)
Price SEK 4,300,000 (€489,770)
Estimated SEK 4,000,000–5,000,000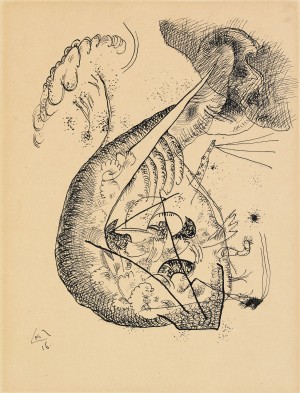 Dessin Pour Gravure No. V. Début 1916
(-16)
Price SEK 235,000 (€26,767)
Estimated SEK 200,000–250,000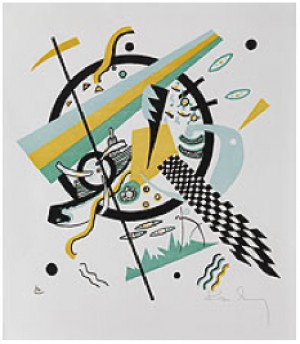 Kleine Welten Iv
Price EUR 0 Not sold
Estimated EUR 18,000–22,000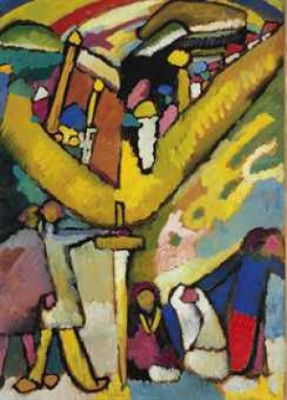 Studie Für Improvisation 8
(Executed in 1909)
Price USD 23,042,500 (€18,004,257)
Estimated USD 20,000,000–30,000,000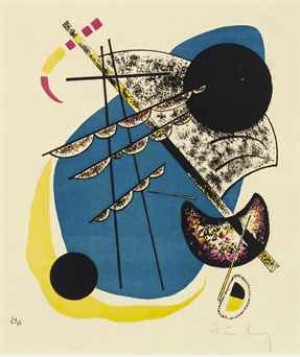 Kleine Welten Ii (roethel 165)
(1922)
Price USD 12,500 (€9,767) Incl. buyer's premium
Estimated USD 10,000–15,000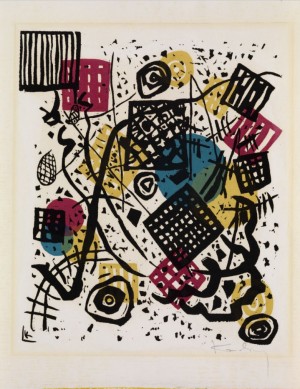 Price EUR 0 Not sold
Estimated EUR 20,000–24,000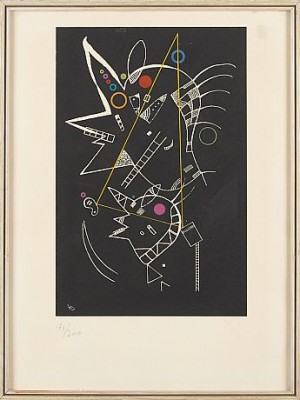 Price SEK 1,800 (€203)
Estimated SEK 2,000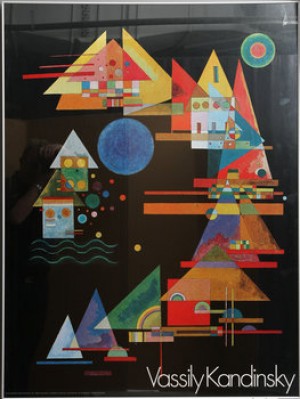 Spitzen Im Bogen, Utställningsaffisch
(1927)
Price SEK 3,300 (€373)
Estimated SEK 800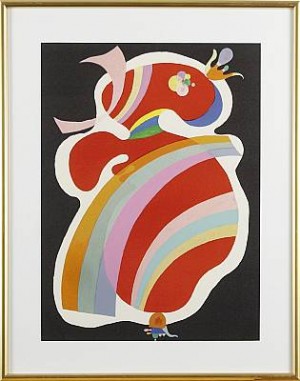 La Form Rouge, Litografi Efter Komposition Från 1938
Price SEK 800 (€85)
Estimated SEK 1,200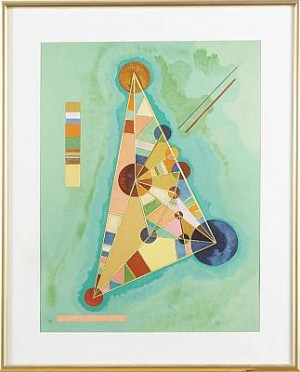 Bauhaus, Litografi Efter Komposition Från 1927
Price SEK 3,200 (€340)
Estimated SEK 1,200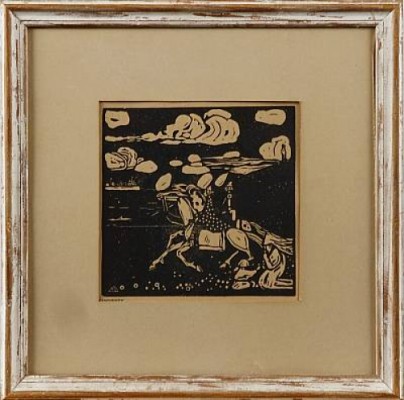 Ur Tendances Nouvelles
Price SEK 0 (€0)
Estimated SEK 1,200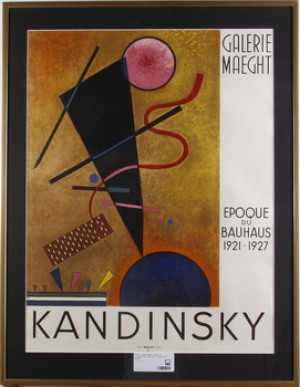 "epoque Du Bauhaus" Litografisk Affisch Utgiven Av Maeght
Price SEK 950 (€94)
Estimated SEK 1,500