Willem Claesz. HEDA
1594–1680, Netherlands
Name
Willem Claeszoon HEDA
Willem Claeszoon Heda was one of the earliest Dutch Golden Age artists devoted exclusively to the painting of still lifes.
He was a contemporary and comrade of Dirck Hals, akin to him in pictorial touch and technical execution. But Heda was more careful and finished than Hals, showing considerable skill and taste in the arrangement and colouring of his chased cups, beakers and tankards of both precious and inferior metals. Nothing is so appetizing as his fare: presentation upon rich plate of such delicacies as oysters (seldom without cut lemon), bread, champagne, olives and pastry. Even the more commonplace meals have charm, comprising sliced ham, bread, walnuts and beer. Heda is famous for his \"ontbijt\" or breakfast pieces, and in this regard he is often compared to his contemporary Pieter Claesz.
One of Heda\'s early masterpieces, dated 1623 and in Alte Pinakothek, Munich, is as homely as a later one of 1651 in the Liechtenstein Gallery at Vienna. A more luxurious repast is a \"Luncheon\" in the Augsburg Gallery, dated 1644.
Most of Heda\'s pictures are on the European continent, notably in the galleries of Paris, Parma, Ghent, Darmstadt, Gotha, Munich and Vienna. He was a man of repute in his native city, filling all the offices of dignity and trust in the Haarlem Guild of St. Luke.
Source: http://en.wikipedia.org/wiki/Willem_Claeszoon_Heda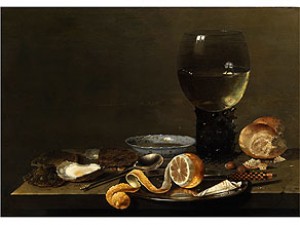 Stilleben Mit Grossem Römerweinglas, Brot, Porzellanschale, Austern, Zitrone Auf Einem Teller Und Einem Fidibus
(1631)
Price EUR 0 Not sold
Estimated EUR 100,000–140,000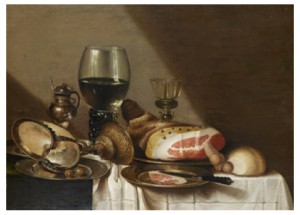 Stilleben Med Nautiluspokal, Glas Och Skinka
Price SEK 84,000 (€8,030)
Estimated SEK 60,000–80,000