William FÉRON

1858–1894, Sweden
Birth
1858, 25/10, Sweden
William Feron studied at the Technical School in Stockholm, the Royal Academy of Art and later in Paris. Painted landscape with figurative and genre motifs.
Represented: National Museum in Stockholm, Gothenburg Museum of Art.
Source: Art Signature Dictionary
Wilhelm Josef "William" Féron studerade vid Tekniska skolan i Stockholm, Konstakademien och senare i Frankrike. Målade landskap med figurmotiv samt genretavlor.
Representerad: Nationalmuseum i Stockholm, Göteborgs Konstmuseum.

–Efter studier vid Konstakademien anslöt William Féron till den svenska konstnärskolonien i Paris 1881. Som ingen annan svensk konstnär kom han att anamma impressionismens bildvärld. Starkt influerad av den i Frankrike verksamme italienske konstnären Giuseppe de Nittis och dennes impressionistiska och salongsbetonade stil skildrade William Féron det mondäna livet, både Paris
pulserande gatuliv och den behagfulla söndagstillvaron i trädgårdar och vid badorterna. Hans internationella prägel uppmärksammades av konstkritikern Georg Nordensvan som i samband med en utställning på Blanches konstsalong i Stockholm 1884 skrev: "Féron är den ende i vår unga pariserkoloni, som slagit sig på att måla gatscener från världsstaden, flyktigt och skissartat i ett
manér, som är impressionistiskt och påminner om de allra modernaste teckningar i utlandets illustrerade tidningar."
Under 1880-talet ställde William Féron vid ett flertal tillfällen ut på den berömda Salongen i Paris.
Han var även representerad på Världsutställningen i Paris 1889. Hemma i Sverige deltog han i Opponenternas banbrytande utställning i Stockholm 1885.
När den fortfarande unge William Féron gick bort sommaren 1894 förlorade det sena 1800-talets
svenska konstliv en av sina mest internationella artister.

Source: Art Signature Dictionary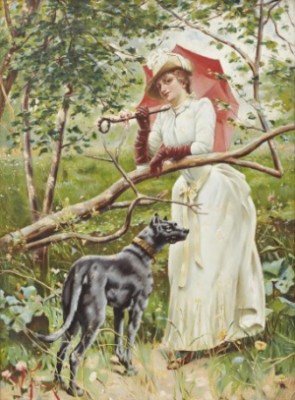 Det Röda Parasollet
Price SEK 15,000 (€1,620)
Estimated SEK 20,000–25,000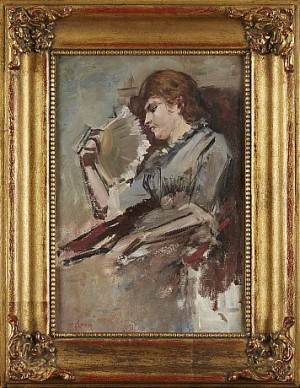 Kvinna Med Solfjäder
Price SEK 3,600 (€382)
Estimated SEK 4,000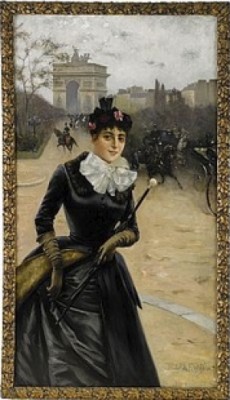 Elegant Dam Vid Triumfbågen
Price SEK 0 (€0) Not sold
Estimated SEK 400,000–500,000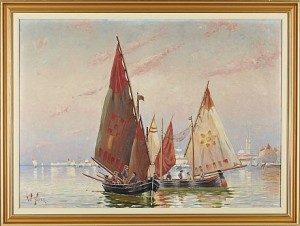 Motiv Från Venedig
Price SEK 0 (€0) Not sold
Estimated SEK 8,000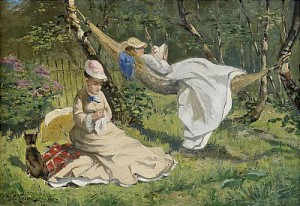 Price SEK 8,000 (€833)
Estimated SEK 12,000–15,000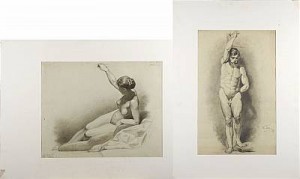 Manlig Modell Samt Nakenakt
Price SEK 600 (€61)
Estimated SEK 1,000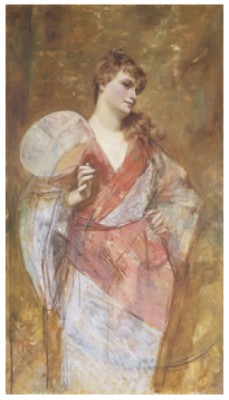 Kvinna Med Solfjäder
Price SEK 30,000 (€2,868)
Estimated SEK 12,000–15,000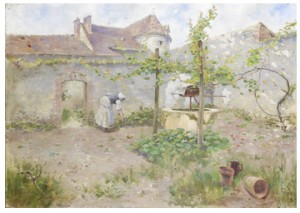 I Köksträdgården
Price SEK 9,000 (€860)
Estimated SEK 10,000–12,000