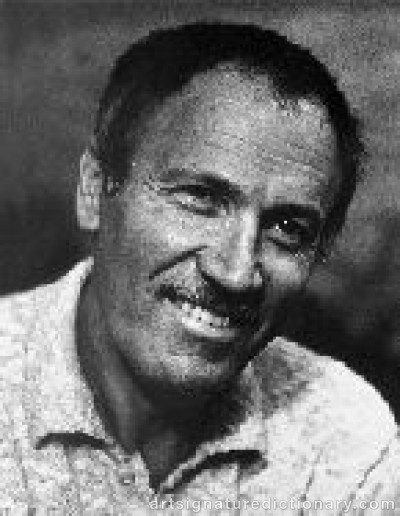 Zoran Antonio MUSIC
1909–2005, Slovenia/Italy

Verdict of guilty
MUSIC_Zoran,Antonio_(b.1909)_0201-K305565-06. (2008-0201-BG14179-14)
Oil on canvas. Motif: Moonlight Landscape, signed Music, 80x100 cm. The painting was seized in a small auction house in Stockholm, in May 2008. The painting had been submitted by Swedish Pawn shop in Malmo, loan value was 35,000 SEK. It had pledged by a private person . At the police questioning states that he bought the painting by a private family in Malmö, Sweden. He states further that he is self-taught art expert since many years and he is now a partner in an antique shop in Malmö, Sweden. The painting has gone through a technical examination by Moderna Museet in Stockholm Sweden which revealed that it is not performed by the Slovenian/Italian artist Antonio Zoran Music. The district court's decision. Signature forgery and aggravated fraud. The painting has not been performed by Zoran Antonio Music nor signed by him.
Oljemålning på duk. Motiv: Månskenslandskap, signerad Music, 80x100 cm. Målningen togs i beslag på ett mindre auktionshus i Stockholm, maj 2008. Målningen var inlämnad av Svensk Pantbelåning i Malmö, lånevärde 35.000 kr. Den hade belånats av en privatperson som vid polisförhör uppger att han köpt målningen av en privat familj i Malmö. Han uppger vidare att han är självlärd konstkännare sedan många år och att han numera är delägare i en antikhandel i Malmö. Målningen har genomgått en teknisk undersökning av Moderna Museet i Stockholm varvid framkom att den inte är utförd av den Slovenske/Italienske konstnären Zoran Antonio Music. Tingsrättens beslut. Signaturförfalskning och grovt bedrägeri. Målningen har ej utförts av Zoran Antonio Music ej heller signerats av denne.

Verdict of guilty
0201-K142889-13
Oil on board, cityscape, signed "MUSIC 1952" 70x54 cm. Ostensibly picturing a genuine oil painting by artist Zoran Music. The painting had been submitted to a major auction house in Stockholm where it was cataloged as a genuine painting, exclamation SEK 200000-250000 (ca. 21,000 to 22,000 EUR). The painting was sold for SEK 190,000 (ca. 20,000 EUR). The buyer showed the painting to the experts concluded that it was a forgery. He returned the painting to the auction house and got his money back. The painting was handed over to the police who carried out a precise examination which, among other things, revealed questionable documents that the painting would have been sold by a gallery in Copenhagen in 1958, and that the painting in 2006 was purchased by the current owner from a private individual for SEK 210,000 in order to be transmitted to Sotheby's for sales. Court: The painting is not genuine. It is a forgery and should be forfeited.
Oljemålning på board, stadsvy, signerad "MUSIC 1952" 70x54 cm. Skenbart föreställande en äkta oljemålning av konstnären Zoran Music. Målningen hade lämnats in till ett större auktionshus i Stockholm där den katalogiserades som en äkta målning, utrop SEK 200,000-250,000 (ca. 21000-22000 EUR). Målningen såldes för SEK 190,000 (ca. 20,000 EUR). Köparen visade målningen för experter som konstaterade att det var en förfalskning. Han återlämnade målningen till auktionshuset och fick sina pengarna åter. Målningen överlämnades till polisen som utförde en noggran undersökning där det bland annat framkom tveksamma dokument om att målningen skulle ha sålts av ett galleri i Köpenhamn 1958 samt att målningen 2006 köptes av nuvarande ägare från en privatperson för SEK 210,000 i avsikt att lämnas vidare till Sotheby's för försäljning. Domstolens bedömning: Målningen är inte äkta. Det är en förfalskning och skall förverkas.










Birth
1909, 12/2, Slovenia
Music studierte an der Akademie in Zagreb, reiste anschließend durch Spanien und ließ sich danach in Venedig nieder. 1944 wurde er nach Dachau verschleppt, wo er Zeichnungen anfertigte, von denen aber nur 35 nach dem Krieg erhalten geblieben waren. 1945 kehrte er nach Venedig zurück und nahm mehrfach an der Biennale sowie an der Documenta in Kassel teil
Source: http://www.hampel-auctions.com/
Zoran Music was born on February 12 in Bukovica near Gorizia. After finishing his studies at the art academy in Zagreb Music spent some time in Spain. 1934-1940 Music lived in Maribor. In 1940 he moved to Ljubljana, where he lived until 1943. In October 1943 Music went to Venice. One year later Music was arrested in Venice and deported to Dachau where he franticly sketched the life in the camp under extremely difficult circumstances. After his liberation in 1945 Music returned to Venice.
The first solo exhibition was shown in Venice in 1946. In 1950 Zoran Music won the first prize at the Bienniale in Venice. Other prizes followed in 1951 and 1952 when Music was awarded the Prix de Paris, first together with Corpora and then alone. A new beginning in painting evolved around the artist's preoccupation with the Dalmatian landscape. A next step was an awakened interest in his direct environment, Italian landscapes. Stylistically he was influenced by Byzantian mosaics and icons. He also spent some time during the 1950s working in Paris where the 'lyrical abstraction' of the French Informel determined the art world. He kept his studio in Venice, however, and exhibited again at the Biennale in 1956 and 1960. This time the artist was awarded the great prize for his graphic work and the UNESCO Prize. During the 1960s his organic motifs became more and more abstract and his compositions abandoned the laws of three-dimensionality. The much acclaimed series 'We are not the Last', in which the artist transformed the terror of his experiences in a concentration camp into documents of universal tragedy, was made in the 1970s. Music's work has been honoured in numerous international exhibitions, such as the large retrospective exhibition at the Grand Palais in Paris in 1955.
Source: http://www.zoran-music.com/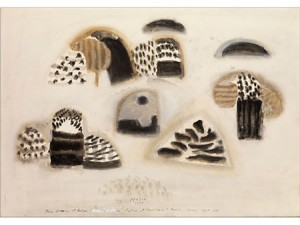 Dalmatisches Motiv
(1954)
Price EUR 0 Not sold
Estimated EUR 10,000–15,000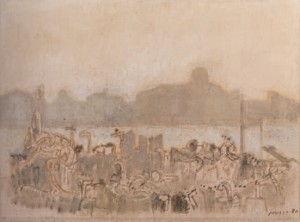 Canale Della Giudecca
(-80)
Price EUR 38,000
Estimated EUR 45,000–50,000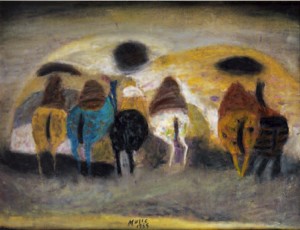 Price EUR 18,000
Estimated EUR 20,000–40,000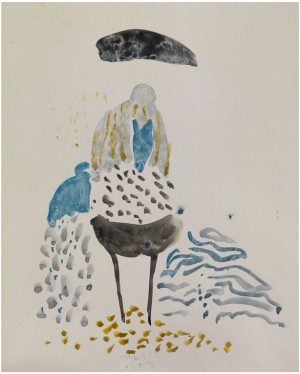 Price EUR 0 Not sold
Estimated EUR 16,000–20,000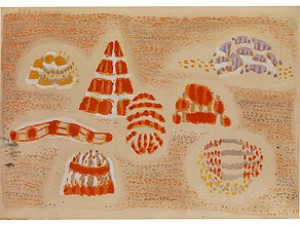 Price EUR 0 Not sold
Estimated EUR 15,000–20,000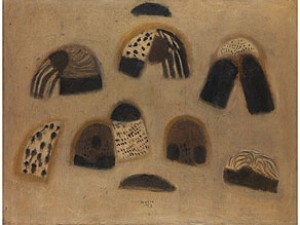 Les Femmes Des Iles
(1953)
Price EUR 70,000
Estimated –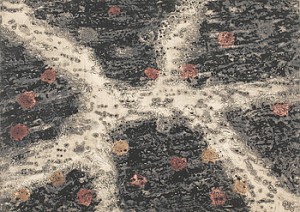 Price SEK 3,000 (€355)
Estimated SEK 5,000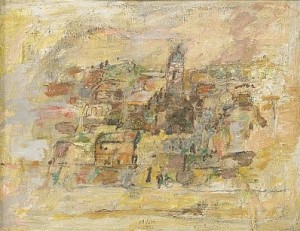 Price SEK 190,000 (€21,356)
Estimated SEK 200,000–250,000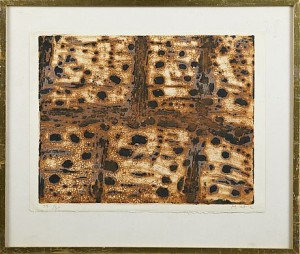 Komposition
Price SEK 1,300 (€142)
Estimated SEK 1,500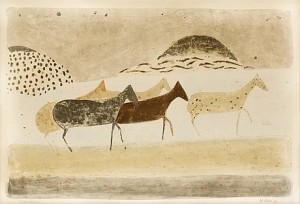 Price SEK 13,500 (€1,466)
Estimated SEK 12,000–15,000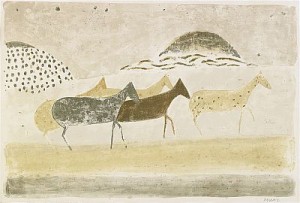 Price SEK 19,000 (€1,986)
Estimated SEK 20,000–25,000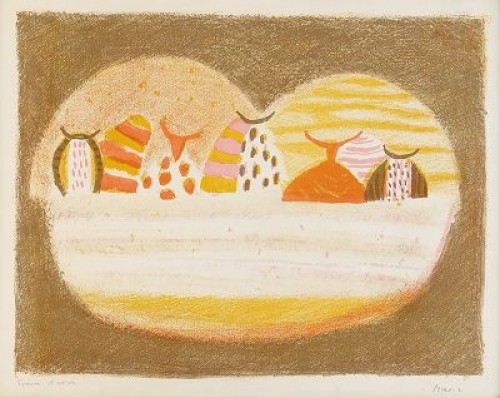 Price SEK 8,000 (€743)
Estimated SEK 8,000–10,000