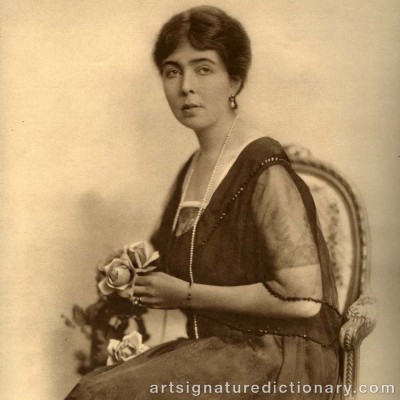 'Crown Princess Of Sweden' MARGARET OF CONNAUGHT
1882–1920, England/Sweden
Also known as: M
Name
Margaret, Victoria Charlotte Augusta Norah 'Crown Princess Of Sweden' MARGARET OF CONNAUGHT
Birth
1882, 15/1, England
Princess Margaret of Connaught (Margaret Victoria Charlotte Augusta Norah; later Crown Princess of Sweden; 15 January 1882 – 1 May 1920) was the daughter of Prince Arthur, Duke of Connaught, third son of Queen Victoria, and his wife, Princess Luise Margarete of Prussia. A Princess of the United Kingdom, she was nicknamed Daisy and in Sweden was known as Margareta.
The Princess was born at Bagshot Park and baptised in the Private Chapel of Windsor Castle on 11 March 1882 by the Archbishop of Canterbury, Archibald Tait, and her godparents were: Queen Victoria (her paternal grandmother); Wilhelm I, German Emperor (her maternal great-granduncle, who was represented by the German Ambassador Count Münster); the German Crown Princess (her paternal aunt, who was represented by her own sister Princess Christian); Prince and Princess Friedrich Karl of Prussia (her maternal grandparents, for whom her paternal uncle the Duke of Edinburgh and aunt Princess Beatrice stood proxy) and the Prince of Wales (her paternal uncle).
She was confirmed in the same chapel in March 1898, aged 16. Confirmation traditionally marked the end of childhood, after which a girl would 'come out' and be considered for marriage.
Princess Margaret grew up as a close member of the Royal Family, taking part in family holidays and weddings. She was a bridesmaid at the wedding of the Duke and Duchess of York (future George V and Queen Mary) on 6 July 1893....
Source: http://en.wikipedia.org/wiki/Princess_Margaret_of_Connaught
Kronprinsessan Margareta var gift med Gustav Adolf, som senare skulle bli kung Gustav VI Adolf. Hon var konstnär och trädgårdsarkitekt, och hon \\\\\\\"ägnade sig också åt sport, spelade tennis och golf, startade bandy- och landhockeylag och lyckades mer eller mindre elegant ta sig på skidor nerför Åres backar – allt naturligtvis iklädd lång kjol\\\\\\\".

Kronprinsessan Margareta var dotter till hertigen av Connaught - bror till kung Edward VII i Storbritannien - och hans maka Louise Margarete av Preussen. Hennes dopnamn var Margaret.

Hon mötte sin blivande make dåvarande prins Gustaf Adolf första gången under en resa till Egypten tidigt 1905. Prinsen var i Egypten för avslutande arkeologiska studier. Efter endast kort tids personlig bekantskap kungjordes deras förlovning i Kairo. Efter dåtidens vana hade den i själva verket planerats under avsevärd tid mellan de brittiska och svenska kungahusen. I bakgrunden skymtar på brittisk sida vissa politiska motiv med anledning av de begynnande spänningarna mellan Storbritannien och Tyskland. Sveriges dåvarande kronprinsessa, Victoria, var ju av tysk börd.

Bröllopet ägde rum den 15 juni 1905 i London. Prinsparet fick Sofiero i bröllopsgåva av kung Oscar. Sofiero var i trängande behov av reparation och modernisering, något de nygifta omgående började planera, då båda tyckte mycket om naturen kring slottet. Prinsessan var inte bara mycket intresserad av trädgårds och parkarrangemang, hon var också en begåvad konstnär med målning som inriktning - ett intresse som hon delade med sin makes farbror, prins Eugen.
Prinsessan överraskade sin omgivning med att snabbt lära sig svenska. Hennes första officiella uppdrag var att 1905 döpa Kryssaren Fylgia, ett uppdrag som utfördes på god svenska. Hon var djupt troende och därmed kyrkligt engagerad. Utåt Märktes detta särskilt i hennes engagemang vid flyttningen av den engelska kyrkan frän Vasastaden i Stockholm till Djurgården, där kyrkobyggnaden ansågs komma bättre till sin rätt.

Prinsparet - från 1907 kronprinsparet - fick fem barn. Gustaf Adolf 1906, Sigvard 1907, Ingrid 1910, Bertil 1912 och Carl Johan 1916.

Kronprinsessan utgav 1915 boken \\\"Vår trädgård på Sofiero\\\" till förmån för husmodersskolor med barnavård, ett tydligt utslag av hennes sociala och humanitära engagemang. Detta kom med åren att bli allt tydligare, bl a genom hennes initiativ 1914 till \\\"H K H Kronprinsessans förening för det frivilliga arbetet med landstormsmäns beklädnad mm\\\" och genom hennes insatser för hjälp till de engelska och franska krigsfångar, som var internerade i tyska fångläger under första världskriget.

Under vintern 1919 - 1920 insjuknade kronprinsessan i en öroninflammation, som trots operation inte kunde botas. Senare tillstötte vattkoppor i en elakartad form. I slutet av april försämrades hennes tillstånd allvarligt och hastigt. Kronprinsessan avled stilla på eftermiddagen den första maj 1920 i en ålder av 38 år. Bortgången var dubbelt tragisk, då kronprinsessan väntade sitt sjätte barn våren 1920
Source: http://www.landstormsfonden.se/marghist.htm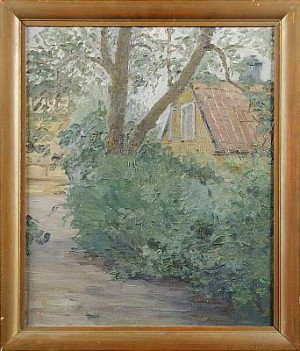 Trädgårdsbild Med Gul Stuga - Möjligen Motiv Från Djurgården
Price SEK 18,000 (€1,796)
Estimated SEK 8,000