Alf EKBERG
1945, Sweden
Also known as: AE
Alf Ekberg is a self-taught artist. Sculptures in clay, bronze and ice, inspired by nature. He wants to show both the nature and the human being in a sculptural unit with light and heat...
Source: http://www.ateljekallna.se/
Alf Ekberg är autodidakt. Skulpterar i lera, brons och is, inspirerad av naturen. Han vill visa både naturens och människans inre som i en skulptural enhet med ljus och värme. En uppsprickande begynnelse som även kan spegla sensualism. Hans dragkraft i skulpturerna är att finna det inre. Det krackelerande guldet sprider ljus och värme såsom guldet i mörkt kyrkorum sprider ljus när det belyses av den värmande elden.

Utställningar:
Galerie Klostermühle, Bremen, Tyskland. Kulla-Konst, Krapperup, Sverige. Norrvikens Trädgårdar, Båstad. Deitersen, Dassel, Tyskland. Vikingsberg, Helsingborg. Larssons Art. Köln, Tyskland. Galerle Art, Baden Baden, Tyskland. Galleri Smedsbyn, Huskvarna. Konsthallen i Landskrona. Galerie Magstraede, Kopenhamn. Galerie Kaufmann, Bopart, Tyskland. Slottet Mainau, Insel Mainau, Tyskland. Utlandsinstitutet, Dortmund, Tyskland. Trollenäs Slott, Eslöv. Galleri Scandinavia, Sverige. Konstmässan Art Fair, Stockholm.Bokmässan, Göteborg. Galleri Östermalm, Stockholm. Konstmässan, Borlänge. Galleri W, Simrishamn. Galleri Flamingo, Falkenberg. Galleri Gamla Väster, Malmö. Konstgalleri Vättern, Motala1.

Offentlig utsmyckning:
Ekebo festplats, Munka Ljungby, Restaurang Wiktoria, Gävle. Tingsrätten, Klippan. Kyrkan, Ö Ljungby. Gästis, Spången. Brännborns, Ängelholm. Brännborns, Örkeljunga. Extraco, Stidsvig. Simhallen Perstorp. Ljungäsen, Ö Lungby Röstånga Gästgivaregård. Konserthallen, Jönköping. Sparbanken, Skåne, Landskrona.

Representerad:
Slottet Mainau, Keramion.

Stipendier:
Kommunens kulturstipendium 1983 och Kristianstads läns kulturstipendium 1988.
Source: http://www.ateljekallna.se/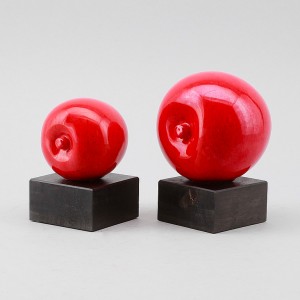 2 St, Skulpturer, Signerade. Rödglaserat Stengods I Form Av äpple
Price SEK 2,400 (€255) Incl. buyer's premium
Estimated SEK 2,500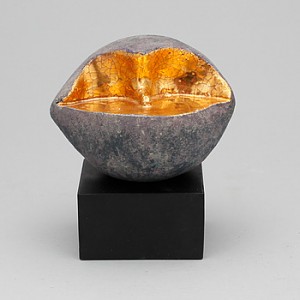 Untitled
Price SEK 1,600 (€184)
Estimated SEK 2,000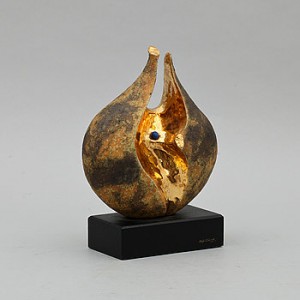 Untitled
Price SEK 2,400 (€266)
Estimated SEK 3,000
äpple
Price SEK 3,200 (€358)
Estimated SEK 2,000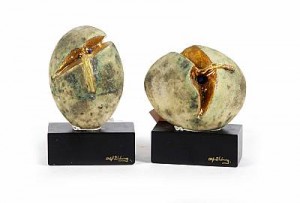 Skulpturer, 2 St
Price SEK 17,000 (€1,770)
Estimated SEK 2,000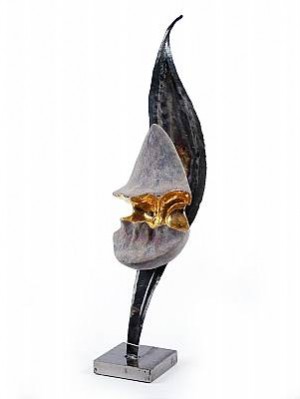 Skulptur, På Metallställning
Price SEK 1,500 (€147)
Estimated SEK 1,000