Anshelm SCHULTZBERG

1862–1945, Sweden

Verdict of guilty
0201-K53540-14
Oil on canvas, mountain landscape, signed "A. SCHULTZBERG" 60x46 cm. Ostensibly picturing a genuine oil painting by artist Anselm Schultzberg. The police were called to an online auction house in Stockholm in March 2013 where a buyer had returned this painting on the grounds that it was a forgery. It was cataloged and estimated price was SEK 4000. The purchase price was SEK 5,000. The painting was submitted to the auction house by a private person who states in a police interrogation that he was asked by an acquaintance to sell the painting when he was in debt to the bailiff and therefore could not sell it in his own name. (A common fabrications among fraudsters). After careful examination, it was found that the painting was a forgery.
Oljemålning på duk, fjällandskap, signerad "A. SCHULTZBERG" 60x46 cm. Skenbart föreställande en äkta oljemålning av konstnären Anselm Schultzberg. Polisen tillkallades till ett online auktionshus i Stockholm i mars 2013 där en köpare hade återlämnat denna målning med hänvisning till att det var en förfalskning. Den var katalogiserad och utropad för 4000 kr. Köpesumman var 5000 kr. Målningen lämnades in till auktionshuset av en privatperson som uppger i polisens förhör att han blev ombedd av en bekant att sälja målningen då denne hade skulder till kronofogden och därför inte kunde sälja den i hans eget namn. (Ett vanligt påhitt bland bedragare). Efter noggrann undersökning konstaterades att målningen var en förfalskning.

Verdict of guilty
0201-K17233-06
Oil on canvas. Early spring, 70x97, 5 cm. The painting was submitted to a pawnshop in Sweden. The owner received SEK 15,000. Pantbanken summoned the police when they suspect that the painting was a forgery. At examination revealed that the painting has previously been submitted at an auction house in Stockholm, where it was cataloged but then withdrawn when it was suspected to be incorrect. The painting is considered a so-called half forgery i.e. it probably is painted in an honest purpose, but was later charged a dishonest signature in order to mislead future buyers. The district court: "The signature should be removed, then the painting will be returned to the owner. Warning: There is a risk that the painting will be on the market again, then with a new signature.
Olja på duk. Vårvinterdag, 70x97,5 cm. Målningen lämnades in till en pantbank i Sverige. Ägaren erhöll 15.000 kr. Pantbanken tillkallade polis då de misstänkte att målningen var förfalskad. Vid granskning framkom att målningen tidigare varit inlämnad hos ett auktionshus i Stockholm där den katalogiserades men sedan dragits tillbaka då den misstänktes vara oriktig. Målningen anses vara en s.k. halvförfalskning d.v.s. att den troligen är målad i ett ärligt syfte men har senare påförts en oärlig signatur i syfte att vilseleda kommande köpare. Tingsrätten: "Signaturen ska avlägsnas, därefter ska målningen lämnas tillbaka till ägaren. Varning: Det finns risk att målningen kommer ut på marknaden igen, då med en ny signatur.

Verdict of guilty
K-57031-07. (0221-07-1598)
Oil on canvas. The painting was submitted to an auction house in Stockholm for sale January 2007. The auction house suspected it was a forgery and contacted police who took painting seized. Upon questioning the owner said that he had tried to sell the painting through another auction house but they did not accept it because it did not seem real. After the expert investigation and judgment declared that the painting is not genuine. It's a forgery.
Olja på duk. Målningen lämnades in till ett auktionshus i Stockholm för försäljning januari 2007. Auktionshuset misstänkte att det var en förfalskning och kontaktade polis som tog målningen i beslag. Vid förhör säger ägaren att han tidigare försökt sälja målningen via annat auktionshus men att de inte tog emot den eftersom den inte verkade riktig. Efter expertutredning och dom förklarades att målningen inte är äkta. Det är en förfalskning.




















Name
Anshelm, Leonhard SCHULTZBERG
Anshelm Schultzberg studerade i Stockholm vid Tekniska skolan och för Edvard Perséus samt vid konstakademien. Han företog studieresor till Frankrike och italien. Han fick medaljer i Paris 1889 och i Chicago 1893, och vid världsutställningen i Saint Louis 1904 en medalj för anordningen av den svenska utställningen. Schultzberg har flera gånger varit kommissarie för svenska konstavdelningen vid internationella utställningar, bland annat i Rom 1911 och i San Francisco 1915. Han blev ledamot av konstakademien 1900.

Källa: Sammansatt av olika källor från internet.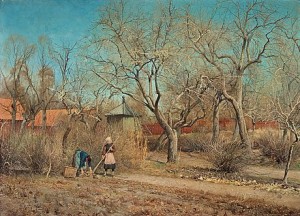 "barn I Trädgården", Motiv Från Nyckelviken
(-85)
Price SEK 318,500 (€32,503) Incl. buyer's premium
Estimated SEK 250,000–300,000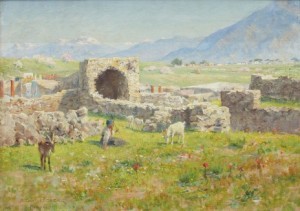 Price SEK 38,000 (€4,090)
Estimated SEK 30,000–40,000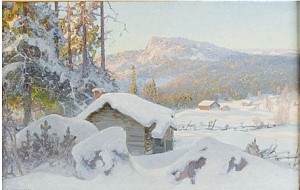 Insnöade Fäbodar (motiv Från Dalarnes älvdalen)
Price SEK 17,000 (€1,876)
Estimated SEK 20,000–25,000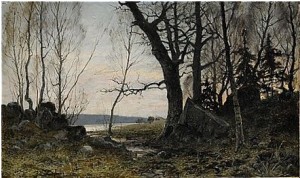 Price SEK 13,000 (€1,435)
Estimated SEK 15,000–18,000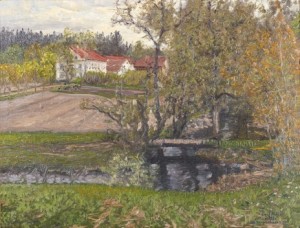 Larsbo Bruks Herrgård, Dalarna
(1916)
Price SEK 0 (€0) Not sold
Estimated SEK 12,000–15,000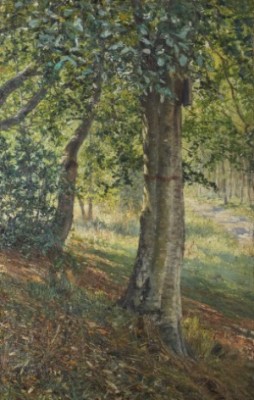 Fontainebleauskogen I Sommarljus
(1889)
Price SEK 56,000 (€6,434)
Estimated SEK 25,000–30,000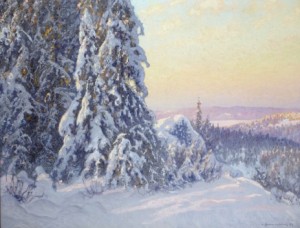 Aftonsol"- Motiv Från Filipstads Bergslag
(1917)
Price SEK 20,000 (€2,316)
Estimated SEK 20,000–25,000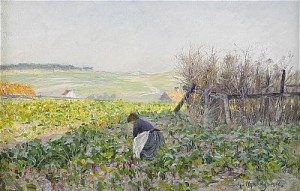 Etaples- Franskt Landskap
(1890)
Price SEK 80,000 (€9,027)
Estimated SEK 80,000–100,000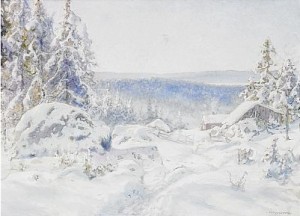 Vinterlandskap
Price SEK 26,000 (€2,934)
Estimated SEK 20,000–25,000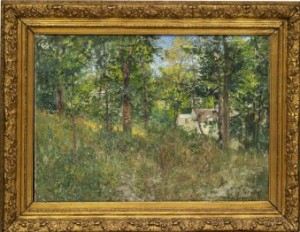 Price SEK 50,000 (€5,620)
Estimated SEK 60,000–80,000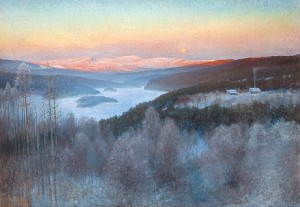 Landskap I Jämtland
(1897)
Price SEK 159,375 (€17,914) Incl. buyer's premium
Estimated SEK 125,000–150,000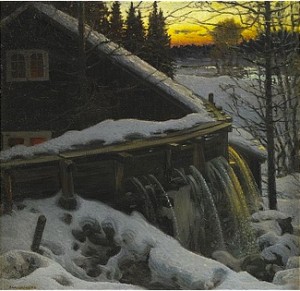 Vintermotiv Från Rämen - Värmland
Price SEK 20,000 (€2,210)
Estimated SEK 18,000–20,000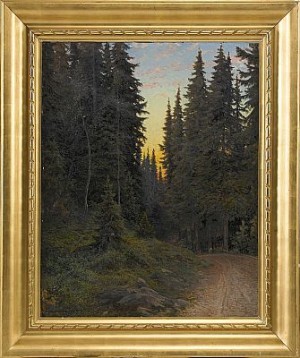 Skogsväg I Aftonrodnad
(1902)
Price SEK 12,000 (€1,340)
Estimated SEK 15,000–20,000
Motiv Från Filipstads Omgivningar
(1929)
Price SEK 12,000 (€1,274)
Estimated SEK 15,000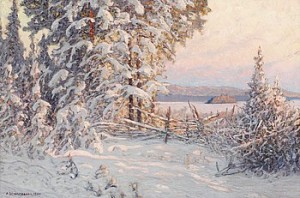 Vinterafton Vid Sjön Runn, Dalarne
(1920)
Price SEK 17,000 (€1,766)
Estimated SEK 18,000–20,000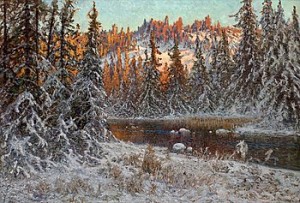 Decemberafton Vid En Skogstjärn, Dalarne
Price SEK 19,000 (€1,974)
Estimated SEK 20,000–25,000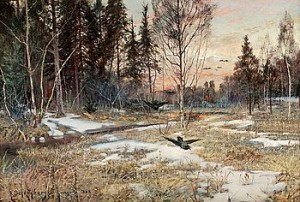 Vårlandskap, Grangärde
(1888)
Price SEK 72,000 (€7,482)
Estimated SEK 50,000–60,000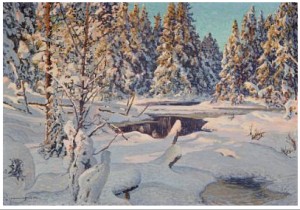 Price NOK 30,000 (€3,531)
Estimated NOK 35,000–40,000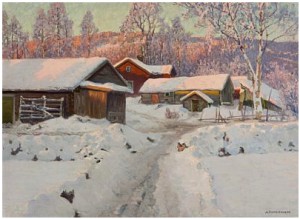 Vintersol Over Gården
Price NOK 48,000 (€5,650)
Estimated NOK 50,000–60,000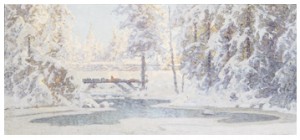 Aftonsol I Skogen" - Motiv Från Knifvadalen, Vika Socken, Dalarna
Price SEK 17,000 (€1,625)
Estimated SEK 15,000–18,000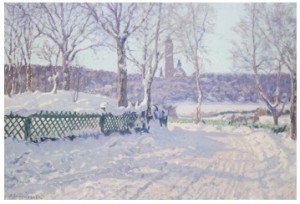 Ringvägen I Saltsjöbaden, Vinterlandskap
Price SEK 24,000 (€2,294)
Estimated SEK 30,000–40,000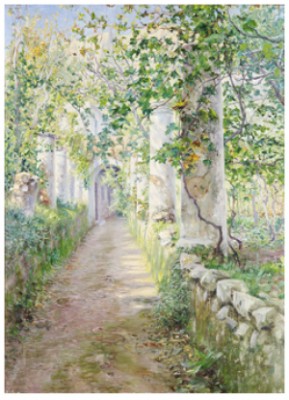 Price SEK 58,000 (€5,545)
Estimated SEK 20,000–30,000
Vinterlandskap
(1907-1908)
Price SEK 46,000 (€4,400)
Estimated SEK 20,000–25,000
Vinterlandskap
Price SEK 13,800 (€1,354)
Estimated SEK 12,000–15,000
Price SEK 0 (€0)
Estimated SEK 15,000–18,000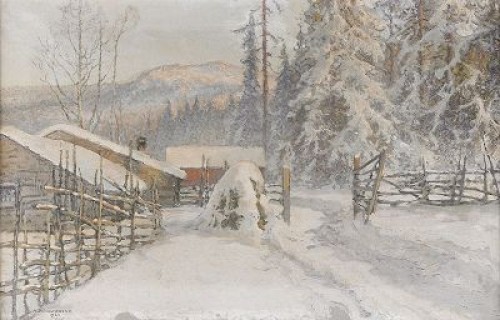 Vinterlandskap Med Gård - Filipstads Bergslag
(1922)
Price SEK 0 (€0)
Estimated SEK 30,000–35,000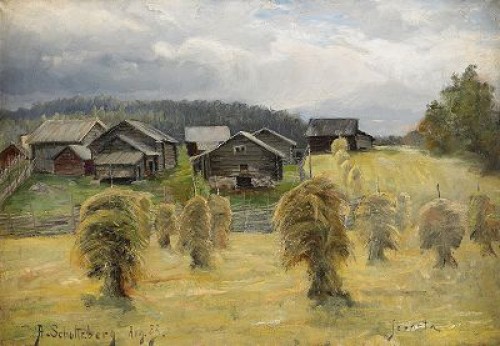 Bodar Och Sädesskylar - Motiv Från Dalarna
(1883)
Price SEK 0 (€0)
Estimated SEK 25,000–30,000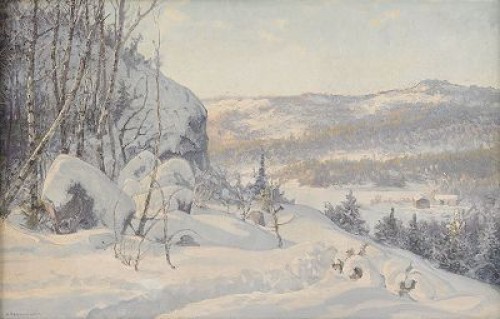 Vinterdag I Dalarna
Price SEK 24,000 (€2,262)
Estimated SEK 20,000–25,000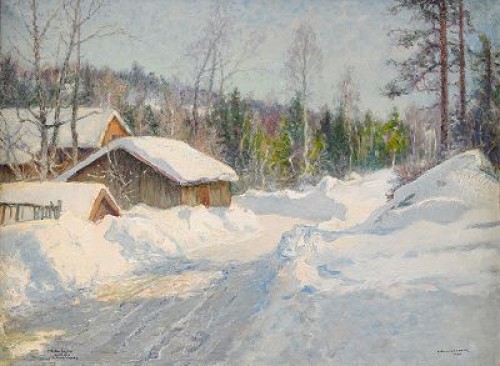 Snöplogväg Förbi Anderssons Gård - Laxtjärn, Filipstad
(1940)
Price SEK 36,000 (€3,273)
Estimated SEK 25,000–30,000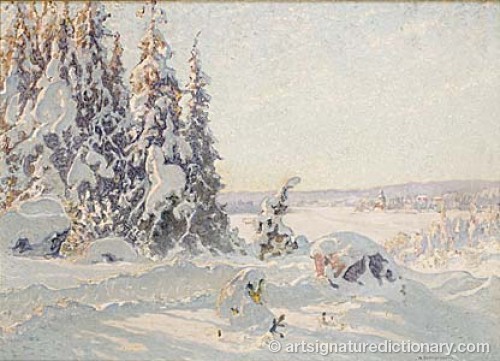 Utsikt över Rämensjön, Wermland
Price 35,000 (€3,763)
Estimated 15,000–20,000