Axel Wilhelm NORDGREN

1828–1888, Sweden/Germany
Also known as: AN

Oil on canvas, signed Axel Nordgren, 51x69 cm. In the lower right corner is an area painted with new color. A signature is superficially attached in the lower left corner. The painting is painted on top of a previously painted canvas. It is not a work of Axel Nordgren. The style of this painting is too romantic to fit into Axel Nordgren's painting style. The painting was submitted for sale at auction of quality in Stockholm in 1974 but was rejected. District Court: The painting has been a forgery by the changes.
Oäkta förfalskning. Oljemålning på duk, signerad Axel Nordgren, 51x69 cm. I nedre högra hörnet finns ett övermålat parti. En signatur är ytligt påsatt i nedre vänstra kanten. Tavlan är målad ovanpå en tidigare målad duk. Målningen är inte ett verk av Nordgren. Stilen på denna tavla är för romantisk för att passa in i Axel Nordgrens måleri. Tavlan lämnades in till försäljning vid kvalitetsauktion i Stockholm år 1974 men refuserades. Tingsrättens bedömning: Tavlan har genom förändringar blivit en förfalskning.

Verdict of guilty
PHM Nr.35
Oil on canvas, stormy seas, signed "A. Nordgren", 37x58 cm. On the back of the canvas, the part that is above the top of the stent, which is named "Rotsakowski" signed. Technical survey conducted at the National Laboratory of Forensic Science with infrared light. It shows the remains of an old signature and that a new signature has been painted later. Axel Nordegren painted in Düsseldorf Style and signed very clearly. 1870 he began to paint realistically. This painting is, however, a diffuse painting in the romantic style and are not nearly Axel Nordegren's school. It is more like an English painting. The painting is a mediocre work of a talented amateur. The District Court's assessment: The painting is by recoating and after new signing become a counterfeit.
Oljemålning på duk, stormande hav, signerad "A. Nordgren", 37x58 cm. På dukens baksida, på den del som ligger över spännramens övre del, där är namnet "Rotsakowski" påskrivet. Teknisk undersökning gjord på Statens kriminaltekniska laboratorium visar att vid belysning med infrarött ljus framträder, i målningens nedre högra hörn, resterna av en övermålad signatur i vilken bokstaven "w" kan uttydas. En ny signatur har målats strax till vänster om övermålningen. Axel Nordgren målade i Düsseldorfstil och tecknade mycket tydligt. 1870 började han måla realistiskt. Denna Målning är emellertid ett diffust måleri i romantisk stil och hör inte alls till Axel Nordgrens skolning utan har mera att göra med engelskt måleri. Målningen är ett medelmåttigt verk av en skicklig amatör. Tingsrättens bedömning: Målningen har genom övermålning och eftersignering blivit en förfalskning.

Verdict of guilty
PHM Nr. 38
Oil on canvas, landscape in moonlight. signed "A.Nordgren", 36x54 cm. Lower right corner is processed. It may be a later retouching or grinding in order to hide anything. Technical examination shows that the signature in the lower left corner has been painted later. The red color has drained down into the older crazing ring. Neither this painting is the work of Axel Nordgren, it is too amateurish painted and does not have the quality that Nordegren paintings exhibit. The District Court's assessment: The painting is not painted by Axel Nordgren. It is also not signed by him. It is a forgery.
Oljemålning på duk, landskap i månsken. signerad "A.Nordgren", 36x54 cm. Nedre högra hörnet är bearbetat. Det kan vara en senare retusch eller övermålning i syfte att dölja någonting. Teknisk undersökning visar att signaturen i nedre vänstra hörnet tillkommit i efterhand. Den röda färgen har runnit ner i den äldre krakeleringen. Ej heller denna tavla är ett verk av Axel Nordgren, den är allt för amatörmässigt målad och har inte den kvalitet som Nordgrens måleri företer. Det finns ytterligare en A. Nordgren som är konstnär men denne var friluftsrealist och målningen stämmer ej heller på honom Tingsrättens bedömning: Målningen är ej målad av Axel Nordgren. Den är ej heller signerad av honom. Det är en förfalskning.







Name
Axel Wilhelm NORDGREN
Lived & Active In
Düsseldorf, Germany
Axel Nordgren was the son of Carl Wilhelm Nordgren. He studied at the Art Academy and later in Düsseldorf where he remained resident for the rest of his life. He has painted nature scenes and landscapes, coastal landscape of Norway and the Swedish forest landscape. In southern Sweden he painted along with the young Gustav Rydberg in Norway and the artist Gude.
Represented: National Museum in Stockholm, Gothenburg Art Museum, University of Lund, Malmo Museum, and Dusseldorf.

Source: Composed of a variety of sources from the internet.
Axel Nordgren var son till Carl Wilhelm Nordgren. Han studerade vid Konstakademien och senare i Düsseldorf där han också förblev bosatt under resten av sitt liv.
Han har målat naturskildringar och landskap, bl.a. det norska kustlandskapet, Svenskt skogslandskap. I Skåne målade han tillsammans med den unge Gustav Rydberg och i Norge med Gude.

Representerad:
Nationalmuseum i Stockholm, Göteborgs Konstmuseum, Lunds universitet, Düsseldorf samt Malmö Museum.

Källa: Sammansatt av olika källor från internet.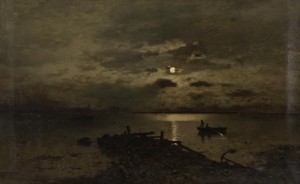 Månbelyst Kustlandskap Med ångfartyg Och Fiskare I Roddbåt (möjligen Vid Arild).
(1882)
Price SEK 16,000 (€1,728)
Estimated SEK 20,000–25,000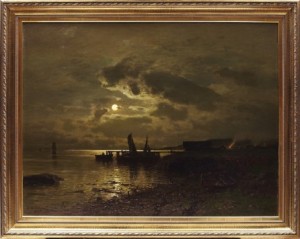 Fiskeläge I Månsken
(1879)
Price SEK 10,000 (€1,053)
Estimated SEK 12,000–15,000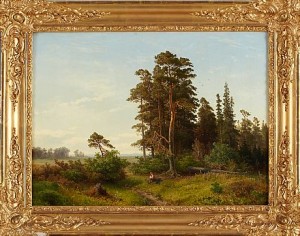 Landskap Med Mansfigur
(-56)
Price SEK 11,500 (€1,299)
Estimated SEK 10,000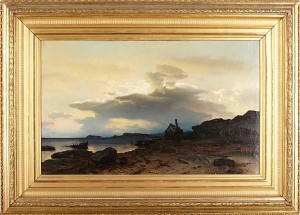 Kustlandskap I Aftonrodnad
Price SEK 6,000 (€668)
Estimated SEK 10,000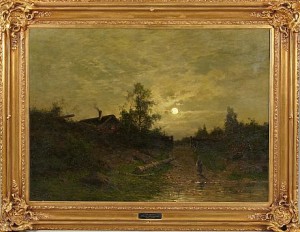 Vattenhämterska
Price SEK 5,600 (€624)
Estimated SEK 7,000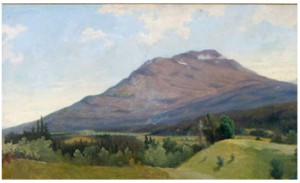 Bergslandskap
Price SEK 1,100 (€108)
Estimated SEK 1,000–1,500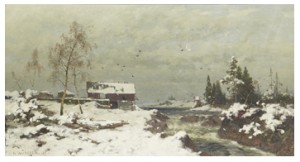 Vinterlandskap Med Lada Vid Fors
(1879)
Price SEK 8,000 (€765)
Estimated SEK 10,000–15,000