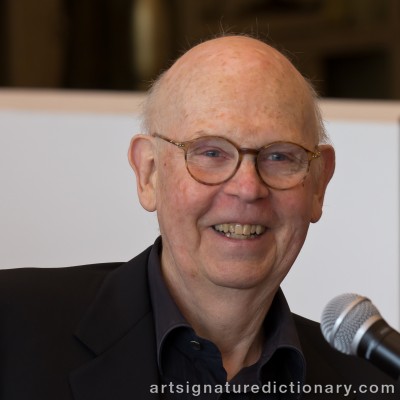 Claes OLDENBURG

1929–1997, Sweden/USA
Also known as: CO
Name
Claes, Thure OLDENBURG
Claes Oldenburg was born January 28, 1929, in Stockholm. His father was a diplomat, and the family lived in the United States and Norway before settling in Chicago in 1936. Oldenburg studied literature and art history at Yale University, New Haven, from 1946 to 1950. He subsequently studied art under Paul Weighardt at the Art Institute of Chicago from 1950 to 1954. During the first two years of art school, he also worked as an apprentice reporter at the City News Bureau of Chicago, and afterward opened a studio, where he made magazine illustrations and easel paintings. Oldenburg became an American citizen in December 1953.

In 1956, he moved to New York and met several artists making early Performance [more] work, including George Brecht, Allan Kaprow, George Segal, and Robert Whitman. Oldenburg soon became a prominent figure in Happenings [more] and performance art during the late 1950s and early 1960s. In 1959, the Judson Gallery exhibited a series of Oldenburg's enigmatic images, ranging from monstrous human figures to everyday objects, made from a mix of drawings, collages, and papier-maché. In 1961, he opened The Store in his studio, where he recreated the environment of neighborhood shops. He displayed familiar objects made out of plaster, reflecting American society's celebration of consumption, and was soon heralded as a Pop artist with the emergence of the movement in 1962.

Oldenburg realized his first outdoor public monument in 1967; Placid Civic Monument took the form of a Conceptual performance/action behind the Metropolitan Museum of Art, New York, with a crew of gravediggers digging a six-by-three-foot rectangular hole in the ground. Beginning in the mid-1960s, he also proposed colossal art projects for several cities, and by 1969, his first such iconic work, Lipstick (Ascending) on Caterpillar Tracks, was installed at Yale University. Most of his large-scale projects were made with the collaboration of Coosje van Bruggen, whom he married in 1977. In the mid-1970s and again in the 1990s, Oldenburg and van Bruggen collaborated with the architect Frank O. Gehry, breaking the boundaries between architecture and sculpture. In 1991, Oldenburg and van Bruggen executed a binocular-shaped sculpture-building as part of Gehry's Chiat/Day building in Los Angeles.

Over the past three decades, Oldenburg's works have been the subject of numerous performances and exhibitions. In 1985, Il Corso del Coltello was performed in Venice. It included the Knife Ship, a giant Swiss Army knife equipped with oars; for the performance, the ship was set afloat in front of the Arsenal in an attempt to combine art, architecture, and theater. The Knife Ship traveled to museums throughout America and Europe from 1986 to 1988. Oldenburg was honored with a solo exhibition of his work at the Museum of Modern Art, New York, in 1969, and with a retrospective organized by the National Gallery of Art, Washington, D.C., and the Solomon R. Guggenheim Museum, New York, in 1995. Oldenburg lives in New York.
Source: Art Signature Dictionary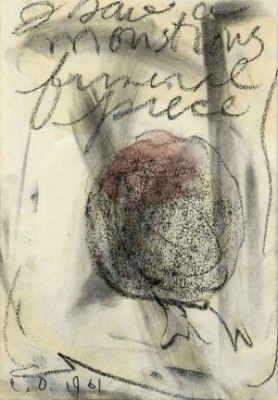 I Saw A Monstrous Funeral Piece
(1961)
Price USD 4,750 (€4,272)
Estimated USD 8,000–12,000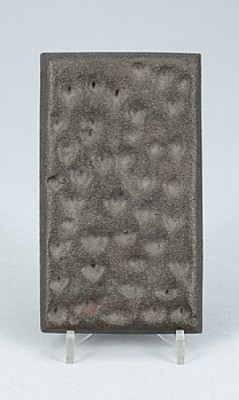 Knäckebröd
Price SEK 6,800 (€773)
Estimated SEK 6,000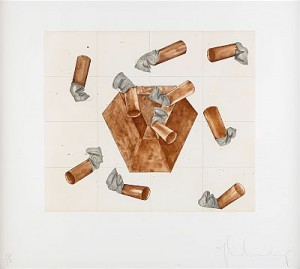 Study For Steel And Lead Ashtray
(1976)
Price SEK 5,000 (€523)
Estimated SEK 6,000–8,000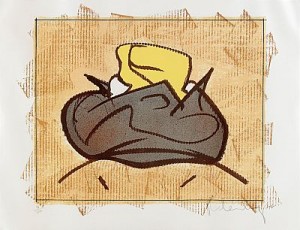 Baked Potato With Butter
(1972)
Price SEK 7,000 (€732)
Estimated SEK 8,000–10,000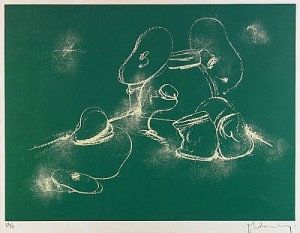 Soft Drum Set - On Chalk Board
(1972)
Price SEK 14,000 (€1,463)
Estimated SEK 8,000–10,000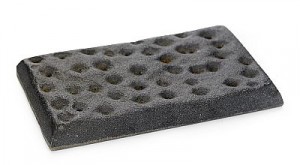 Knäckebröd
Price SEK 0 (€0)
Estimated SEK 10,000–12,000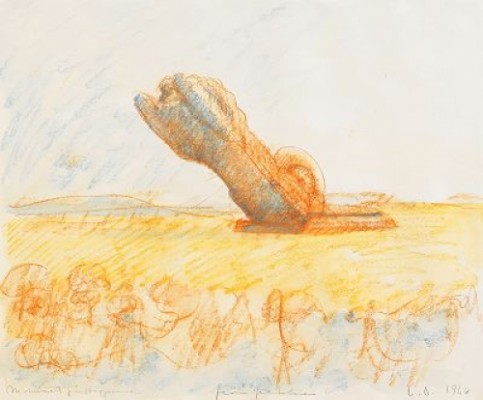 Proposed Colossal Monument For The Entrance To Stockholm Harbour: Pivoting Lion
(1966)
Price SEK 85,000 (€7,798)
Estimated SEK 50,000–60,000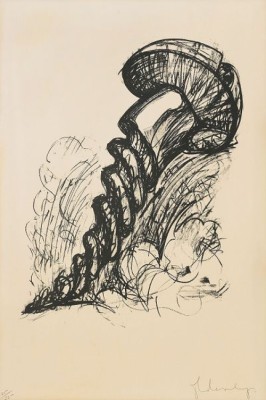 Soft Screw In Waterfall
(1976)
Price SEK 20,000 (€1,834)
Estimated SEK 20,000–25,000