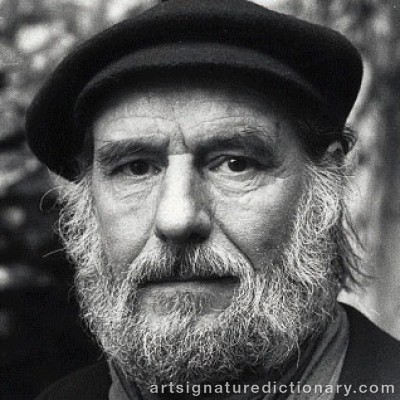 Cornelis Guillaum Corneille Van 'Corneille' BEVERLOO

1922–2010, Belgium/Netherlands
Also known as: Corneille Van Beverloo

Verdict of guilty
DB 656, B 11-8548-94. (int.nr.PHM3809)
Oil on canvas 50x68 cm Signed Corneille 1947. Submitted for sale at an auction house in Stockholm 1994. Police were contacted when they suspect that the painting was a fake.
Olja på duk 50x68 cm, komposition signerad Corneille 1947. Inlämnad till försäljning på ett auktionshus i Stockholm 1994. Då misstanke uppstod om målningens äkthet kontaktades polis som tog målningen i beslag.


Verdict of guilty
0201-K315937-10
Oil on canvas, signed and dated Paris -88, 100x79 cm. The painting was for sale at a major auction house in Stockholm in autumn 2010, estimate SEK 40,000 to 60,000 (€4300-6400). "Untitled, from the series Pinocchio". A middle-aged man submitted this painting and a number of other paintings by famous artists when the auction house's representative visited his hometown in the southern part of northern Sweden. The auction house contacted police,for investigation, when they suspected that the paintings were not genuine. When the police interrogated the owner, he stated that he had received the painting and a number of other paintings as collateral for a large loan. All the paintings in the seizure turned out to be counterfeits. The person who gave the paintings as collateral is already known to the police in similar fraud cases. Court: This painting is not done or signed by "Corneille" Cornelis van Beverloo. It is a counterfeit.
Oljemålning på duk, signerad och daterad Paris -88, 100x79 cm. Målningen var till salu hos ett stort auktionshus i Stockholm hösten 2010, utrop 40.000-60.000 kr. "Utan titel, ur serien Pinocchio". Denna målning och ett antal andra målningar av kända konstnärer lämnades för försäljning av en medelålders man då auktionshusets representant gjorde ett besök Sundsvall 2010. Auktionshuset kontaktade senare polis, för utredning, då man misstänkte att målningarna inte var äkta. Inlämnaren uppgav senare i förhör att han hade tagit emot denna målning och ett antal andra målningar som säkerhet för ett stort lån. Samtliga målningar i beslaget visade sig vara förfalskningar. Personen som gav målningarna som säkerhet är sedan tidigare känd hos polisen i liknande bedrägeriärenden. Domstolens bedömning: Denna målning är ej utförd eller signerad av "Corneille" Cornelis Van Beverloo. Det är en helförfalskning.

Verdict of guilty
0300-K32588-11
Oil on canvas, Composition with nude woman and animals, signed "Corneille 95" 55x40 cm. Ostensibly depicting a genuine painting by The Dutch artist Corneille Van Beverloo. The painting was taken in pledge for a loan of a gallery in a small town just north of Stockholm. The gallery began to suspect that the painting was not genuine and summoned the police who took the painting seized for further investigation. Documentation was sent to experts in Corneille Van Beverloo's painting. The painting was immediately condemned as a bad forgery. The prosecutor did not consider it proven that the gallery owner would have done the painting nor tried to sell it for fraudulent purposes why the painting was returned to the Gallery without action. The prosecution closed the file. Warning! The painting is thus the market with original forged signature! There is a risk that it once again becomes available for sale.
Oljemålning på duk, komposition med liggande kvinna och djur, signerad "Corneille 95" 55x40 cm. Skenbart föreställande en äkta målning av den Holländske konstnären Corneille Van Beverloo. Målningen togs i pant för ett lån av ett galleri i en mellansvensk stad. Galleristen började misstänka att målningen inte var äkta och tillkallade polis som tog målningen i beslag för vidare utredning. Underlag skickades till expertis på Corneille Van Beverloo's måleri. Målningen blev genast utdömd som en dålig förfalskning. Åklagaren bedömde det inte bevisat att Galleristen skulle ha utfört målningen ej heller försökt sälja den i bedrägligt syfte varför målningen återlämnades till Galleriet utan åtgärd. Åklagaren lade ner åtalet. Varning! Målningen finns alltså ute på marknaden igen, signerad! Risken finns att den återigen blir till salu.