Eric HALLSTRÖM

1893–1946, Sweden
Also known as: EH, EHM

Verdict of guilty
DB 130, B 1135-74. (int.nr.PHM3745:35)
Oil on panel, titled "Nordingrå", signed "Eric Hallstrom", 40x32 cm. Ostensibly depicting a genuine painting by the artist Eric Hallström. The painting is part of a major fraud seizures of counterfeit art in Sweden known as "The Society of Art Friends": Three men, aged 30, 37, and 40 years old, were caught in Stockholm, Sweden after a reconnaissance tip from police in Ängelholm, Sweden. Shortly afterwards, another two men were caught. In total, 48 house searches were made through out the nation from which 83 forged paintings were confiscated. Forged art had already been sold for millions of Swedish crowns. Victims of the gang were well known businessmen with considerable incomes. League had good help from educated art experts who have written certificate of authenticity to many of the fake paintings, often at very small remuneration. On a door to a flat in Stockholm the men had displayed a sign with the text "The Society of Art Friends".
Olja på pannå, titel "Nordingrå", signerad "Eric Hallström", 40x32 cm. Skenbart föreställande en äkta målning utförd av konstnären Eric Hallström. Målningen ingår i ett stort bedrägeribeslag av förfalskad konst i Sverige kallat "Sällskapet Konstvännerna": Tre män, 30, 37 och 40 år gamla greps i Stockholm efter ett spaningstips från polisen i Ängelholm, kort därefter greps ytterligare två män. Totalt gjordes 48 husrannsakningar runt om i landet varvid 83 falska målningar togs i beslag. Falsk konst hade redan sålts för miljontals kronor och ligans offer var kända affärsmän med betydande inkomster. Ligan hade god hjälp av bildade konstexperter som för små pengar skrivit ut äkthetsintyg till många av de falska målningarna. Männen hade på en lägenhetsdörr i Stockholm satt upp en skylt med texten "Sällskapet Konstvännerna".

Verdict of guilty
PHM Nr. 82
chalk on paper, signed "Eric Hallstrom." A spot in the lower left corner indicates that something happened to the artwork. Eric Hallström belonged to the early 1900s generation. He teckade everyday motifs and motif similar to his. The painting is made by any amateur who looked like Hallström who signed with stiff and without movement and spontaneity. It gives the impression of a crash course in painting. See especially the pod to the right. Even the signature is too rigid to be Hallström's. The District Court's assessment: The painting gives the wrong impression of completed and signed by Hallström. It is a forgery.
Krita på papper, signerad "Erik Hallström". En fläck i nedre vänstra hörnet tyder på att något hänt med teckningen. Eric Hallström tillhörde tidigt 1900-talets generation. Han teckade vardagliga motiv och motivet liknar hans. Målningen är gjord av någon amatör som sökt likna Hallström med som tecknat stelt och utan rörelse och spontanitet. Den ger intryck av en snabbkurs i måleri. Se särskilt baljan till höger. Även signaturen är för stelbent för att vara Hallström's. Tingsrättens bedömning: Målningen ger felaktigt sken av att utförd och signerad av Hallström. Den är en förfalskning.


















Name
Eric, Cornelius HALLSTRÖM
Birth
1893, 22/11, Sweden
Eric Hallstrom biography:

Eric Hallstrom studied at the Technical School and the Carl Wilhelm\'s painting school. He is considered one of Sweden\'s first naive enthusiasts. He has painted landscapes, northern älvmotiv, from Stockholm and Sundbyberg streets, figurative designs and interiors.
Represented: Modern Museum in Stockholm, the National Museum in Stockholm, Gothenburg Museum of Art, Malmö Museum, museums in Västerås, Linköping, Eskilstuna, Norrköping, and the Hamburg Kunsthalle in Germany.
Source: Art Signature Dictionary
Eric Hallstrom biografi:

Eric Hallström studerade vid Tekniska skolan och vid Carl Wilhelmsons målarskola. Studerade därefter på egen hand och han räknas som en av våra första naivister och tillhörde den tredje Smedsuddskolonin.
Han har målat landskap, norrländska älvmotiv, men mestadels från Stockholms gator och från Sundbyberg, figurmotiv och interiörer. Många av hans bästa verk tillkom på 1910-talet då motiven hämtades från Rörstrands porslinfabrik, Hagaparken och Karlbergs slott. Kring år 1917 hör till den allra främsta perioden i Hallströms oevure då, de välkända verken, På ön 1917, Rysk millionär och Karlbergs ridbana tillkom. Han var från början naivist och utvecklades till en expressionistisk naturalist.
Representerad: Moderna Muséet i Stockholm, Nationalmuseum i Stockholm, Göteborgs Konstmuseum, Malmö Museum, Muséerna i Västerås, Linköping, Eskilstuna och Norrköping, samt Hamburgs Kunsthalle i Tyskland.
Source: Art Signature Dictionary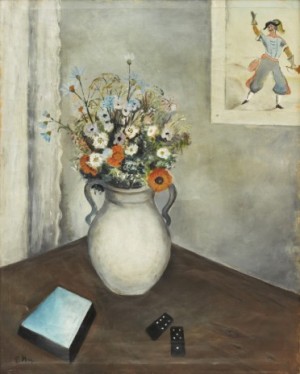 Stilleben Med Tärningar
(c. 1920)
Price SEK 12,000 (€1,292)
Estimated SEK 15,000–20,000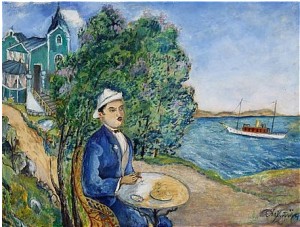 Den Ryske Miljonären
(1917)
Price SEK 320,000 (€35,360)
Estimated SEK 250,000–300,000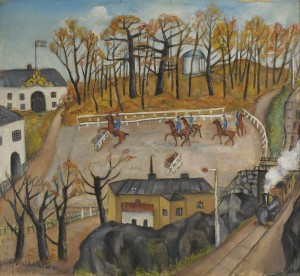 Price SEK 1,425,000 (€166,013)
Estimated SEK 1,000,000–1,200,000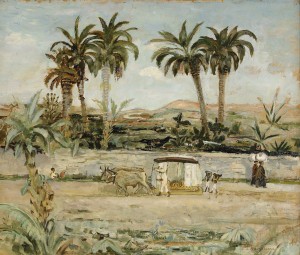 Landskap - Madeira
(Executed in 1926)
Price SEK 18,000 (€2,097)
Estimated SEK 20,000–25,000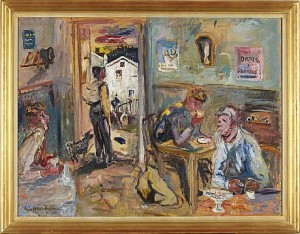 Café I Edsele I
Price SEK 12,000 (€1,386) Not sold
Estimated SEK 18,000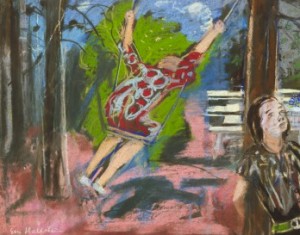 Gungan
Price SEK 6,500 (€731)
Estimated SEK 8,000–10,000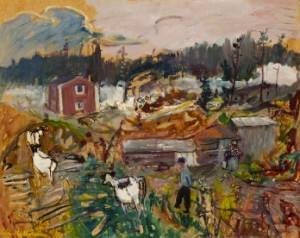 Kor På Väg Till Ladugården
Price SEK 6,500 (€731)
Estimated SEK 8,000–10,000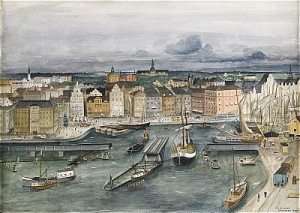 Utsikt över Staden Mellan Broarna - Stockholmsbild
(1925)
Price SEK 120,000 (€13,033)
Estimated SEK 80,000–100,000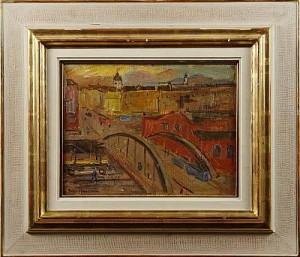 Stockholmsvy
Price SEK 6,000 (€648)
Estimated SEK 8,000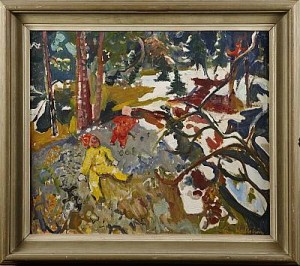 Barn På Berget
Price SEK 9,500 (€1,025)
Estimated SEK 8,000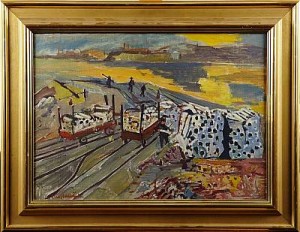 Vedtravar Stocksund
Price SEK 5,000 (€540)
Estimated SEK 7,000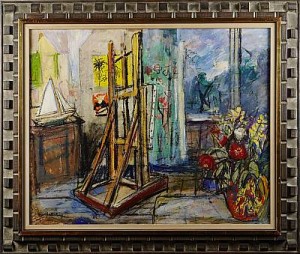 Ateljéinteriör
Price SEK 8,500 (€917)
Estimated SEK 10,000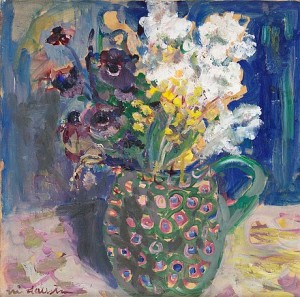 Blommor
Price SEK 7,000 (€746)
Estimated SEK 6,000–8,000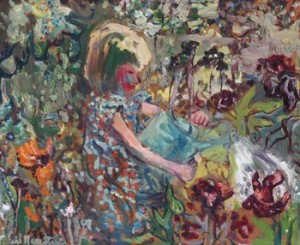 Greta Vattnar
Price SEK 7,000 (€670)
Estimated SEK 8,000–10,000
Långbro Sjukhus
Price SEK 6,000 (€589)
Estimated SEK 10,000–12,000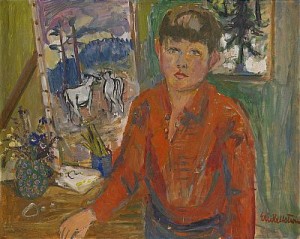 Klas Står Modell
Price SEK 20,000 (€1,964)
Estimated SEK 20,000–25,000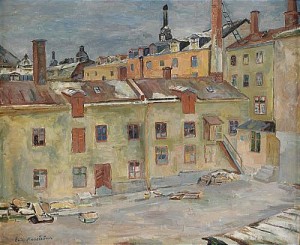 Södermalm - Stockholm
Price SEK 21,000 (€2,062)
Estimated SEK 12,000–15,000
Fiske På Strömmen - Stockholm
Price SEK 7,500 (€744)
Estimated SEK 6,000
Price SEK 900 (€88)
Estimated SEK 1,200
äppelskörd
Price SEK 12,000 (€1,121)
Estimated SEK 15,000–20,000
Flickan I Trädgårdssoffan
Price SEK 16,000 (€1,495)
Estimated SEK 20,000–25,000
Price SEK 8,000 (€748)
Estimated SEK 10,000–12,000
La Rue
Price SEK 8,000 (€748)
Estimated SEK 10,000–12,000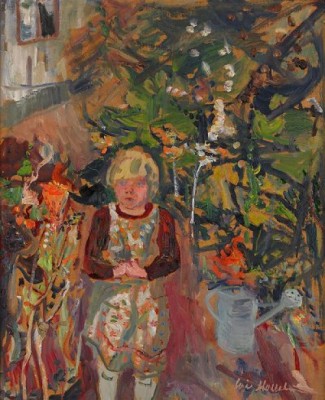 Lill-greta
Price SEK 15,000 (€1,402)
Estimated SEK 25,000–30,000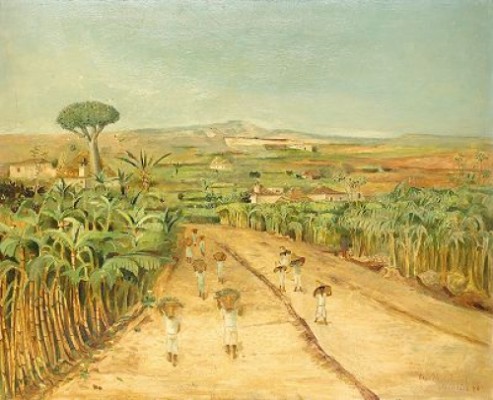 Landskap - Madeira
Price SEK 24,000 (€2,243)
Estimated SEK 25,000–30,000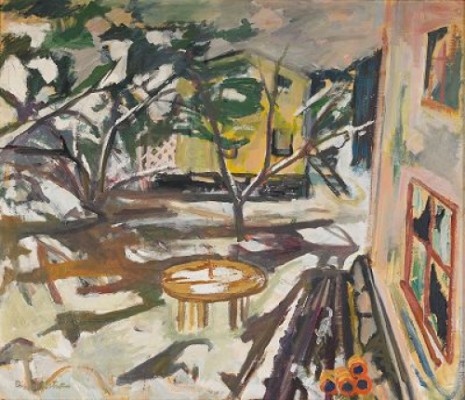 Vårvinter
Price SEK 40,000 (€3,738)
Estimated SEK 25,000–30,000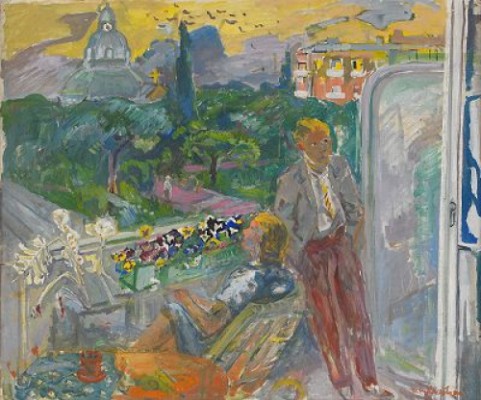 Ungt Par
Price SEK 29,000 (€2,710)
Estimated SEK 15,000–18,000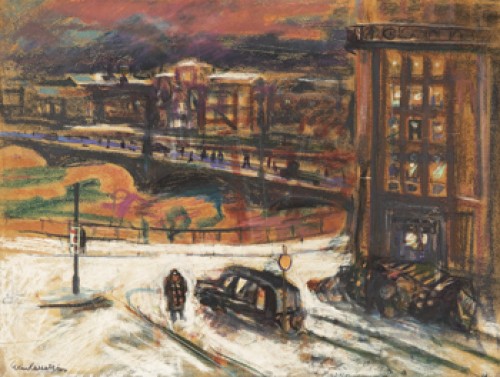 Tegelbacken I Vinterskrud
Price SEK 8,500 (€773)
Estimated SEK 10,000–12,000