Evert LUNDQUIST

1904–1994, Sweden
Also known as: EL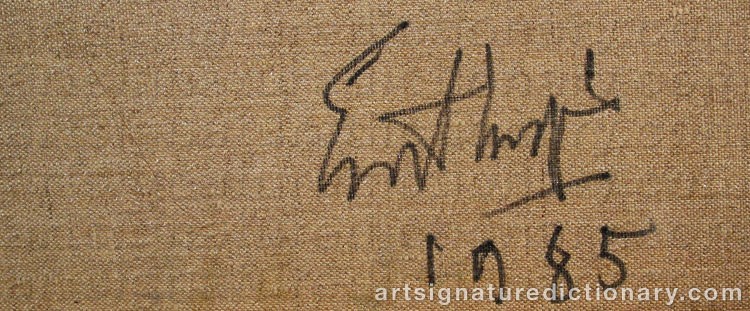 Verdict of guilty
0201-K99691-07
Oil on canvas, 116x73 cm, title: White figure, signed on the back (a tergo) and dated 1985. The painting was submitted to a major auction house in Stockholm by an private person through the auction house's local office in Gothenburg in November 2006. The painting was published in the auction catalog Spring 2007, estimated price SEK 100 000 -125 000. Suspicion of signature forgery arose where the painting was confiscated by police in Stockholm. Submitter has owned the painting in his possession for many years and are not suspected of criminal offenses. Note: The district court orders that the signature on the back will be removed. then will the painting be returned to the owner. Warning! There is a risk that the painting gets a new forged signature and again come onto the market.
Oljemålning på duk, 116x73 cm, titel: Vit gestalt, signerad på baksidan (a tergo) och daterad 1985. Målningen lämnades till ett stort auktionshus i Stockholm av en privatperson via auktionshusets lokala kontor i Göteborg i november 2006. Målningen togs in i auktionskatalogen våren 2007 till ett utropspris om 100.000 -125.000 kr. Misstanke om signaturförfalskning uppkom varvid målningen togs i beslag av polismyndigheten i Stockholm. Inlämnaren har haft målningen i sin ägo i många år och är inte misstänkt brott. Tingsrätten förordnar att signaturen på baksidan ska avlägsnas. Efer detta ska beslaget hävas och målningen återlämnas till ägaren. Varning! Det finns risk att målningen får en ny förfalskad signatur och återigen kommer ut på marknaden.

Verdict of guilty
0201-K73309-08
Oil on canvas. In February 2008, submitted this painting and several other paintings at a major auction houses in Stockholm for sale. The auction house became suspicious of the authenticity of painting and summoned the police. The paintings were seized and the investigation it was found that three of the paintings were accompanied by forged signatures; Tor Bjurstrom, Carl Kylberg and this Evert Lundquist. Submitter was a private collector who, in turn, tricked by a couple of known fraudsters who previously appeared in similar contexts and convicted of fraud. These individuals were addressed suspicions again. After an expert assessment and judgment declared that the painting is not genuine. It is a forgery.
Olja på duk. I februari 2008 lämnades denna målning och ett flertal andra målningar till ett större auktionsverk i Stockholm för försäljning. Man fattade misstanke om målningarnas äkthet och tillkallade polis. Målningarna togs i beslag och vid undersökning konstaterades att tre av målningarna var försedda med förfalskade signaturer; Tor Bjurström, Carl Kylberg och denna Evert Lundquist. Inlämnaren var en privat konstintresserad samlare som i sin tur blivit lurad av ett par kända bedragare som tidigare figurerat i liknande sammanhang och som blivit dömda för bedrägeri. Mot dessa riktades brottsmisstankarna även denna gång. Efter expertutredning och dom förklarades att målningen inte är äkta. Det är en förfalskning.

Verdict of guilty
K184639-02
Oil on canvas, signed "E.L.". Ostensibly depicting a genuine painting by Evert Lundquist. The painting has been seized by police and after examination been assessed as a forgery.
Oljemålning på duk, signerad "E.L.". Skenbart föreställande en äkta målning utförd av Evert Lundquist. Målningen har tagits i beslag av polis och efter utredning bedömts som en förfalskning.