Fernand LEGÉR

1881–1955, France
Also known as: FL
Joseph Fernand Henri Léger was born February 4, 1881, in Argentan, France. After apprenticing with an architect in Caen from 1897 to 1899, Léger settled in Paris in 1900 and supported himself as an architectural draftsman. He was refused entrance to the Ecole des Beaux-Arts but nevertheless attended classes there beginning in 1903; he also studied at the Académie Julian. Léger's earliest known works, which date from 1905, were primarily influenced by Impressionism [more]. The experience of seeing the Paul Cézanne retrospective at the Salon d'Automne in 1907 and his contact with the early Cubism [more] of Pablo Picasso and Georges Braque had an extremely significant impact on the development of his personal style. From 1911 to 1914, Léger's work became increasingly abstract, and he started to limit his color to the primaries and black and white. In 1912, he was given his first solo show at Galerie Kahnweiler, Paris.

Léger served in the military from 1914 to 1917. His "mechanical" period, in which figures and objects are characterized by tubular, machinelike forms, began in 1917. During the early 1920s, he collaborated with the writer Blaise Cendrars on films and designed sets and costumes for performances by Rolf de Maré's Ballets Suédois; in 1924, he completed his first film without a plot, Ballet mécanique. Léger opened an atelier with Amédée Ozenfant in 1924 and in 1925 presented his first murals at Le Corbusier's Pavillon de l'Esprit Nouveau at the Exposition internationale des arts décoratifs. In 1931, he visited the United States for the first time. In 1935, the Museum of Modern Art, New York, and the Art Institute of Chicago presented an exhibition of his work. Léger lived in the United States from 1940 to 1945 but returned to France after the war. In the decade before his death, Léger's wide-ranging projects included book illustrations, monumental figure paintings and murals, stained-glass windows, mosaics, polychrome ceramic sculptures, and set and costume designs. In 1955, he won the Grand Prize at the São Paulo Bienal. Léger died August 17 of that year, at his home in Gif-sur-Yvette, France. The Musée Fernand Léger was inaugurated in 1960 in Biot, France.
Source: http://www.belart.se/artists/fernand_leger/
Fernand Léger var en av 1900-talets stora pionjärer – en nyuppfinnare av formen och en lysande kolorist. Hans målningar utmärktes av cylindriska och kurvade former med tydliga konturer och starka färgkontraster. Han satte djupa spår i konsthistorien både som målare och teoretiker. Den mycket frispråkige och i fysiken kraftfulle Léger föddes 1881 i Argentan i Normandie. Hans far som var lantbrukare och kreaturshandlare avled när sonen endast var fyra år gammal och han uppfostrades endast av sin mor. Léger visade tidigt talang för teckning men försummade dock studierna. Vid 16 års ålder lämnade han skolan i Argentan för att arbeta som lärling hos en arkitekt i Caen. Tre år senare reste han till Paris med ekonomisk hjälp av två konstnärer från hans hemstad, André Mare och Henri Viel. Léger lyckades bli antagen vid Ecole des Arts Décoratifs men kom inte in vid Ecole des Beaux-Arts. Han tog även lektioner på Académie Julian och följde kurserna i Léon Gérômes och Gabriel Ferriers ateljéer. Samtidigt arbetade han för sitt uppehälle som ritare hos en arkitekt och även som retuscherare hos en fotograf. Efter en kraftig lungsjukdom for han på konvalescens till sin vän Henri Viel på Korsika. På denna ö upptäckte han för första gången det intensiva medelhavsljuset.

Tillbaka i Paris bosatte sig Léger i "La Rûche", en byggnad med billiga konstnärsateljéer. Här träffade han avantgardets konstnärer och poeter, däribland Alexandre Archipenko, Robert Delaunay, Marc Chagall, Henri Laurens och Amedeo Modigliani och det var vid denna tidpunkt, 25 år gammal, som han började arbeta på allvar som konstnär. 1907 upptäckte han Paul Cézannes konst vid dennes retrospektiva utställning på "Salon d'Automne", vilket blev avgörande för Légers fortsatta konstnärskap. Han målade 1909 "La Couseuse" som var hans första kubistiska målning och starkt påverkad av Cézanne. I målningen "Nus dans la Fôret" från 1909-10 skapade Léger en egen version av kubismen, som hans kritiker kallade skämtsamt för "tubism" eftersom det fanns alldeles för många cylindriska former. Färgskalan under denna första period gick i jordnära och gråa toner. I början av 1910-talet närmade sig Léger den abstrakta konsten, där motiven upplöstes i olika geometriska former. 1913 målade han sin första non-figurativa målning och avvek därmed från kubismen. Efter freden 1918 ändrades Légers färgskala radikalt till att nå maximal intensitet. Han utropade i skriften "Fonctions de la Peinture": "Vi kan inte leva utan färg, dess påverkan är psykologisk … den är ett socialt och mänskligt behov … Efter tårarnas och dödens tid kommer återuppbyggnaden". Légers inspirerades vid denna tid av efterkrigstidens framtidsoptimism och maskinernas progression. I sina målningar använde han sig av mekaniska former och kallades därför ibland för "maskinmålaren".

1924 startade Léger sin konstskola, Académie Moderne, vilken blev Europas modernaste undervisningsplats för unga konstnärer. Bland den första elevkullen fanns ett flertal skandinaver, bland andra Otto G. Carlsund, Franciska Clausen, Waldemar Lorentzon och Erik Olson. Vid denna tid blev muralmåleriet en viktig del i Légers fortsatta konstnärskap. Han ville få ut bilden på gatan, täcka stadens byggnader med gigantiska färgkompositioner. "Varför är det endast de högre klasserna som äger våra målningar. Alla borde få njuta av färgens och formens magi. Låt oss få ut målningarna på gatan" utropade han. Léger utförde sina första abstrakta muralmålningar till den stora utställningen Art Déco i Paris 1925. De unga svenska eleverna Otto G. Carlsund och Erik Olson fick under de följande åren arbeta i Légers ateljé med att förstora lärarens skisser och mindre oljor till större monumentalmålningar. Därefter var det inte förrän till 1937 års Världsutställning i Paris som Léger fick en ny stor mural uppgift. Léger utförde till utställningen den stora "Le transport des forces", vilken visade ett kraftverk av geometriska former som kontrasterar mot en regnbåge och ett vattenfall intill moln och sjöar. Efter Världsutställningen fick han tillfälle att utföra ett flertal muralmålningar runt om i världen.
Source: Bukowskis, Stockholm, Sweden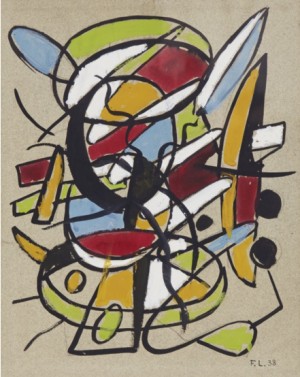 Price SEK 300,000 (€30,615)
Estimated SEK 200,000–300,000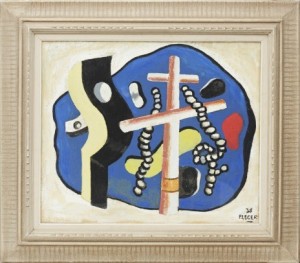 Price SEK 0 (€0) Not sold
Estimated SEK 500,000–700,000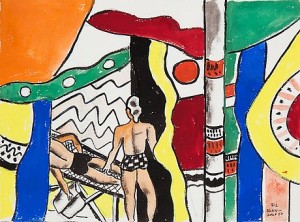 "deauville" (le Sieste).
(-50)
Price SEK 620,000 (€66,340)
Estimated SEK 200,000–250,000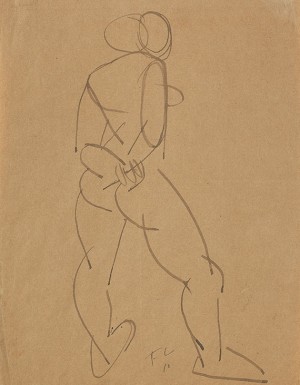 Stehender Weiblicher Akt Von Hinten
(1910)
Price EUR 4,000 Incl. buyer's premium
Estimated EUR 4,000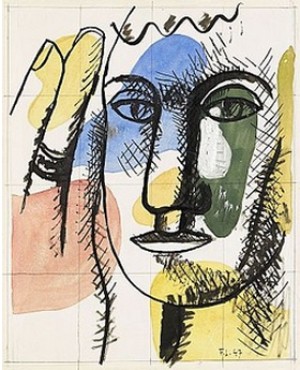 Price SEK 350,000 (€38,115)
Estimated SEK 175,000–200,000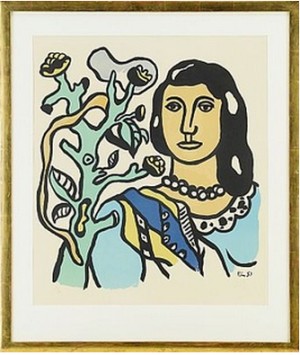 Price SEK 34,000 (€3,757)
Estimated SEK 30,000–40,000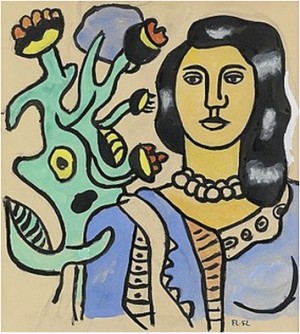 Femme à La Fleur (femme Bleue Et La Plante Verte)
(-52)
Price SEK 1,750,000 (€193,375)
Estimated SEK 800,000–1,000,000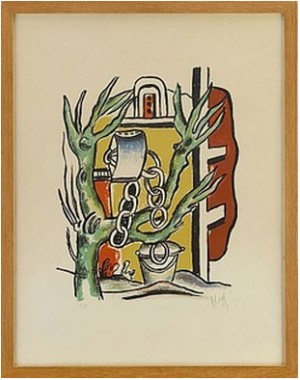 Price SEK 8,000 (€884)
Estimated SEK 10,000–15,000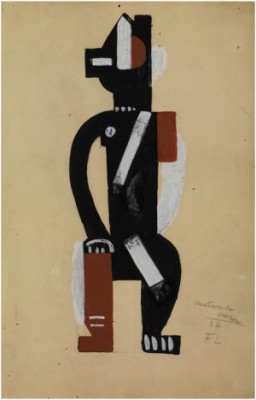 Price EUR 35,000
Estimated –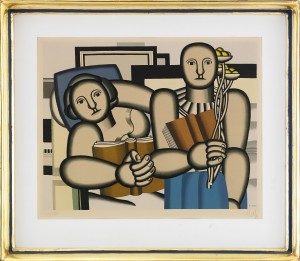 La Lecture
(Executed in 1953)
Price SEK 30,000 (€3,495)
Estimated SEK 20,000–25,000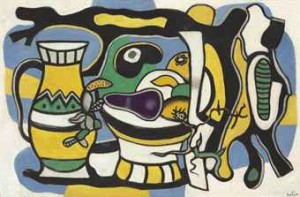 Le Compotier
(Executed in 1948)
Price USD 1,202,500 (€939,573) Incl. buyer's premium
Estimated USD 700,000–1,000,000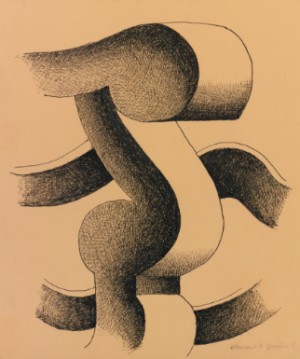 Elément De Fauteuil
Price USD 17,500 (€13,507) Incl. buyer's premium
Estimated USD 20,000–30,000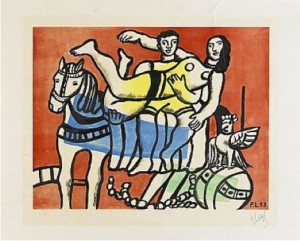 Price SEK 15,000 (€1,648)
Estimated SEK 20,000–25,000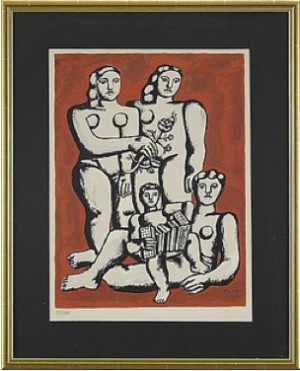 Femmes Et Enfants à L'accordeon
(1950-51)
Price SEK 12,000 (€1,318)
Estimated SEK 12,000–15,000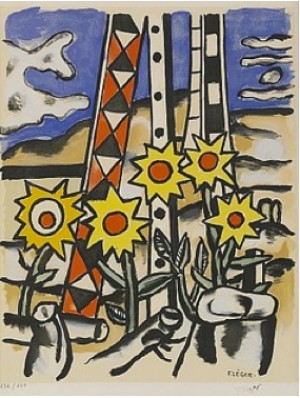 Am Meer
Price SEK 2,000 (€220)
Estimated SEK 3,000–4,000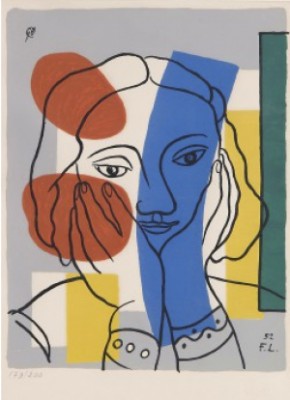 Untitled From The Series "album Of 10 Serigraphs"
Price SEK 14,000 (€1,574)
Estimated SEK 6,000–8,000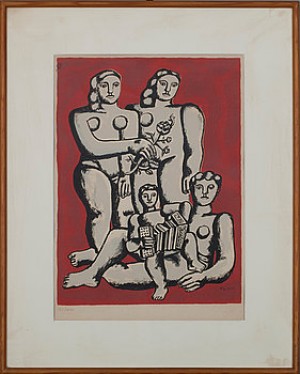 Price EUR 1,600
Estimated EUR 200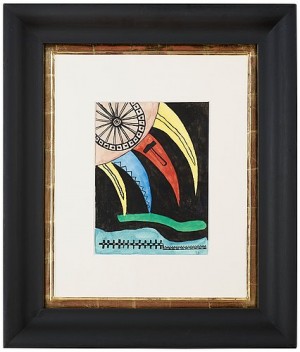 Price SEK 260,000 (€28,080)
Estimated SEK 130,000–150,000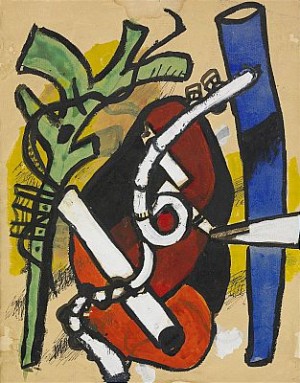 Price SEK 440,000 (€47,788)
Estimated SEK 250,000–300,000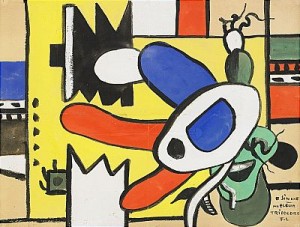 Ma Fleur Tricolore
(Executed 1937)
Price SEK 245,000 (€26,609)
Estimated SEK 200,000–250,000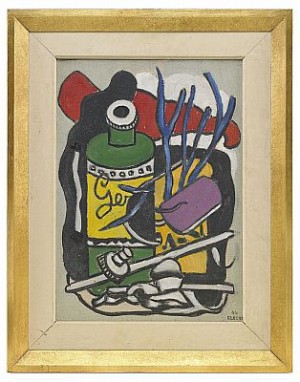 Price SEK 1,900,000 (€206,359)
Estimated SEK 2,000,000–2,500,000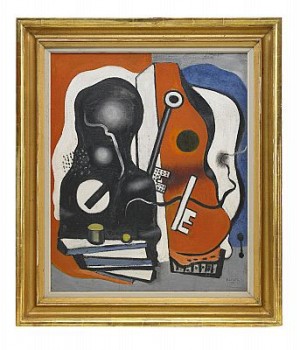 Nature Morte Aux Clefs
(-29)
Price SEK 3,500,000 (€380,135)
Estimated SEK 3,500,000–4,000,000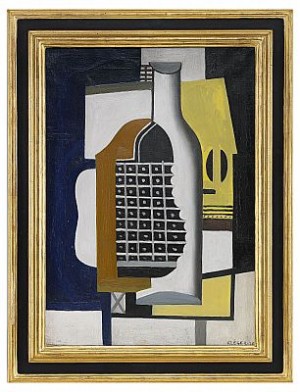 Price SEK 6,250,000 (€650,000)
Estimated SEK 4,000,000–4,500,000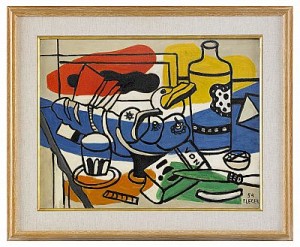 Nature Morte Aux Trois Fruits
(1954)
Price SEK 3,050,000 (€317,200)
Estimated SEK 2,500,000–3,000,000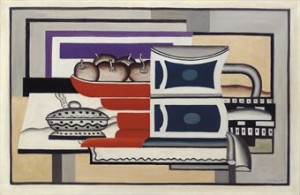 Le Compotier Rouge (compotier De Poires)
(1925)
Price GBP 1,945,250 (€2,230,813)
Estimated GBP 1,500,000–2,000,000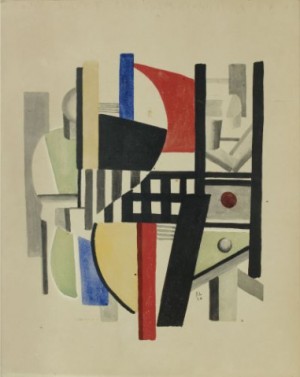 Composition Cubiste, (le Garcon De Cafe)
(-20)
Price EUR 260,770
Estimated EUR 150,000–200,000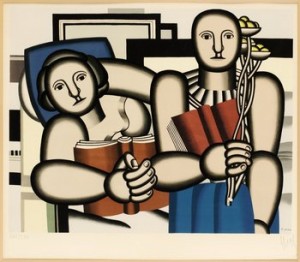 Price SEK 27,000 (€2,583)
Estimated SEK 25,000–35,000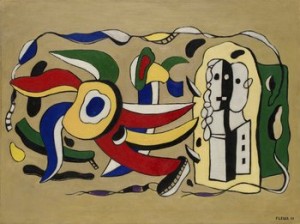 Composition Murale
(1937)
Price SEK 4,600,000 (€439,990)
Estimated SEK 5,000,000–7,000,000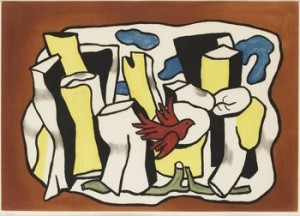 L'oiseau Rouge Dans Le Bois
(1953)
Price SEK 12,000 (€1,148)
Estimated SEK 15,000–18,000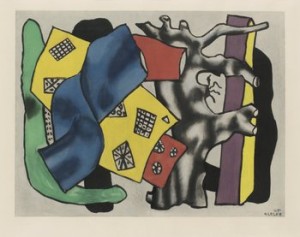 Price SEK 9,000 (€861)
Estimated SEK 8,000–10,000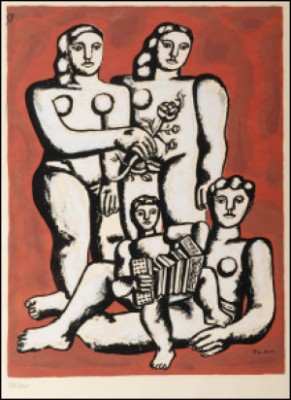 Nus Et L'enfant A L'accordeon
Price EUR 2,000
Estimated EUR 1,500–1,800
Komposition
Price SEK 2,500 (€244)
Estimated SEK 2,500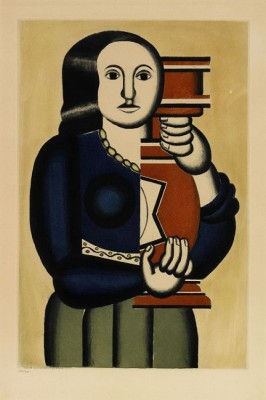 Price SEK 24,000 (€2,230)
Estimated SEK 20,000–25,000
Composition Au Profil
(1948)
Price SEK 15,000 (€1,394)
Estimated SEK 15,000–20,000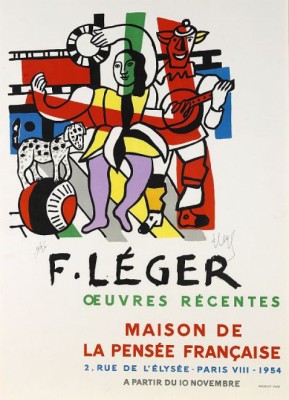 Price SEK 4,000 (€372)
Estimated SEK 4,000–5,000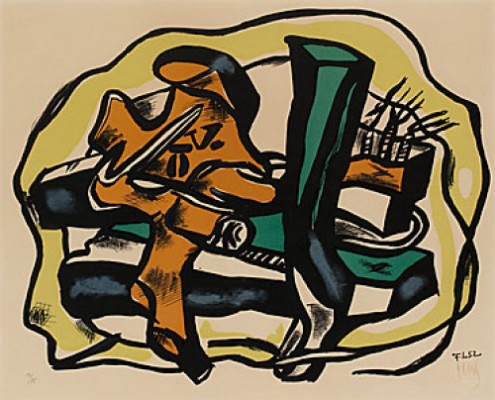 Composition Sur Fond Jaune
(1954)
Price SEK 6,000 (€560)
Estimated SEK 8,000–10,000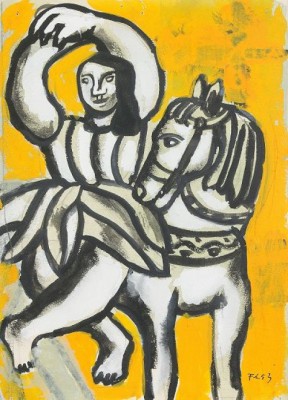 L´écuyère Sur Fond Jaune
(1953)
Price SEK 380,000 (€40,860)
Estimated SEK 350,000–400,000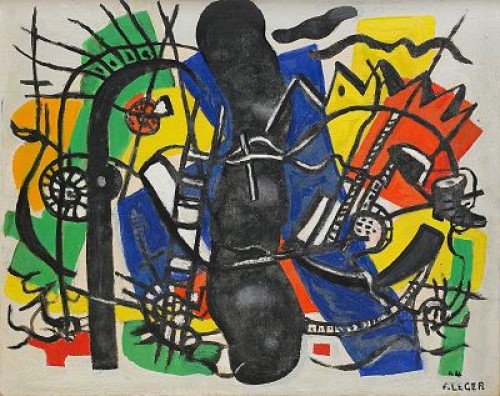 Price SEK 1,900,000 (€204,301)
Estimated SEK 2,000,000–2,500,000