Harri Monni

Education:
2005 Art and architecture, Royal College of Fine Art and Royal College of Architecture
1997–1995 Royal College of Art, Stockholm, Master of arts
1995–1994 Academy of fine Arts, Helsinki, Finland
1994–1992 Umeå University College of Art, Umeå
1988–1986 Pernby-school of painting, Stockholm
1986–1985 Academy of lithography, Tidaholm
1985–1983 Art- and crafts, Hellidens folkhögskola, Tidaholm

Selected solo exhibitions:
2009 Galleri Sculptor Helsinki
2008 Angelika Knäpper gallery Stockholm
2007 Gallerie Aspis Helsinki
2007 Galleri Mittbrodt Borgholm
2006 Dalarnas Museum
2006 Norrtälje konsthall
2006 Örebro konsthall
2005 Studio 44 Stockholm
2004 Galleri Bakeliittibambi Helsinki
2003 Göteborgs Konstförening, Göteborg
2003 Galerie Birthe Laursen, Paris
2003 Cité Internationale des Arts, galleri 4, Paris
2003 Studio 44, Stockholm
2002 TM-galleri, Helsinki
2001 Galleri Krister Fahl, Stockholm
2000 Konstnärshuset, Stora galleriet, Stockholm
1998 Konstfrämjandet Örebro
1997 Galleri Mejan, Stockholm
1992 Skara Konsthall, Skara
1992 Galleri Jan Wallmark, Stockholm

Selected group shows:
2006 Galerie Aspis "Kohtauspaikka"Helsinki
2005 Galerie Birthe Laursen"Instantane IV" Paris
2002 Studio 44, Stockholm
2002 Galleri Krister Fahl, Group show, Stockholm
2001 Wetterling Gallery, Water is life, Stockholm
2001 Örebro länsmuseum, Monni, Rapp, Lernhammar Örebro
2000 Konstnärshuset, Flying Moose, Art and design, Stockholm
2000 Helsinki Arthall, the Finnish artists 106. exhibition, Helsinki
2000,1991 Liljevalchs Arthall, vårsalong Stockholm
1999 35. Slikarske koloniga Izlake-Zagorje, Zagorje Slovenien
1998 World Trade Center, Triangle Artists' Workshop, NY, USA
1998 Galleri Eikaas, Nordic Artist's center Dalsåsen,
Jölster Norway
1996 Galleri Joella, Nordic Litography, Åbo Finland
1996 Konstnärshuset, Prints från Konsthögskolan, Stockholm
1995 Galleri G, Insektssymfonin, Helsinki Finland
1995 Bildkonstakademins galleri, Private and public,
Helsinki Finland

Public commission:
1997 Thoraxhuset, Akademic Hospital Uppsala

Scholarships, residencies and awards:
2008 Kulturfonden för Sverige och Finland
2007 Two-year grant from the Swedish state, konstnärsnämnden
2006 Längmanska kulturfonden
2004 Stockholms city travelgrant for nordic cultural exchange
2003 Kulturfonden for Sweden and Finland
2003 Swedish Academy of The Fine Arts, Residency scholarship at the Cité Universitaire des Arts in Paris
2002 Two-year grant from the Swedish State, Konstnärsnämnden
2002 Ester Lindahls travelgrant
1998 Triangle Artists' Workshop, World Trade Center, New York USA
1998 35, Slikarske koloniga Izlake- Zagorje, Slovenien
1997 Residency scholarship from the Nordic ministery of Culture at The nordig artists Centre at Dalsåsen in Norway

Represented in collections:

Statens konstråd, SAK, Skaraborgs läns landsting, Dalarna läns Landsting, Apotekets konstförening, Örebro läns landsting, Skaraborgs kulturnämnd, private collections in Sweden and France

Member of:
Swedish artists association
Finnish painters association
Harri Monni har skapat stora tavlor i naturstridiga färger. Abstrakta växtliknande strukturer breder ut sig från hörn till hörn. Det är litet konstigt, men på fotona från galleriet ser tavlorna mer tredimensionella ut än när jag stod precis framför dem.
Verken är imponerande, men jag förstår inte riktigt vad de vill säga till mig. Ett verk har namnet Torture Garden. Jag ser inte vad i tavlan som ger den det namnet, och vad som är skillnaden mellan den och de övriga bilderna. Jag tycker inte illa om bilderna, tvärtom, jag tycker om dem på ett odefinierat sätt. Jag brukar inte låta konstnärens kommentarer hindra min personliga tolkning av deras verk, men jag undrar om jag har fel när jag kan känna att en tavla med ett
hemskt namn är vacker.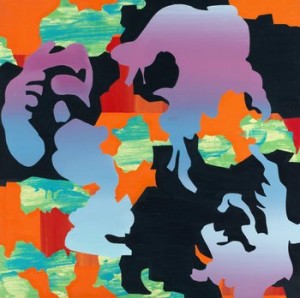 Price SEK 0 (€0) Not sold
Estimated SEK 10,000–12,000