Harry MOBERG

1927, Sweden
Name
Harry, Lennart MOBERG
Harry Moberg studied in France and for Erling Ärlinggsson in Karlstad, Sweden. He undertook trips to France and Spain. He paints surreal landscapes in a southern European style. He has participated in several exhibitions in Sweden, France, Germany, Russia and several other countries.
Harry Moberg studerade i Frankrike samt för Erling Ärlinggsson i Karlstad. Han företog resor till Frankrike och Spanien. Han arbetar med surrealistiska landskap i en sydeuropeisk stil.

Utställningar:
Värmlands Museum, Karlstad. Modern nordisk konst, Karlstad. Galleri Alanda, Cereste Frankrike, Cavalier Bleu, Apt Frankrike Tomelilla Konsthall, Konstförmedlarna, Stockholm, Konstnärshuset, Stockholm.

Samlingsutställningar:
Musée d´Orrange, Frankrike, Biennalen i Rostock, Tyskland, Konsthallen, Göteborg, Värmländsk grafik, Novgorods museum, Ryssland.

Stipendier:
Statens stora arbetsstipendium.

Offentlig utsmyckning:
Kristinehamns stad o Svenska Riksbyggen.

Representerad:
Muséet i Karlstad, Örebro, Göteborg och privata samlingar.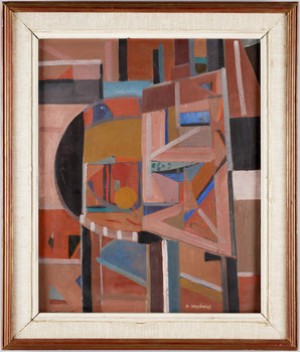 Runt Bord Ii
Price SEK 1,800 (€203)
Estimated SEK 1,200