Jan BOGAERTS
1878–1962, Netherlands
Jan Bogaerts biography:

Jan Bogaerts was a student at the Academie in Den Bosch from 1893 to 1899 and later went on to study at the Koninklijke Academie in Antwerp until 1903. He was justifiable rediscovered in the years 1995 to 2000 as a precursor of hyper-realism.
Bogaerts was trained in the traditions of 19th century Symbolism and Neo-Romanticism which explains the extreme attention he paid to the rendering of materials and the use of light in his work. In the 1920's and 30's he does not appear to have been interested in the «Neue Sachlichkeit» and it is this imperturbability and continuity which makes his work so enjoyable. Very major Dutch collections include works by Bogaerts.
Source: http://www.paol-co.com/search_artist_uk.asp?ArtistID=9
Jan Bogaerts (Den Bosch 1878 - Wassenaar 1962)

Was leerling aan de Academie in Den Bosch van 1893 tot 1899 en studeerde daarna aan de Koninklijke Academie in Antwerpen tot 1903. Werd terecht herontdekt in de jaren tussen 1995 en 2000 als voorloper van het hyper-realisme.

Bogaerts werd opgeleid in de tradities van het Symbolisme en de Neo-Romantiek van de 19e eeuw en hechtte daarom bijzonder veel waarde aan stofuitdrukking en lichtval. Schijnbaar vond hij de stijl van de «Nieuwe Zakelijkheid» in de jaren '20 en '30 oninteressant. Het is deze onverstoorbaarheid en continuïteit die zijn werk zo genietbaar maakt.
Bevindt zich in grote Nederlandse verzamelingen.
Source: http://www.paol-co.com/search_artist_nl.asp?ArtistID=9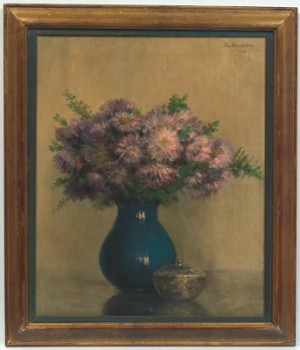 Price USD 1,725 (€1,285) Incl. buyer's premium
Estimated USD 3,000–5,000