Johan Hendrik WEISSENBRUCH
1824–1903, Netherlands
Name
Johan Hendrik WEISSENBRUCH
Johan Hendrik Weissenbruch

Generally regarded as one of the most important painters of the Hague School.
Hendrik Johannes (later Johan Hendrik) Weissenbruch was born in The Hague and learned under schelfhout at the Hague Academy between 1843 and 1850. He rejected a lucrative offer to co-operate with Schelfhout in order te keep his artistic freedom. Weissenbruch felt a strong vocation to be an innovator. A good impression of air and light was more important to Weissenbruch than the representation of detail. Weissenbruch painted in the open air and felt guided by as much as nature itself.
Historically, there are ample parallels between the Hague School and the French Impressionists and especially the predecessors of the Impressionists, the Barbizon School. Weissenbruch played a pivotal social role for the group later to be called the «Hague School».
\"You would like to throw nature itself onto the canvas ...», Weissenbruch once said. «I was sometimes blown away by nature. When I kept into that mood, I could draw and paint what I saw and had seen with the couple of charcoalstrokes that I had. I could then reassemble that impression in my studio».
Van Gogh called Weissenbruch «Le joyeux Weiss.\"
Source: http://www.paol-co.com/search_artist_uk.asp?ArtistID=189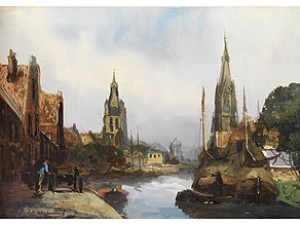 Price EUR 0 Not sold
Estimated EUR 1,700–1,900