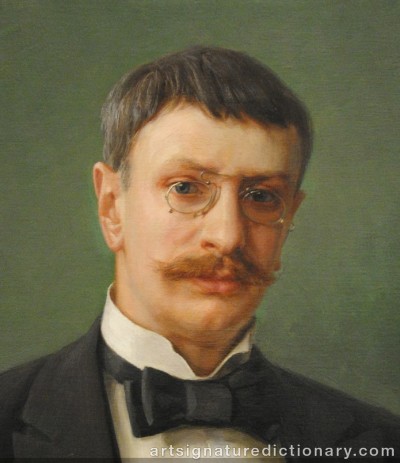 Johan KROUTHÉN
1858–1932, Sweden

Verdict of guilty
5000-K241004-17_BG20929-2
Oil on canvas, depicting cabin with flowering trädgårdad, signed and dated 1928 size 78x59 cm. The painting was cataloged in a major auction house. Court decision: Examination and expert opinion showed that the painting was a forgery. The painting is forfeited
Oljemålning på duk, föreställande stuga med blommande trädgårdad, signerad och daterad 1928, storlek 78x59 cm. Målningen var katalogiserad hos ett större auktions hus. Domstolens beslut: Undersökning och expertutlåtande visade på att målningen var en förfalskning. Målningen är förverkad

Oil on canvas, 39x50 cm, signed J Krouthén. On the back there is another motive (cityscape). The painting and signing are contemporary. It is made of plywood, a material that came into use around 1930th Krouthén belonged to the Skagen school and worked with lights and highlights. The painting is the work of a talented amateur who tried to emulate Krouthén outdoor realism, but it is very roughly made. Krouthén painted softer and freer. The District Court's assessment: The painting is an original forgery and not signed by Johan Krouthén.
Äkta förfalskning. Oljemålning på pannå, 39x50 cm, signerad J Krouthén. På baksidan finns ett annat motiv (stadsbild). Målningen och signeringen är samtida. Den är utförd på plywood, ett material som kom till användning mellan 1929 och 1930. Krouthén tillhörde Skagenskolan och arbetade med spel i ljus och dagrar. Tavlan är utförd av en skicklig amatör som försökt efterlikna Krouthéns friluftsrealism, men den är mycket grovt gjord. Krouthén målade mjukare och friare. Tingsrättens bedömning: Tavlan är en ursprunglig förfalskning och ej signerad av Johan Krouthén.

Verdict of guilty
PHM Nr.43
Genuine counterfeiting. Oil on canvas laid on masonite, 80x35 cm, signed John Krouthén. This is a genuine forgery painted and signed in order to fool the market as being genuine. There have been no changes to the painting. It is very roughly painted and completely foreign to John Krouthén's paintings, who worked with fine shades of color. The signature is more thicker than Krouthén,'s way of signing. The District Court's assessment: The painting has been painted as an original forgery in an attempt to deceive the market.
Äkta förfalskning. Oljemålning på duk uppfordrad på masonit, 80x35 cm, signerad Johan Krouthén. Det här är en äkta förfalskning målad och signerad i syfte att lura marknaden såsom varande äkta. Det har inte skett några förändringar med målningen. Den är mycket grovt målad och helt främmande för Johan Krouthén's måleri, som arbetade med fina färgnyanser. Även namnteckningen är grövre målad än Krouthén,s sätt att signera. Tingsrättens bedömning: Målningen har målats som en ursprunglig förfalskning i avsikt att lura marknaden.
Verdict of guilty
Beslag 154-95. (int.nr.PHM 3834)
Oil on canvas 65x89 cm, motive red cottage in the garden with flowering fruit trees, signed in lower left corner, black lacquered wooden frame. The painting is equipped with a forged signature. Submitted by the "N.N." to an auction house in Gothenburg, in november 1994. Sold for SEK 50.625. Buyer suspect that this was a forgery, leaving the painting back to auction house. The painting was confiscated from the submitter, "N.N." The investigation has revealed that the painting can be a pastiche executed by one, then, in Denmark living Russian artist and forger (Elena Ivannikova). Several of her paintings have been distributed by "N.N."
Olja på duk 65x89 cm, motiv röd stuga i trädgård med blommande fruktträd, signerad i nedre vänstra hörnet, svartlackerad träram. Målningen är försedd med förfalskad signatur. Inlämnad av genom "N.N." till ett auktionsverk i Göteborg november 1994. Såld för 50.625 kronor. Efter att misstanke om brott uppstått gick köpet åter och målningen togs i beslag från inlämnaren, "N.N." Vid utredningen har det framkommit att målningen kan vara en pastisch utförd av en, då, i Danmark bosatt rysk konstnär och förfalskare (Elena Ivannikova). Flera av hennes målningar har distribuerats av "N.N."

Verdict of guilty
5000-K241004-17_BG20929-1
Oil on canvas, depicting cabin with flowering trädgårdad, signed and dated 1928 size 78x59 cm. The painting was cataloged in a major auction house. Court decision: Examination and expert opinion showed that the painting was a forgery. The painting is forfeited.
Oljemålning på duk, föreställande stuga med blommande trädgårdad, signerad och daterad 1928, storlek 78x59 cm. Målningen var katalogiserad hos ett större auktions hus. Domstolens beslut: Undersökning och expertutlåtande visade på att målningen var en förfalskning. Målningen är förverkad






























Name
Johan, Fredrik KROUTHÉN
Johan Krouthén developed in the 1880s, a light filled and finely tuned open-air paintings, including during periods of artists\' colony at Skagen. His later works consist mainly of flowering gardens in the sunshine. He studied, even as a 14-year-old, of the painter Svante Leonard Rydholm, where he learned the basics of both painting and photography. 1875 Academy of Fine Arts school principle in Stockholm, where he met both Edward Perseus, Oscar Bjorck and Anders Zorn. He left the Academy of Fine Arts together with Zorn who was warned for poor discipline of study. In 1881 he traveled to Paris, but will return soon to Sweden again and paints landscapes of southern Sweden. He also travels to the \"Skagen\" in Denmark to paint.
Source: Art Signature Dictionary
Johan Krouthén föddes i Linköping år 1858 och verkade där fram till 1909 då han tillsammans med sin familj flyttade till Stockholm. Även i fortsättningen höll han kontakt med sin hemstad och arbetade där periodvis. Vid ett av sina engagemang i staden avled han 1932 på samma plats som han fötts 74 år tidigare, Stora hotellet i Linköping. Han blev redan under sin livstid en av landets mest folkkära skildrare av det idylliska sommarlandskapet...

Johan Krouthén studerade, redan som 14-åring, hos målaren Svante Leonard Rydholm där han fick lära sig grunderna i både målning och fotografering. 1875 vid Konstakademiens principskola i Stockholm, där han lärde känna både Edvard Perséus, Oscar Björck och Anders Zorn. Han lämnade konstakademien samtidigt med Zorn som blev varnad för dålig studiediciplin. 1881 reser han till Paris men återvänder ganska snart till sverige igen och målar landskap från Skåne och Bohuslän.

Representerad:
Östergötlands Länsmuseum, Göteborgs museum, Norrköpings Museum, Norrköpings Stad.
Source: http://www.johan-krouthen.se/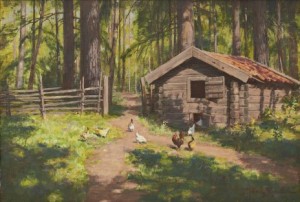 Skogsglänta Med Höns.
(1909)
Price SEK 20,000 (€2,153)
Estimated SEK 20,000–25,000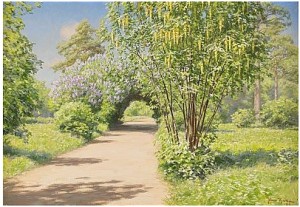 Parkbild Med Syren Och Guldregn
(1914)
Price SEK 55,000 (€5,920)
Estimated SEK 40,000–45,000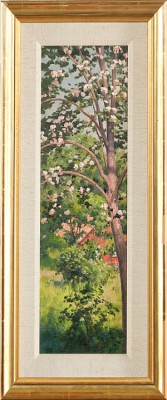 Blommande Träd
Price SEK 5,600 (€633)
Estimated SEK 4,000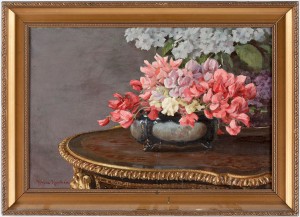 Blomsterstilleben
Price SEK 13,000 (€1,462)
Estimated SEK 10,000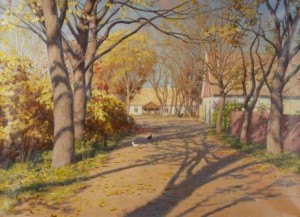 Solbelyst Skånegård
(1918)
Price SEK 32,000 (€3,677)
Estimated SEK 30,000–35,000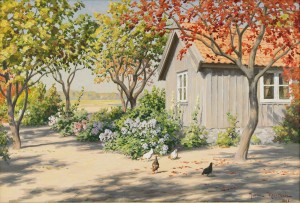 Gårdsidyll Med Pickande Höns
(1922)
Price SEK 32,000 (€3,725)
Estimated SEK 30,000–40,000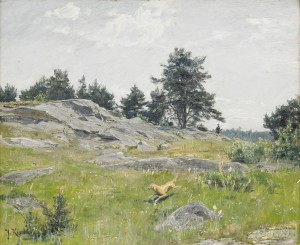 Sommarlandskap Med Jägare Och Hund
Price SEK 26,000 (€3,026)
Estimated SEK 30,000–35,000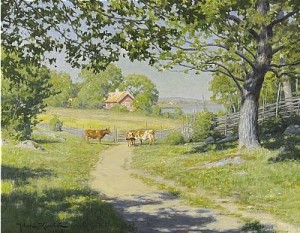 Price SEK 28,000 (€3,160)
Estimated SEK 35,000–40,000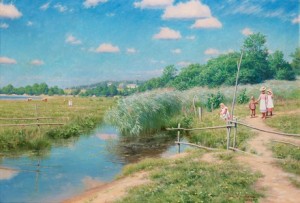 Sommarlandskap Med Barn
(1902)
Price SEK 177,625 (€19,965)
Estimated SEK 80,000–100,000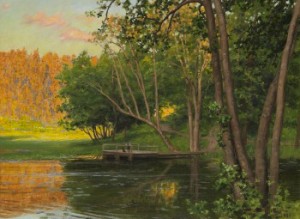 Sommarlandskap Med Figurer På Brygga Vid Insjö
(1906)
Price SEK 21,000 (€2,360)
Estimated SEK 20,000–25,000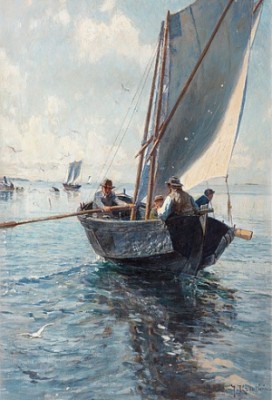 Fiskare I Båt
Price SEK 49,000 (€5,508) Incl. buyer's premium
Estimated SEK 30,000–40,000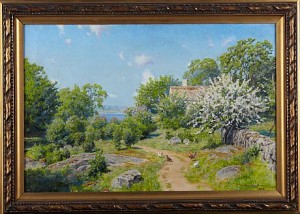 Gårdsidyll Med Pickande Höns
(1910)
Price SEK 35,000 (€3,903)
Estimated SEK 25,000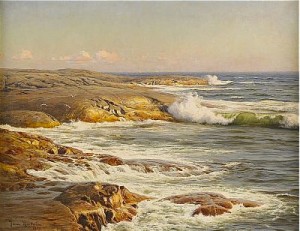 Marstrand - Tåudden I Kvällssol Med Seglare Vid Horisonten
(1905)
Price SEK 120,000 (€13,436)
Estimated SEK 100,000–125,000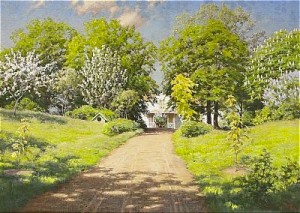 Price SEK 45,000 (€4,972)
Estimated SEK 40,000–50,000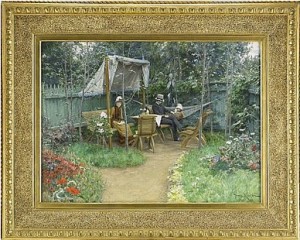 Trädgårdsinteriör Från Linköping
(1887-88)
Price SEK 725,000 (€80,105)
Estimated SEK 400,000–500,000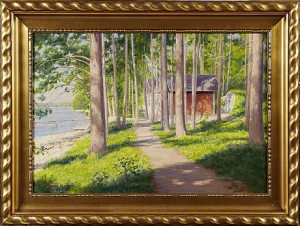 Motiv Från Västervikstrakten
Price SEK 31,000 (€3,466)
Estimated SEK 10,000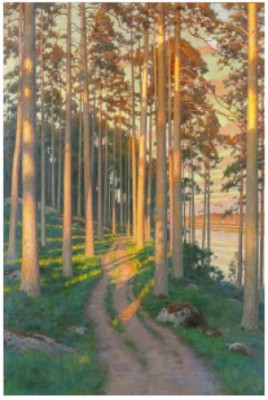 Solbelyst Skogsväg Vid Sjö
(1922)
Price SEK 26,000 (€2,860)
Estimated SEK 25,000–30,000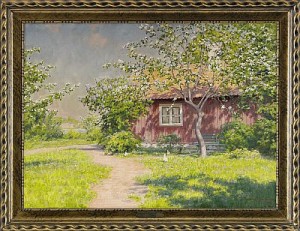 Gårdsidyll Med Pickande Höns
(1918)
Price SEK 38,000 (€4,256)
Estimated SEK 30,000–35,000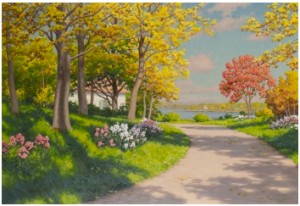 Höstlandskap Med Hus Vid Vatten
(1932)
Price SEK 72,000 (€8,064)
Estimated SEK 40,000–50,000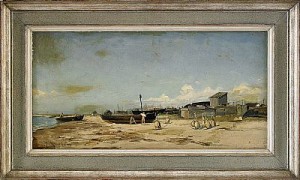 Kustvy Från Skagen
Price SEK 10,000 (€1,117)
Estimated SEK 15,000–18,000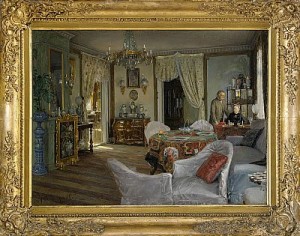 I Salongen - Minna Och Carl-fredrik Von Malmborg
(-87)
Price SEK 80,000 (€8,932)
Estimated SEK 40,000–50,000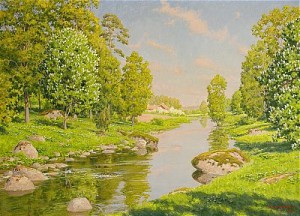 Price SEK 50,000 (€5,583)
Estimated SEK 30,000–40,000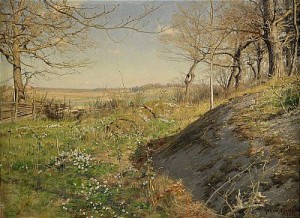 Solbelyst Skogsstig
(1889)
Price SEK 160,000 (€17,550)
Estimated SEK 80,000–100,000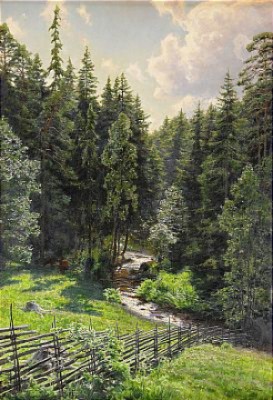 Solbelyst Skogsbäck
(1908)
Price SEK 48,000 (€5,265)
Estimated SEK 40,000–50,000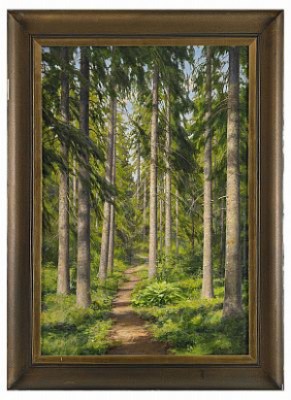 Solbelyst Skogsstig
(1909)
Price SEK 75,000 (€7,807)
Estimated SEK 50,000–60,000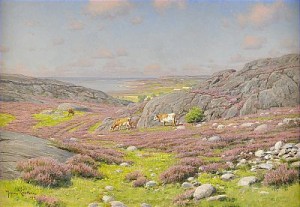 Motiv Från Halländska Nordkusten
(1912)
Price SEK 60,000 (€6,245)
Estimated SEK 60,000–80,000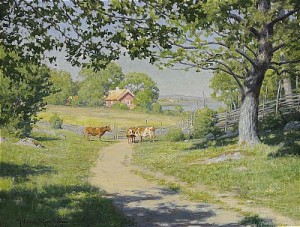 Vid Landsvägen - Gårdsidyll I Sommargrönska
(1910)
Price SEK 52,000 (€5,413)
Estimated SEK 30,000–35,000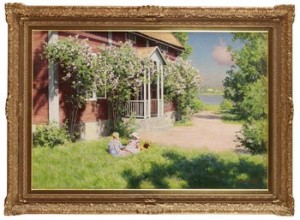 Barn På Solig Trädgårdstäppa
(1912)
Price SEK 160,000 (€16,626)
Estimated SEK 100,000–125,000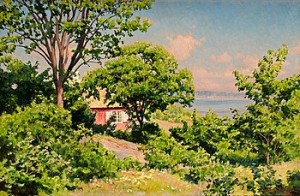 Price SEK 34,000 (€3,533)
Estimated SEK 30,000–35,000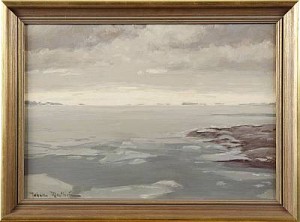 Kustbild
Price SEK 6,000 (€599)
Estimated SEK 6,000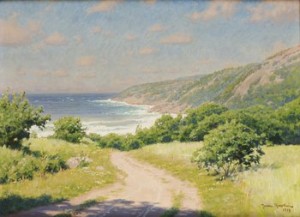 Price SEK 37,000 (€3,693)
Estimated SEK 20,000–25,000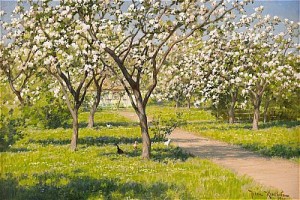 Gårdsidyll Med Blommande äppleträd Och Höns
(1916)
Price SEK 44,000 (€4,209)
Estimated SEK 25,000–30,000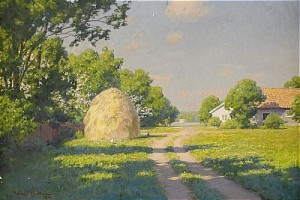 Sommarlandskap Med Höstack Och Gårdsidyl
(1922)
Price SEK 26,000 (€2,487)
Estimated SEK 40,000–50,000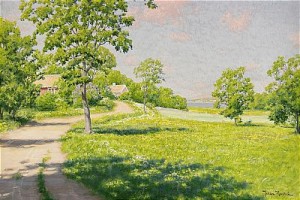 Sommarlandskap Med Stugor
Price SEK 44,000 (€4,209)
Estimated SEK 25,000–30,000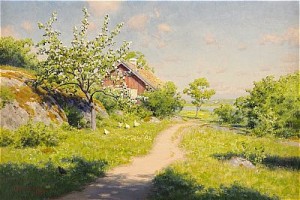 Vid Landsvägen - Gårdsidyll I Sommargrönska
(1921)
Price SEK 70,000 (€6,696)
Estimated SEK 40,000–50,000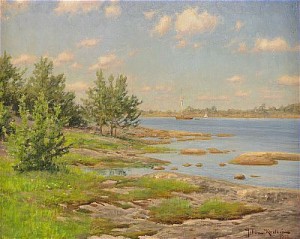 Price SEK 36,000 (€3,443)
Estimated SEK 50,000–60,000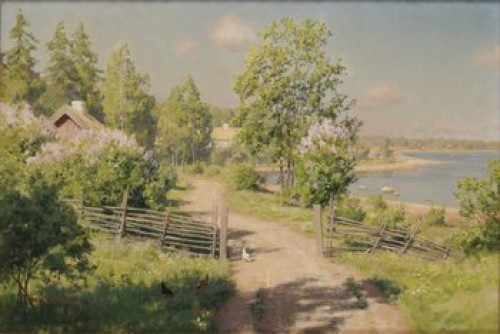 Sommaridyll Med Pickande Höns
(1912)
Price SEK 31,000 (€3,042)
Estimated SEK 18,000–20,000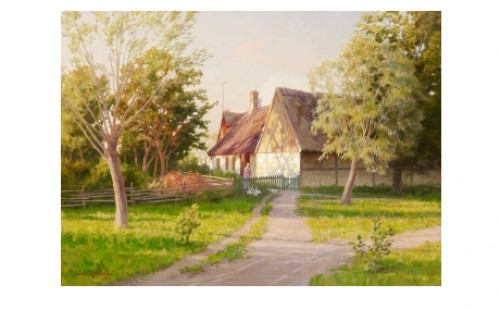 Price SEK 36,000 (€3,394)
Estimated SEK 30,000–35,000