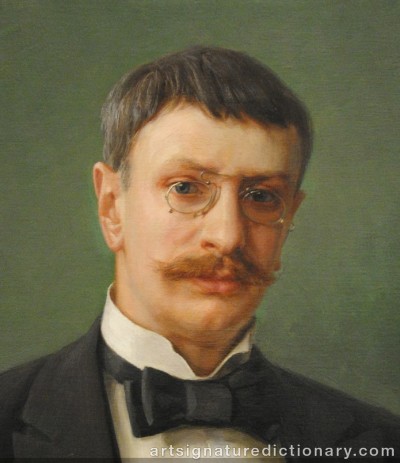 Johan KROUTHÉN

1858–1932, Sweden

Verdict of guilty
5000-K241004-17_BG20929-2
Oil on canvas, depicting cabin with flowering trädgårdad, signed and dated 1928 size 78x59 cm. The painting was cataloged in a major auction house. Court decision: Examination and expert opinion showed that the painting was a forgery. The painting is forfeited
Oljemålning på duk, föreställande stuga med blommande trädgårdad, signerad och daterad 1928, storlek 78x59 cm. Målningen var katalogiserad hos ett större auktions hus. Domstolens beslut: Undersökning och expertutlåtande visade på att målningen var en förfalskning. Målningen är förverkad

Oil on canvas, 39x50 cm, signed J Krouthén. On the back there is another motive (cityscape). The painting and signing are contemporary. It is made of plywood, a material that came into use around 1930th Krouthén belonged to the Skagen school and worked with lights and highlights. The painting is the work of a talented amateur who tried to emulate Krouthén outdoor realism, but it is very roughly made. Krouthén painted softer and freer. The District Court's assessment: The painting is an original forgery and not signed by Johan Krouthén.
Äkta förfalskning. Oljemålning på pannå, 39x50 cm, signerad J Krouthén. På baksidan finns ett annat motiv (stadsbild). Målningen och signeringen är samtida. Den är utförd på plywood, ett material som kom till användning mellan 1929 och 1930. Krouthén tillhörde Skagenskolan och arbetade med spel i ljus och dagrar. Tavlan är utförd av en skicklig amatör som försökt efterlikna Krouthéns friluftsrealism, men den är mycket grovt gjord. Krouthén målade mjukare och friare. Tingsrättens bedömning: Tavlan är en ursprunglig förfalskning och ej signerad av Johan Krouthén.

Verdict of guilty
PHM Nr.43
Genuine counterfeiting. Oil on canvas laid on masonite, 80x35 cm, signed John Krouthén. This is a genuine forgery painted and signed in order to fool the market as being genuine. There have been no changes to the painting. It is very roughly painted and completely foreign to John Krouthén's paintings, who worked with fine shades of color. The signature is more thicker than Krouthén,'s way of signing. The District Court's assessment: The painting has been painted as an original forgery in an attempt to deceive the market.
Äkta förfalskning. Oljemålning på duk uppfordrad på masonit, 80x35 cm, signerad Johan Krouthén. Det här är en äkta förfalskning målad och signerad i syfte att lura marknaden såsom varande äkta. Det har inte skett några förändringar med målningen. Den är mycket grovt målad och helt främmande för Johan Krouthén's måleri, som arbetade med fina färgnyanser. Även namnteckningen är grövre målad än Krouthén,s sätt att signera. Tingsrättens bedömning: Målningen har målats som en ursprunglig förfalskning i avsikt att lura marknaden.
Verdict of guilty
Beslag 154-95. (int.nr.PHM 3834)
Oil on canvas 65x89 cm, motive red cottage in the garden with flowering fruit trees, signed in lower left corner, black lacquered wooden frame. The painting is equipped with a forged signature. Submitted by the "N.N." to an auction house in Gothenburg, in november 1994. Sold for SEK 50.625. Buyer suspect that this was a forgery, leaving the painting back to auction house. The painting was confiscated from the submitter, "N.N." The investigation has revealed that the painting can be a pastiche executed by one, then, in Denmark living Russian artist and forger (Elena Ivannikova). Several of her paintings have been distributed by "N.N."
Olja på duk 65x89 cm, motiv röd stuga i trädgård med blommande fruktträd, signerad i nedre vänstra hörnet, svartlackerad träram. Målningen är försedd med förfalskad signatur. Inlämnad av genom "N.N." till ett auktionsverk i Göteborg november 1994. Såld för 50.625 kronor. Efter att misstanke om brott uppstått gick köpet åter och målningen togs i beslag från inlämnaren, "N.N." Vid utredningen har det framkommit att målningen kan vara en pastisch utförd av en, då, i Danmark bosatt rysk konstnär och förfalskare (Elena Ivannikova). Flera av hennes målningar har distribuerats av "N.N."

Verdict of guilty
5000-K241004-17_BG20929-1
Oil on canvas, depicting cabin with flowering trädgårdad, signed and dated 1928 size 78x59 cm. The painting was cataloged in a major auction house. Court decision: Examination and expert opinion showed that the painting was a forgery. The painting is forfeited.
Oljemålning på duk, föreställande stuga med blommande trädgårdad, signerad och daterad 1928, storlek 78x59 cm. Målningen var katalogiserad hos ett större auktions hus. Domstolens beslut: Undersökning och expertutlåtande visade på att målningen var en förfalskning. Målningen är förverkad