Kjell RINGI
1939, 20th century, Sweden
Name
Kjell, Arne Sörensen RINGI
Kjell Ringi has spread his unique world of art globally, but primarily across the U.S. and Europe. His works consist mostly of paintings, as well as graphics, official posters, art books, films, sculptures and designed monumental objects.

Today, we are inundated with novel forms of pictorial representation. To stand out, one needs to display a personal touch-a hallmark of Kjell Ringi\\\'s. He does not follow trends nor does he remind us of other painters. Rather, he creates totally unique works of art with a personal style all his own. He says: \\\"I work constantly to be able to create my own world-for me, it\\\'s 100% or nothing at all.\\\"

All Ringi\\\'s works are detailed and colorful and have to be seen in real life. A couple of gallery sites represented show excerpts of his different techniques. Some pictures have been enlarged in order to display them in greater detail. However, the medium of the Internet do not do them justice.

KJELL RINGI REPRESENTED AT

Metropolitan Museum of Art, New York.
Cooper-Hewitt Museum, National Design Museum, New York.
Brooklyn Museum, New York.
The New York Public Library, Collection of Prints, New York.
Olympic Museum, Lausanne, Switzerland.
Kupferstich Kabinett, Berlin, Germany.
Guild Hall, East Hampton, New York.
Museum of Contemporary Art, Chicago.
The Royal Library, Albert I, Brüssels, Belgium.
Museum für Gestaltung, Zürich, Switzerland.
The Minneapolis Institute of Arts, USA.
United Nations, New York.
Museo de Arte Moderno, Mexico City.
San Fransisco Museum of Modern Art, USA.
Laguna Beach Museum of Art, California, USA.
Walker Art Center, Minneapolis, USA.
Grünwald Center for Graphic Arts, University of California,
Los Angeles.
Newport Harbor Art Museum, California, USA.
Pratt Institute, New York.
Bibliotheque Nationale, Paris.
Museum Ludwig, Cologne, Germany.
Museum of Fine Arts, Boston, USA.
Indiana Museum of Art, Indiana, USA.
The Art Museum Florida, Miami, USA.
Swedish-American Museum, Chicago.
Museum China Art Gallery, Beijing, China.
Kunstmuseum Düsseldorf, Germany.
Museé des Arts Decoratives, Paris.
Albertina Graphiche Sammlung, Vienna, Austria.
Gothenburg Art museum, Sweden.
The Royal Library, Foreign books dep. Stockholm, Sweden.
The Swedish Filminstitute, selected filmposters, Stockholm, Sweden.
Kunstindustrimuseet, Copenhagen, Denmark.
Der Staatliche Museen, Berlin, Germany.
Also a number of privat and public collections, Sweden and abroad.

The Art Film \\\"Parts of Ringi\\\" in collection of:
Metropolitan Museum of Art, New York.
Los Angeles County Museum, USA.
The Art Institute of Chicago, USA.
The School of the Art Institute of Chicago. USA.
The Museum of Modern Art, New York.
Source: http://www.kjellringi.com/biography.htm
Kjell Ringi, född 3 februari 1939 i Göteborg, är en svensk konstnär, grafisk designer, skulptör och författare.
Ringi har spridit sin konst globalt, främst i Europa och USA:s största städer, i flera prestigefulla gallerier, museer, triennaler och konstmässor. Hans arbete inkluderar officiella monumentala objekt, konstböcker, konst- och dokumentärfilmer, internationella evenemangsaffischer etc. Mellan 1967 och 1974 skapade han sju bildböcker för tre av New Yorks ledande bokförlag: Random House, Harper & Row och Franklin & Watts och anses idag vara sju klassiker.
Ringi är representerad i ett trettiotal internationellt erkända museer som exempelvis Metropolitan Museum of Art i New York, Art Institute i Chicago, Bibliothèque Nationale i Paris, Museum Ludwig i Köln, Olympic Museum i Lausanne och Der Staatliche Museen i Berlin.
Source: From Wikipedia, the free encyclopedia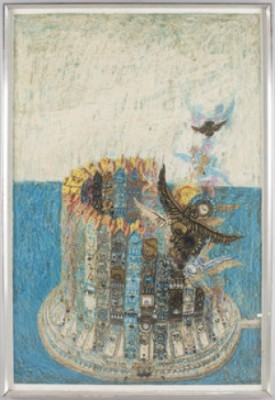 Ponton Med Hus, Klocktorn Och Vaktande Fåglar
Price SEK 4,800 (€536)
Estimated SEK 3,000
Price SEK 1,200 (€127)
Estimated SEK 1,000