Olle BRANDQVIST
1938, Sweden
Olle Brandqvist studied at the Industrial Arts School in Gothenburg and Konstfack in Stockholm. He works with sculptures in pewter, bronze and stone, granite, diabase, and other rocks.
Olle Brandqvist studerade vid Konstindustriskolan i Göteborg och Konstfack i Stockholm. Han arbetar med skulpturer i tenn, brons och sten, granit, diabas och andra bergarter. I tenn har han format fram natur, utsnitt eller brottstycken av natur.

Separatutställningar:
2008 Ålgården Borås. 2005 Lidingö Konsthall Stadshuset. 2004 Galleri Astley Uttersberg. 2003 Galerie Kim Anstensen Göteborg. 2002 Galleri Bergman Stockholm. 2001 Ulricehamns museum. 2000 Flaménska galleriet Borås. 1999 Galerie plantage Göteborg. Deltagit i Stockholm art Fair.1996 Galerie Goya, Köpenhamn. 1996 Galerie Altes Rathaus, Inzlingen Tyskland. 1996 Galerie Plantage, Göteborg. 1994 Galerie Astley, Uttersberg. 1994 Galerie du Nord, Borås. 1991 Galleri 33, Göteborg. 1990 Frölunda kulturhus. 1988 Folkets hus, Varberg. 1987 Södertälje Konsthall. 1987 Galleri 33, Göteborg. 1986 Galerie Boj, Stockholm. 1985 Rydals museum, Mark. 1984 Galerie du Nord, Borås. 1983 Art 14'83 Basel, Schweiz. 1982 Galerie altes Rathaus, Inzlingen Tyskland. 1982 Lander Galerie, Schweiz. 1981 Marks Kommunalhus, Kinna. 1980 Krognoshuset, Lund. 1980 Inzlinger Wasserschloss, Tyskland. 1975 Galleri Prisma, Stockholm. 1972 Borås Konstmuseum.

Offentlig utsmyckning:
Kyrkan vid Brommaplan i Stockholm, Marks Kommunalhus i Kinna, Liseberg i Göteborg,
Samlingsutställningar: 2008 Borås Internationella Skulpturfestival 2008. 2007 Skulptur 2007 Konstnärshuset Stockholm. 2006 Small monuments vandringsutställning Holland, Belgien, Tyskland. 2005 Skulptur 2005 Vasaborgen Uppsala slott Uppsala. 2005 Konstfestival ÅHAGA Borås. 2005 Skulptur 2005 Skulptörförbundet 30 år Galleri Astley. 2003 Akvarellsalong 2003 Väsby Konsthall. 1999 Samtal, Borås Konstmuseum. 1997 Tidernas Kyrka, Rydals Museum. 1982 Idrotten i konsten, Konstfrämjandet och Riksidrottsförbundet Stockholm, Göteborg. 1978 Hus och träd, symboler för människan, Konsthallen Göteborg. 1977 Vänortsutställning, Veile, Danmark. 1977 Svenska skulpturer, Riksutställningar. 1975, 122 Svenska skulpturer, Lunds Konsthall. 1974 Träd, gräs, stenar, Södertälje Konsthall.

Representerad:
Borås Konstmuseum, Södertäljes, Stockholms, Marks kommuners samlingar, samt Statens Konstråd.

Stipendier:
Statens arbetsstipendium 1975 och 1991. Deverthska Kulturstiftelsen 1981.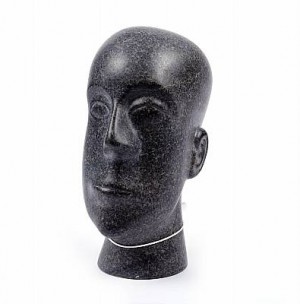 Manshuvud
Price SEK 1,800 (€176)
Estimated SEK 1,500