Born in Nashville, Tennessee, in 1930, Robert Ryman attended Tennessee Polytechnic Institute and the George Peabody College for Teachers (1948–49). After serving in the United States Army Reserve Corps from 1950 to 1952, he moved to New York City, intending to pursue a career in jazz by studying with the pianist Lenny Tristano. In 1953, however, Ryman began working as a guard at the Museum of Modern Art, and that same year he was inspired to make his first painting. His first one-person exhibition was held at the Paul Bianchini Gallery, New York, in 1967, and his first show in Europe came the following year at the Galerie Heiner Friedrich, Munich. Ryman\'s works were represented in Documentas 5 (1972), 6 (1977), and 7 (1982), in Kassel, in the Venice Biennale of 1976, and in the Whitney Biennial of 1987. His first retrospective was organized by the Stedelijk Museum, Amsterdam, in 1974; Dia mounted a show of his works in 1988, and he had a retrospective at the Museum of Modern Art, New York, in 1993.

Selected Bibliography

Robert Ryman. London: Whitechapel Art Gallery, 1977. Texts by Robert Ryman and Naomi Spector.

Robert Ryman. Paris: Centre Georges Pompidou, 1981. Texts by Yve-Alain Bois and Christel Sauer.

Robert Ryman. New York: Dia Art Foundation, 1988. Interview by Gary Garrels.

Robert Ryman: New Paintings. New York: Pace Gallery, 1990. Text by Yve-Alain Bois.

Robert Ryman. Paris: Espace d\'art contemporain, in association with Hallen für neue Kunst, Schaffhausen, 1991. Texts by Urs Raussmüller, Robert Ryman, Christel Sauer, and Robert Storr.

Robert Ryman. New York: The Museum of Modern Art, in association with Tate Gallery, London, 1993. Text by Robert Storr.
Source: http://www.diabeacon.org/exhibs_b/ryman/#biblio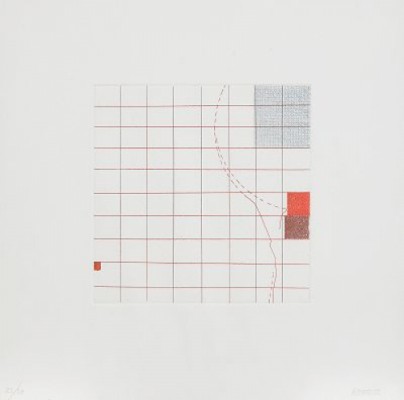 Untitled (suite Of Four Colour Etchings)
(1972)
Price SEK 36,000 (€3,292)
Estimated SEK 20,000–30,000