ULF EKLUND
Född 1941 i Helsingborg

Medlem i KRO (Konstnärernas Riksorganisation), KC, Grafiska Sällskapet och Grafik i Väst.

UTBILDNING
Skånska Målarskolan, Malmö. Glyptoteket (Askou-Jensen), Köpenhamn. Grafik för Geo Wide, Helsingborg. Sommarakademin i Umeå (Grafik för Bartolomeo dos Santos).
I övrigt vidareutbildningar i nya grafiska tekniker.

JURYBEDÖMDA UTSTÄLLNINGAR
Skånes Konstförening (Höstsalongen) sedan 1973, Vikingsbergs Konstmuseum, Helsingborg, sedan 1974. Kullens Konstförening, Höganäs, sedan 1973. Liljevalchs Vårsalong, Stockholm. Kristianstadssalongen. Grafiktriennalen Stockholm 1980, 2003, Göteborg 1989. Internationell Minibiennal, Olofström (ett flertal gånger).

I utlandet:
The 2nd International Miniature Print Exhibition Biennial, Space Group, Seoul, Korea.
Miniprint International Cadaques, Spanien. Biennalen, Ljubljana, Jugoslavien.
Biennal of Humour and Satire in the Arts, Gabrovo, Bulgarien (ett flertal gånger; prisbelönt 1989 och 1991). The IWA Foundation Havirov f.d. Tjeckoslavakien. Egyptian International Print Triennal 1993-1994, 2003. International Biennal Exhibition of Portrait Drawings and Graphics ´94 Bosnia and Herzegovina 1994-1995. VI International Art Trienale, Majdanek 2000, Polen.

SEPARATUTSTÄLLNING (urval)
Galleri Nordvästen, Helsingborg. Bromölla Konstförening. Wadköpingshallen, Örebro. Vetlanda Museum. Galleri Malen, Borstahusen. Galleri Moment, Ängelholm. Saabs Konstförening, Linköping. Helsingborgs Stadsteater. Jazzklubben, Helsingborg. Galleri Kronan, Vellinge. Konstlots, Höganäs. Landskrona Konsthall. Örkelljunga Kulturhus. Höganäs Museum. Stiftsgården Åkersberg, Höör. Konstnärscentrum, Helsingborg (Råå)Klippans konsthall, m.fl. gallerier och konstföreningar.

I utlandet:
Galleri FO, Århus, Danmark, Kirke Sonnerup Kunsthåndverk, Holbaek, Danmark.
Mestske Muzeum, Valasské Klobouky, Tjeckien. Kulturhus, Valasske Mezirici, Tjeckien. Galeri Malina, Zlin, Tjeckien.
Televizni Klub, Praha, Tjeckien. Galeri G. Gymnazium A Obchodní Akademie, Valasske Klobouky, Tjeckien.

SAMLINGSUTSTÄLLNINGAR (urval)
Landskrona Konsthall, Varbergs Museum, Galleri Moment, Ängelholm, Galleri God Konst, Linköping, Lilla Galleriet, Höganäs, Sveriges Konstföreningars Riksförbund, (SKR), Hörby Museum, Sofiero Slott, Helsingborg, Konstnärscentrum, Malmö, Bromölla Konstförening, Norra Värmlands Konstförening, Samkonst Landskrona Konsthall, Karlshamns Konsthall, Kalmar Läns Museum, Station Skelderhus, Munka Ljungby, Bergslagssalongen, Sommarsalongen, Olo0fström, Artic Hall, Jukkasjärvi, Höganäs Museum, Midvinterljus, Helsingborg, Galleri Blå Gaveln, Höganäs, Höörs Konsthall, Galleri Nordvästen, Helsingborg, Åstorps kommun, Karlskrona Konsthall, Uttryck 97, Helsingborg, Galleri Opus, Borgeby, Grafiska Sällskapet, Stockholm, Konstrundan i NV Skåne sedan 1995, KRO-manifestation 1994, Malmö, Charlie Parker-utställning Sundspärlan, Helsingborg, Lilla Europa 2004 (Internationell Minibiennal) Hallsbergs kommun och Konstfrämjandet, Örebro län, Tidaholms Konstgrafiska Museum.

I utlandet:
Inter 79 Holstebrohallen, Danmark, Marienlyst Slott, Helsingör, Danmark, Varde Museum, Danmark, The 8th Independent Exhibition of prints in Kanagawa 82, Japan. The Printmakers Workshop, Edinburgh, Skottland.
Herlev Kommun, Danmark. Lieto Kommun, Finland. Gilleleje/Graestedt Kommun, Danmark.
Mestské Muzeum, V. Klobouky, Tjeckien, Galleri Jindriská Vez V Praze, Prag, Tjeckien.

OFFENTLIG REPRESENTATION
Malmöhus (Region Skåne), Örebro, Värmlands, Skaraborgs och V Götalands läns landsting. Malmö, Helsingborg, Vetlanda och Höganäs Museum. Statens Konstråd. Båstad, Ängelholm, Höganäs, Örebro, Bromölla, Bjuv, Lerum, Svedala och Landskrona:s kulturnämnder. Lunds konstnämnd.

I utlandet:
The House of Humour and Satire, Gabrovo, Bulgarien, The IWA Foundation, Havirov f.d. Tjeckoslovakien, The Universal Graphic Museum, Egypten. Tama Art Museum, Tokyo, Japan. The State Museum, Majdanek, Polen. Stadsgalleriet, Prag, Tjeckien, V. Klobouky kommun, Tjeckien, Herlev kommun, Danmark. Lieto kommun, Finland.

BESTÄLLNINGSARBETE
Grafisk upplaga för Skånes Konstförening, Saabs Konstförening, Apoteksbolagets i Sverige Konstförening, m fl konstföreningar.

STIPENDIER
Statligt arbetsbidrag 1989, 1994, Elsa Killbergs fond, Helsingborg, Helsingborgs kulturstipendium 1989, Aase och Richard Björklunds fond (Malmö Kulturnämnd, Malmö Museum) Grafiska Fackförbundets kulturstipendium, Emil Olssons fond, Malmö, Herman Östlunds Konstnärsstiftelse.

LITTERATUR
Konstnärer i Skåne/Blekinge, "Freden i Centrum", Helsingborg, Konstnärer i södra Sverige, GW Nymbergs Stiftelse. Konstrunda i Ord och Bild (Helmer Lång).
Medverkat i Tjeckisk TV. (Kulturprogram).
Source: http://www.ulfeklund.com/meriter.html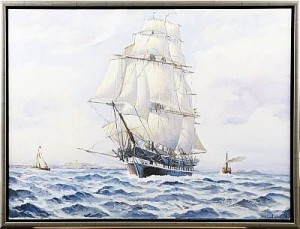 Efter Jacob Hägg: Korvetten Norrköping Vid Landsort 1918
Price SEK 2,200 (€234)
Estimated SEK 2,000