Eugène VERBOECKHOVEN

1799–1881, Belgium
Name
Eugène VERBOECKHOVEN
Eugène Verboeckhoven

This Belgian artist was the son of the sculptor Barthelemey Verboeckhoven (1754-1840), and learned the basics of sculpture and moulding from his father. Verboeckhoven senior did not earn enough from his work so that, at an early age, the talented Eugène had to earn some extra money working as a lithographer, which gave him a sharp eye for detail. While a student at the Ghent Academy of Fine Art under Ommeganck - and like many of his contemporaries - Verboeckhoven was strongly influenced by the work of Northern Netherlandish painters of the 17th century. His favourite painters were Potter and Cuyp which led him to specialize in animals and landscapes.
After a period of travelling abroad he returned to Belgium in 1827 to found an extremely successful studio in Brussels, where the renowned English painter Thomas Sidney Cooper, also specialized in the representation of cattle, was one of his pupils. Verboeckhoven's fame as an artist extended far beyond Belgium and he was widely regarded as the most important animalier on the European mainland, rivalled only by Landseer in England. His international reputation is due in part to a series of fabulous equestrian portraits commissioned by Leopold Saxe-Coburg, the first king of the newly formed kingdom of Belgium who also happened to be Queen Victoria's favourite uncle. These royal family-ties brought Verboeckhoven a great many English clients.
Source: http://www.paol-co.com/search_artist_uk.asp?ArtistID=157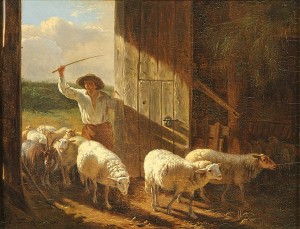 Shepherd And Flock Entering The Barn
(1845)
Price USD 2,750 (€2,473)
Estimated USD 4,000–6,000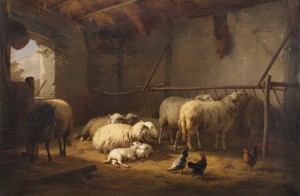 Untitled (sheep And Chickens In A Stable)
(1869)
Price USD 20,000 (€17,817)
Estimated USD 8,000–12,000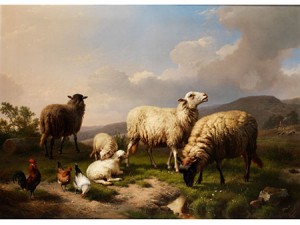 Schafe Und Hühner Auf Einer Wiese
(1864)
Price EUR 10,000
Estimated EUR 10,000–15,000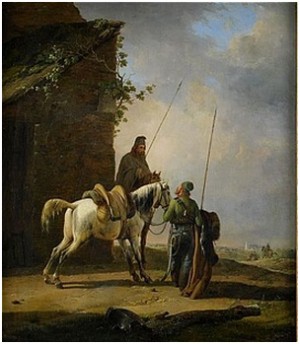 Cossacks Taking A Break
Price SEK 55,000 (€6,070)
Estimated SEK 50,000–60,000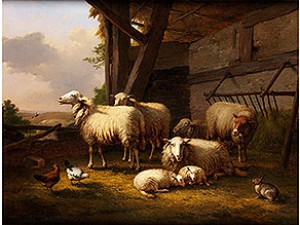 Schafe In Einem Stallgebäude
Price EUR 10,000
Estimated EUR 10,000–15,000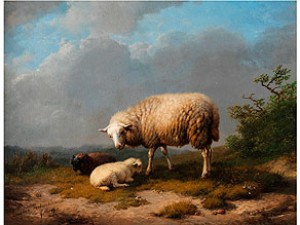 Schaf Mit Zwei Jungtieren In Einer Heidelandschaft
(1849)
Price EUR 0 Not sold
Estimated EUR 7,000–9,000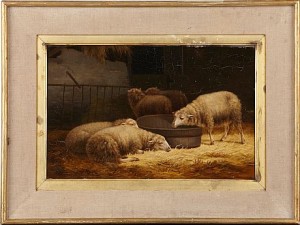 Interiör Med Får
Price SEK 10,000 (€1,133)
Estimated SEK 15,000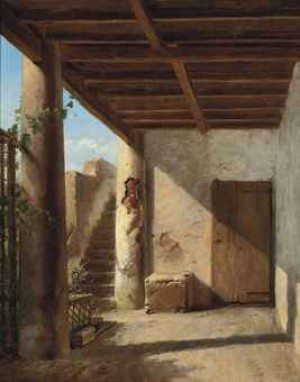 Price GBP 2,750 (€3,293)
Estimated GBP 2,000–4,000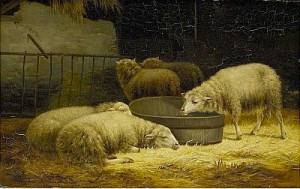 Interiör Med Får
Price SEK 0 (€0)
Estimated SEK 20,000–25,000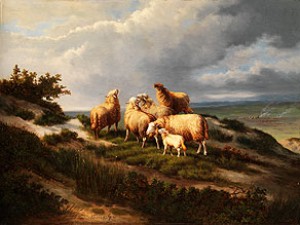 Schafgruppe Mit Jungem Schäflein In Abendsonne An Einem Heidehang
Price EUR 0 Not sold
Estimated EUR 4,000–4,500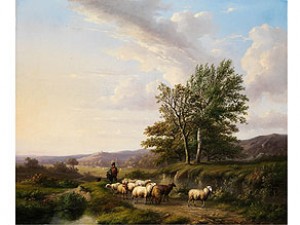 Hohlweg In Weiter Hügeliger Landschaft
Price EUR 0 Not sold
Estimated EUR 18,000–20,000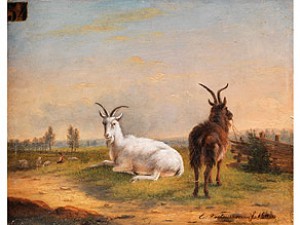 Zwei Ziegen In Wiesenlandschaft
(1843)
Price EUR 0 Not sold
Estimated EUR 1,500–2,000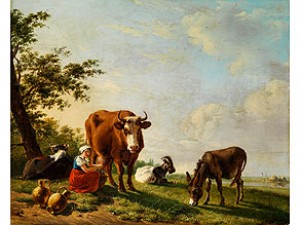 Landschaft Mit Junger Magd Beim Melken
(1826)
Price EUR 3,700
Estimated –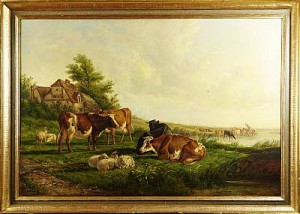 Betande Boskap
Price SEK 8,000 (€908)
Estimated SEK 8,000