Eva BAGGE

1871–1964, Sweden
Also known as: EB
Birth
1871, 15/12, Sweden
Eva Bagge studied at the Art Academy in Stockholm for Georg von Rosen and Gustav Cederstrom, and at "Konstnärsförbundets Skola" in Sweden. She undertook trips to Italy and to France where she is studying at the Académie Calarossi. She painted landscapes environments with courtyards, exteriors and interiors. She had her breakthrough as an artist at age 70.
Represented in Sweden: the National Museum in Stockholm Modern Museum in Stockholm, Malmo Museum in Gripsholm Castle collections.

Source: Composed of a variety of sources from the internet.
Eva Bagge studerade vid Konstakademien i Stockholm för bl.a. Georg von Rosen och Gustav Cederström, samt vid Konstnärsförbundets skola. Hon företar resor till Italien och till Frankrike där hon studerar på Académie Calarossi. Hon målar landskapsmiljöer med gårdar, exteriörer och interiörer. Hon fick sitt genombrott som konstnär först vid 70 års ålder.

Representerad:
Nationalmuseum i Stockholm Moderna Muséet i Stockholm, Malmö Museum och i Gripsholms slottssamlingar.

Källa: Sammansatt av olika källor från internet.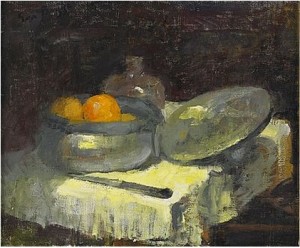 Apelsiner I Tennskål
(1957)
Price SEK 18,000 (€1,987)
Estimated SEK 10,000–12,000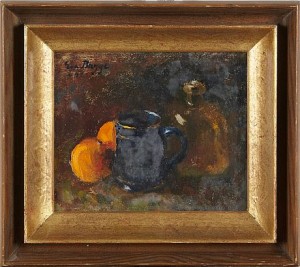 Blå Mugg Och Apelsiner
(-58)
Price SEK 4,400 (€514)
Estimated SEK 4,000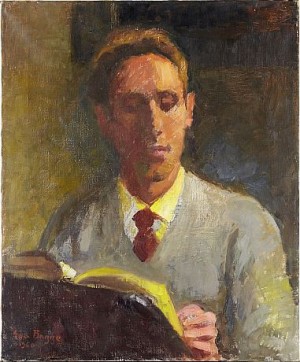 Price SEK 3,400 (€385)
Estimated SEK 1,500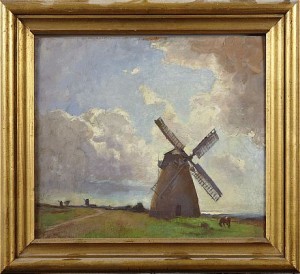 Väderkvarn
Price SEK 4,400 (€492)
Estimated SEK 3,000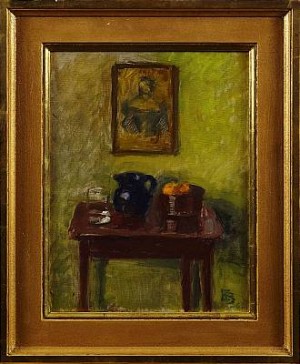 Interiör Med Stilleben
(-63)
Price SEK 5,500 (€612)
Estimated SEK 3,000
Interiör Med Kvinna
(-52)
Price SEK 6,500 (€709)
Estimated SEK 3,000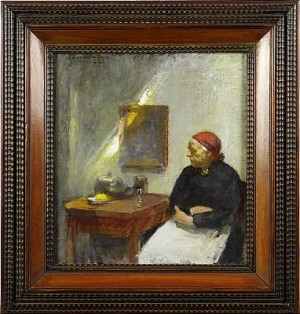 Interiör Med Kvinna
(-52)
Price SEK 6,500 (€709)
Estimated SEK 3,000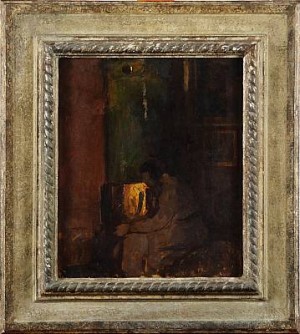 Vid Brasan
Price SEK 3,000 (€299)
Estimated SEK 3,500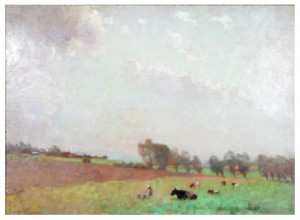 Landskap Från Skåne
(1929)
Price SEK 4,000 (€391)
Estimated SEK 1,000–1,200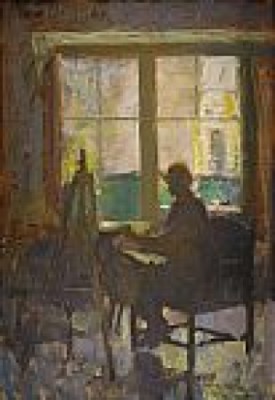 Konstnären Vid Sitt Staffli
Price SEK 7,000 (€670)
Estimated SEK 8,000–10,000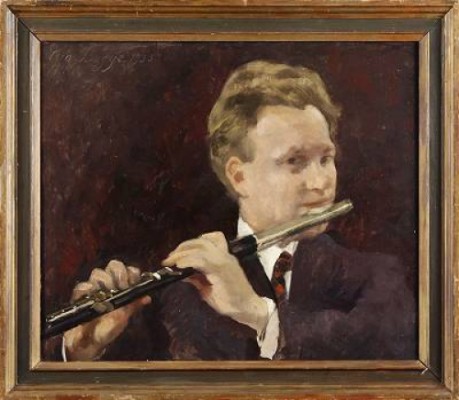 Carl Achatz (1901-74), Kungl Filharmonin
(1935)
Price SEK 2,800 (€269)
Estimated SEK 3,000