Eva BONNIER

1857–1909, Sweden
Also known as: EB
Eva Bonnier studerde at the Royal Art Academy in Stockholm, she also studied for August Malmström. She undertook trips to Paris and studied with Collin, Courtois and Dagnan-Bouvenet. During the summer she was in Grez. She was often on Dalarö with Richard Berg and Anders Zorn. She became deputy secretary of the Artists Association 1890. She belonged to the opponents movement and painted genre, character designs, and interiors, but preferred to paint people in various situations in front of painting landscapes. Represented: National Museum in Stockholm, Gripsholm portrait collection.
Eva Bonnier studerde vid Kungliga Konsthögskolan i Stockholm, hon studerade också för August Malmström. Hon företog resor till Paris och studerade där för Collin, Courtois och Dagnan-Bouvenet. Sommaren tillbringade hon i Grez. Hon var ofta på Dalarö med Richard Bergh och Anders Zorn. Hon blev vice sekreterare i Konstnärsförbundet 1890. Hon tillhörde opponentrörelsen och målade genre, figurmotiv, och interiörer men föredrog att måla människor i olika situationer framför att måla landskap.

Representerad:
Nationalmuseum i Stockholm, Gripsholms porträttsamling.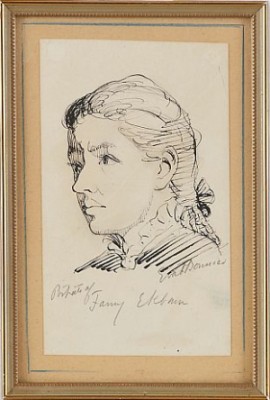 Porträtt Av Fanny Ekman
Price SEK 1,100 (€118)
Estimated SEK 2,000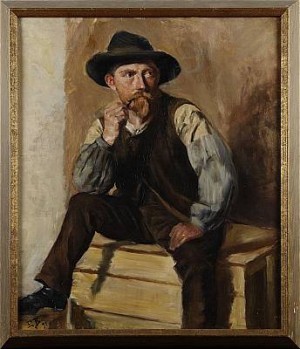 Price SEK 6,000 (€638)
Estimated SEK 8,000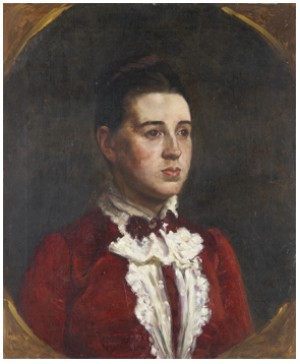 Porträtt Föreställande Hanna Hirsch
(1886)
Price SEK 10,000 (€956)
Estimated SEK 6,000–8,000