Gustaf FJÆSTAD

1868–1948, Sweden
Also known as: Fjaestad

Verdict of guilty
0201-K13135-06, (Mål nr: B 3349-07)
Oil on canvas, winter landscape "Dawn over the mountains", signed "G. Fjaestad" approx. 75x70cm. Ostensibly depicting a genuine painting by the artist, the Swede Gustaf Fjæstad (1868-1948). The painting has been seized by police and after examination been assessed as a forgery. Court: The signature "G. Fjaestad" shall be deleted. on its reverse side shall provide that this is not a genuine work of Gustav Fjæstad. The painting will then be returned to the owner.
Oljemålning på duk, vinterlandskap "Gryning över fjället", signerad "G. Fjaestad" ca. 75x70cm. Skenbart föreställande en äkta målning utförd av den Svenske konstnären Gustaf Fjæstad (1868-1948). Målningen har tagits i beslag av polis och efter utredning bedömts som en förfalskning. Domstolens beslut: Signaturen "G. Fjaestad" skall utplånas. på dess omstående sida skall det skrivas att detta är inte ett äkta verk av Gustaf Fjæstad. Målningen ska därefter återlämnas till ägaren.
















Name
Gustaf, Adolf Christensen FJÆSTAD
Birth
1868, 22/12, Sweden
Konstnär, målare, tecknare, konsthantverkare. Gustaf Fjæstad studerade på Konstakademien samt, under en begränsad period, även för Bruno Liljefors och Carl Larsson vilka gav influenser på hans fortsatta utveckling som konstnär.
Han levde större delen av sitt liv i Värmland och förutom konsthantverket som möbler och konstsmide är han kanske mest känd för sitt landskapsmåleri med snömotiv, rimfrost och isade sjöar.
Bland hans arbeten kan nämnas Vintermånsken 1895. samt Vinterafton vid en älv, båda i Nationalmuseum i Stockholm, Snö och Vinternatt, akvareller, båda i Göteborgs Konstmuseum, Solverkan på grunt vatten, Malmö Museum. Rimfrost på is 1901. Thielska galleriet, samt, Rinnande vatten 1906, Thielska galleriet.
Representerad: Thielska galleriet, Statens Museum för Kunst i Köpenhamn, Wien, Chicago.
Source: Art Signature Dictionary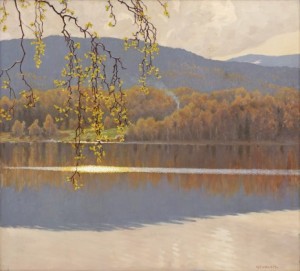 Solglitter - Motiv Från Racken
(-29)
Price SEK 390,000 (€42,116)
Estimated SEK 10,000–150,000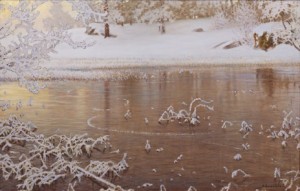 Price SEK 340,000 (€36,594)
Estimated SEK 125,000–150,000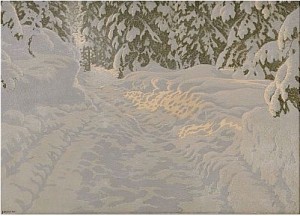 Soleffekt I Snötyngd Skog
(1913)
Price SEK 160,000 (€17,280)
Estimated SEK 150,000–175,000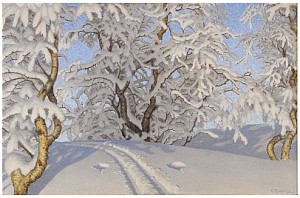 Hängbjörk I Sol Och Snö
Price SEK 300,000 (€32,400)
Estimated SEK 150,000–200,000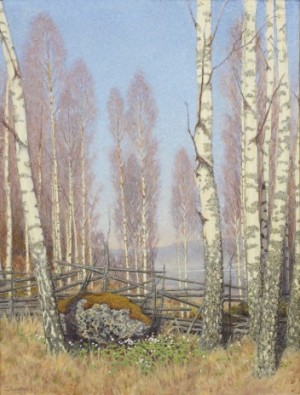 Vårbjörkar
Price SEK 80,000 (€9,192)
Estimated SEK 60,000–80,000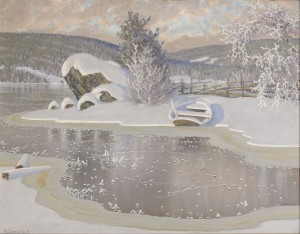 Rimfrost På Is
Price SEK 190,000 (€22,116)
Estimated SEK 150,000–200,000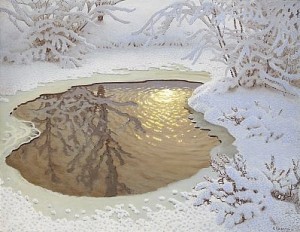 Vinterlandskap
Price SEK 280,000 (€31,595)
Estimated SEK 225,000–250,000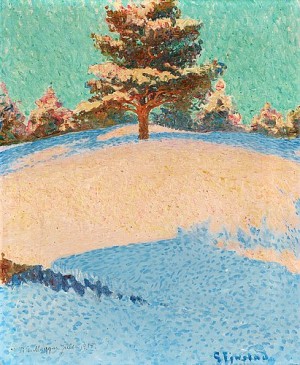 Vinterlandskap Med Solbelyst Tall
(Till Maggan Julen 1918)
Price SEK 35,000 (€3,780)
Estimated SEK 25,000–30,000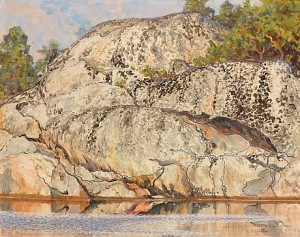 Måsklippan, Dalarö
(Executed 1943)
Price SEK 38,000 (€4,104)
Estimated SEK 20,000–25,000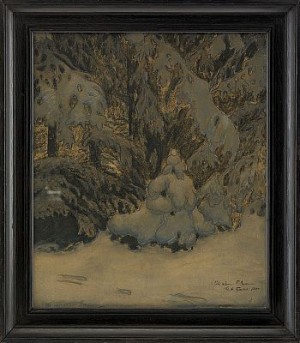 Price SEK 15,000 (€1,675)
Estimated SEK 15,000–20,000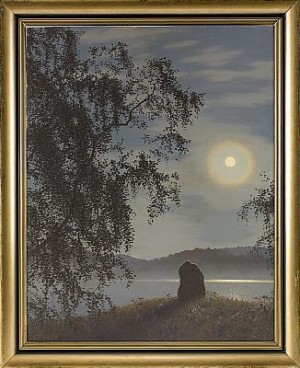 Månsken över Racken
Price SEK 55,000 (€6,141)
Estimated SEK 50,000–60,000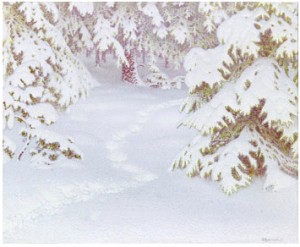 Vinterlandskap Med Snötyngda Granar
(-21)
Price SEK 150,000 (€16,236)
Estimated SEK 100,000–125,000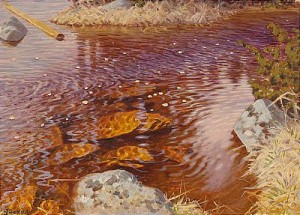 Rinnande Vatten
Price SEK 85,000 (€8,848)
Estimated SEK 50,000–60,000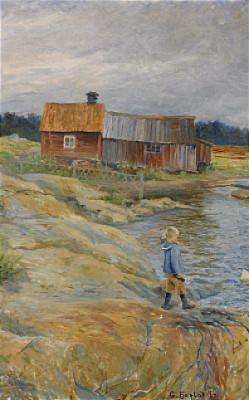 Gosse I Skärgården
(1894)
Price SEK 70,000 (€7,286)
Estimated SEK 25,000–30,000
Fjällbjörkar I Vintersol
Price SEK 390,000 (€37,304)
Estimated SEK 125,000–150,000
Uppifrån Fjället - Rimfros
(1913)
Price SEK 0 (€0)
Estimated SEK 225,000–250,000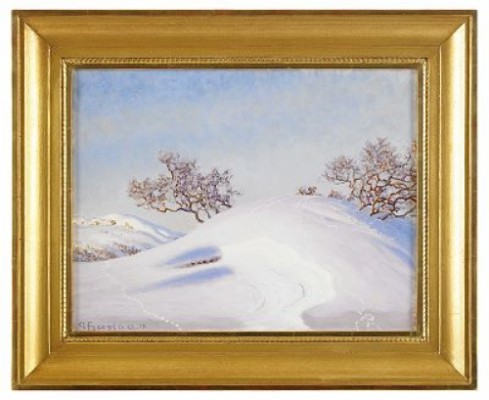 Vinterlandskap Med Buskage
(1931)
Price SEK 32,000 (€3,017)
Estimated SEK 25,000–30,000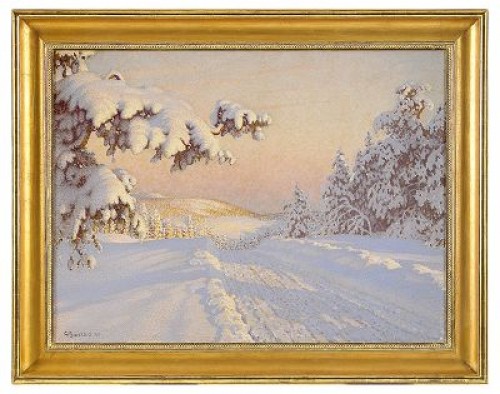 Vinterlandskap - Motiv Från Värmland
(1896)
Price SEK 160,000 (€15,083)
Estimated SEK 200,000–250,000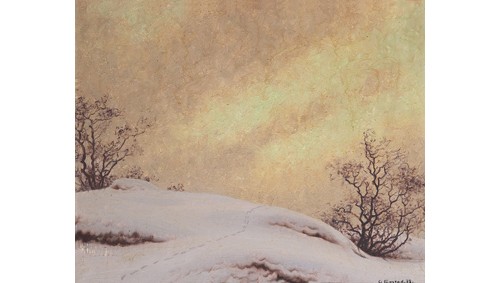 Price SEK 30,000 (€2,727)
Estimated SEK 25,000–30,000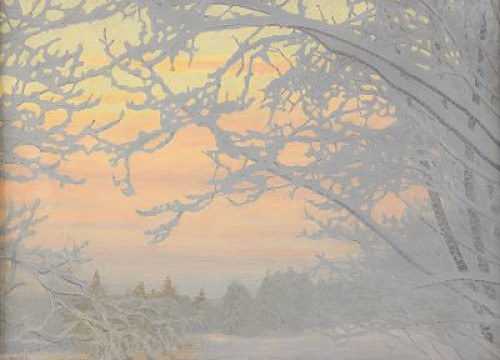 Kall Vinterafton - Frost På Träden
(-12)
Price SEK 170,000 (€15,455)
Estimated SEK 175,000–200,000