Ivan AGUÉLI
1869–1917, Sweden/Spain
Also known as: ALI
Name
Ivan, Johan Gustaf AGUÉLI
Ivan Aguéli (born John Gustaf Agelii) also named Sheikh 'Abd al-Hadi Aqhili, upon his acceptance of Islam, was a Swedish-born wandering Sufi, painter and author. As a devotee of Ibn Arabi, his metaphysics applied to the study of Islamic esoterism and its similarities with other esoteric traditions of the world. He was the initiator of René Guénon into Sufism and founder of the Parisian Al Akbariyya society. His art was a unique form of miniature Post-Impressionism where he used the blend of colours to create a sense of depth and distance. His unique style of art made him one of the founders of the Swedish contemporary art movement.
Ivan Agueli reste, vid 21 års ålder till Paris för konststudier där levde han som fattig bohem, påverkad av anarkistiska och teosofiska strömningar. Lärde känna den nya konsten i Paris: Cézanne, van Gogh, Gauguin med fler.
Han var ett språkgeni och orientalist. Antog namnet Ivan Aguéli och konverterade till islam. Gjorde uppehåll i sitt målande under en tioårsperiod. Studerade (bl.a. koranen, orientaliska språk), skrev konstkritiska ariklar.
Från 1911 till 1917, fick han en andra målarperiod då han var mycket produktiv. Han tillbringade större delen av sitt liv i främmande länder, som Frankrike, Egypten, Spanien.
1917 omkom Ivan Aguéli i Spanien, endast 48 år gammal. Han blev överkörd av ett tåg till följd av sin hörselskada.
Source: http://aguelimuseet.sala.se/ivan.html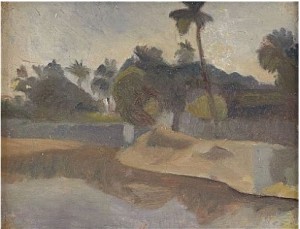 Egyptiskt Flodlandskap
(Executed ca. 1915)
Price SEK 430,000 (€46,440)
Estimated SEK 200,000–250,000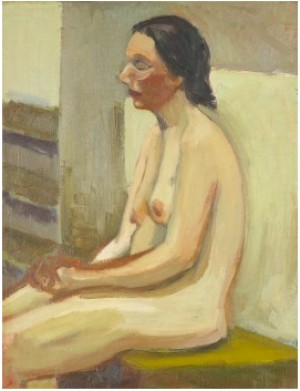 Aktstudie
(Executed ca. 1912)
Price SEK 30,000 (€3,300)
Estimated SEK 30,000–40,000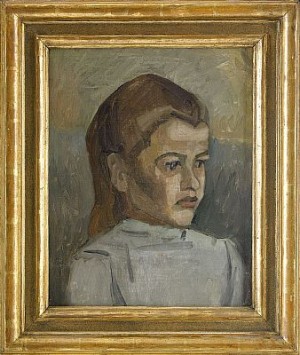 Egyptisk Flicka
Price SEK 60,000 (€6,720)
Estimated SEK 80,000–100,000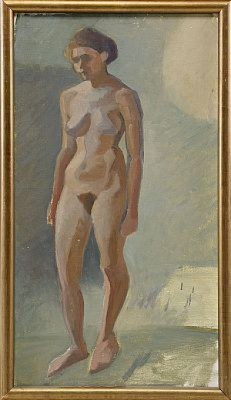 Stående Modell
Price SEK 67,000 (€7,504)
Estimated SEK 40,000–50,000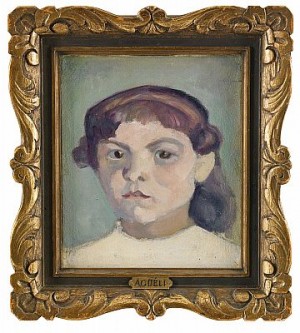 Flickporträtt
Price SEK 58,000 (€6,496)
Estimated SEK 50,000–60,000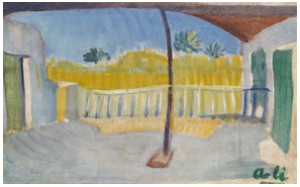 Motiv Från Khamsin
Price SEK 190,000 (€19,686)
Estimated SEK 150,000–175,000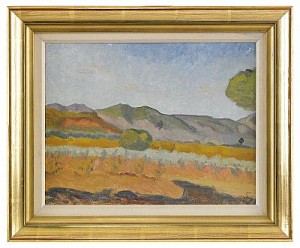 Landskap
Price SEK 320,000 (€33,309)
Estimated SEK 400,000–500,000