Tage E. NILSSON

1918, Sweden
Also known as: TN
Tage Nilsson studied at Scanian Art School, Essem school and for Otte Sköld in Stockholm, Sweden. He is a landscape painter and known for his designs from Oland, Provence, Spain and Greece. Represented: Trelleborg, Ystad, Växjö and Malmö Museum, and several local governments.
Source: Art Signature Dictionary
Tage Nilsson studerade på Skånska Målarskolan, Essem skolan och för Otte Sköld i Stockholm. Han är landskapsmålare och berömd för sina motiv från Öland, Provence, Spanien och Grekland.

Separatutställning:
Malmö, Stockholm, Lund, Sala, samt i ett flertal samlings- och jurybedömda utställningar.

Representerad:
Trelleborg-, Ystad-, Växjö- och Malmö museum, samt i flera kommuner och landsting.
Source: Art Signature Dictionary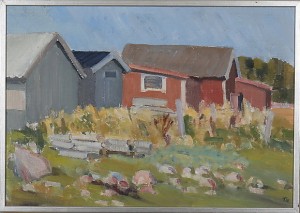 Sjöbodar
Price EUR 68
Estimated EUR 53