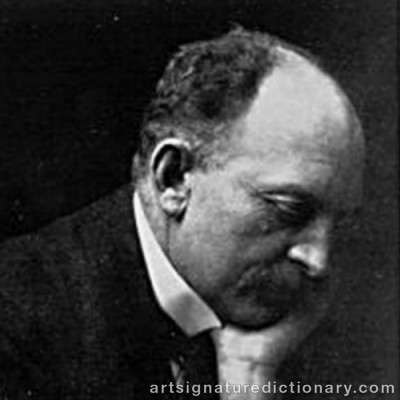 Emil NOLDE

1867–1956, Germany
Also known as: Hansen, Emil

Verdict of guilty
DB260, B415/87, PHM3821
Watercolor, children at play, signed "Nolde", 24x19 cm. Ostensibly picturing a genuine painting by Emil Nolde. Of the police investigation, it appears that this painting is a copy after the German artist Emil Nolde original. The original was shown publicly at an exhibition in 1982. Submitted to an auction house in Stockholm for sale 1987th After the expert's report, the Court held that this painting was not genuine. It was a forgery. [flag=se] Akvarell, lekande barn, signerad "Nolde", 24x19 cm. Skenbart föreställande en äkta målning utförd av Emil Nolde. Av polisutredningen framgår det att denna målning är en kopia efter den tyske konstnären Emil Noldes original. Originalet visades offentligt vid en utställning år 1982. Inlämnad till ett auktionshus i Stockholm för försäljning 1987. Efter expertutredning förklarade domstolen att denna målning inte var äkta. Det var en förfalskning.

Verdict of guilty
K8348-73
Oil on canvas, signed "Nolde". Ostensibly depicting a genuine painting by Emil Nolde. The painting has been seized by police and after examination been assessed as a forgery.
Oljemålning på duk, signerad "Nolde". Skenbart föreställande en äkta målning utförd av Emil Nolde. Målningen har tagits i beslag av polis och efter utredning bedömts som en förfalskning.









Emil Nolde biography:

The German painter and graphic artist Emil Nolde was born in the town of Nolde on August 7, 1867. His original name was Emil Hansen, but as of 1901 he calls himself after his place of birth. The young country boy's artistic talent shows from an early point on. He does an apprenticeship with a Flensburg furniture maker in 1884, later he attends the Sauermannsche Schnitzschule (Carving School) until 1888. In 1889/90 Emil Nolde studies at the Karlsruhe School of Applied Arts. He makes designs for furniture producers in Munich and Karlsruhe.
In 1890/91 he is in Berlin. In 1892 he finds employment as an art teacher at the school of the Museum of Industry and Commerce in St. Gallen. This is where he makes caricatures of the Swiss mountains in form of giants and natural beings, he successfully publishes the drawings as motifs for postcards, so that Nolde suddenly finds unexpected financial security for years.
In 1898 he begins to study painting at the Munich painting school of Friedrich Fehr, a year later he attends the Hölzel school in Dachau. However, Nolde is still far from the desired aim of being a great painter, he has to work hard and is often in doubt about his talent as an artist, but in the long run he continues his quest.
He is in Paris in 1899/1900, where he attends the Académie Julian. As of 1901 he has got his own studio in Berlin. He falls ill with tuberculosis, and spends the summer months up until 1913 at his parent's farm in Northern Schleswig, in Jutland, on the island Alsen. He travels to Italy in 1904/05.
Emil Nolde joins the "Berlin Secession" in 1906. The same year he shows works at the gallery Arnold in Dresden, calling the attention of the "Brücke" (Bridge) artists, who then seek to get in touch with him. Nolde joins the "Brücke", but remains a loner, so that he leaves the group again in 1907.
In 1911 Nolde becomes member of the "New Berlin Secession". In 1913/14 he and his wife Ada go on a journey through the Souh Sea, capturing their impressions in sketches and watercolors throughout their entire journey.
The artist moves to Utenwarf in 1916. In 1926 he and his wife settle in Seebüll, where he also builds his studio. Nolde does not stay untroubled by the drastic changes in cultural politics and is stigmatized as degenerate in 1933. He is dismissed from the Prussian Academy of Art of which he had been a member since 1930. Some 1052 of his works are removed from German museums, as of 1941 an occupational ban is imposed on him.
During the following years up until his death he mostly makes watercolors in small formats that he calls the "Ungemalten Bilder" (Undrawn Pictures). More than 1.300 sheets are made, landscapes, figures, flower still lifes in intensive and bright colors. Nolde is a master of coloring.
Emil Nolde dies in seebüll on April 13, 1956. The studio and house are turned into a museum called "Foundation Ada and Emil Nolde" in 1956.
Source: http://www.kettererkunst.com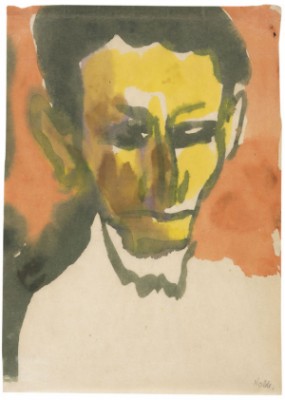 Price EUR 42,500 Incl. buyer's premium
Estimated EUR 35,000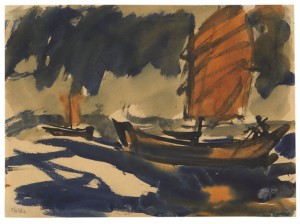 Price EUR 50,000
Estimated EUR 25,000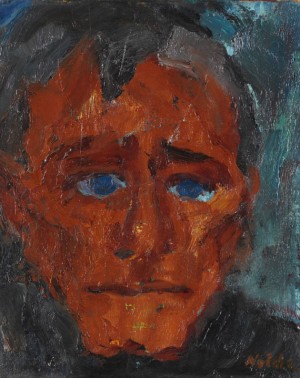 Price EUR 168,750 Incl. buyer's premium
Estimated EUR 100,000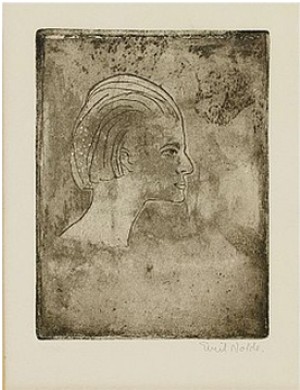 Price SEK 22,000 (€2,396)
Estimated SEK 30,000–40,000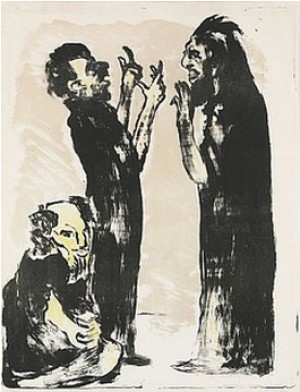 Price SEK 60,000 (€6,534)
Estimated SEK 80,000–100,000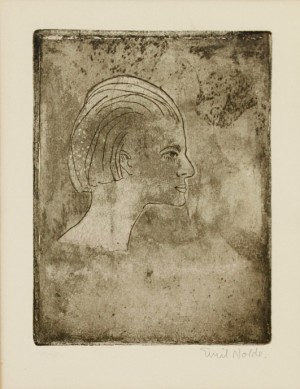 Price SEK 0 (€0) Not sold
Estimated SEK 50,000–60,000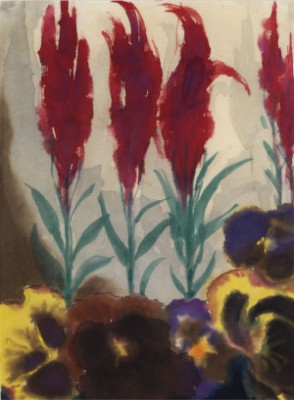 Spiraea Und Stiefmütterchen
(1930)
Price EUR 0 Not sold
Estimated EUR 160,000–180,000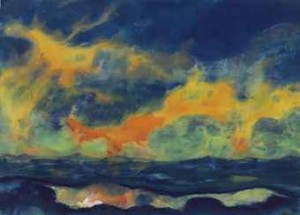 Herbsthimmel Am Meer
(Executed ca.1940)
Price USD 698,500 (€545,773) Incl. buyer's premium
Estimated USD 300,000–500,000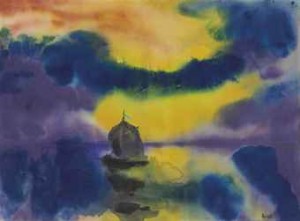 Meer Mit Abendhimmel Und Segelboot
Price USD 530,500 (€414,506) Incl. buyer's premium
Estimated USD 400,000–600,000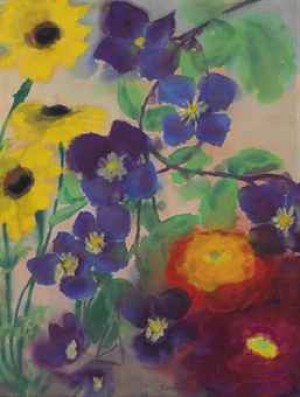 Blumen
Price USD 506,500 (€395,754) Incl. buyer's premium
Estimated USD 300,000–400,000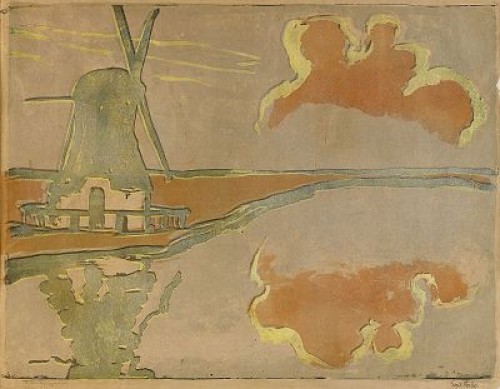 Price SEK 250,000 (€23,225)
Estimated SEK 300,000–400,000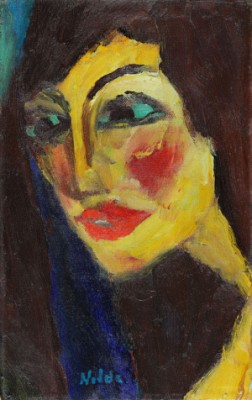 Price EUR 1,537,000 Incl. buyer's premium
Estimated EUR 1,200,000